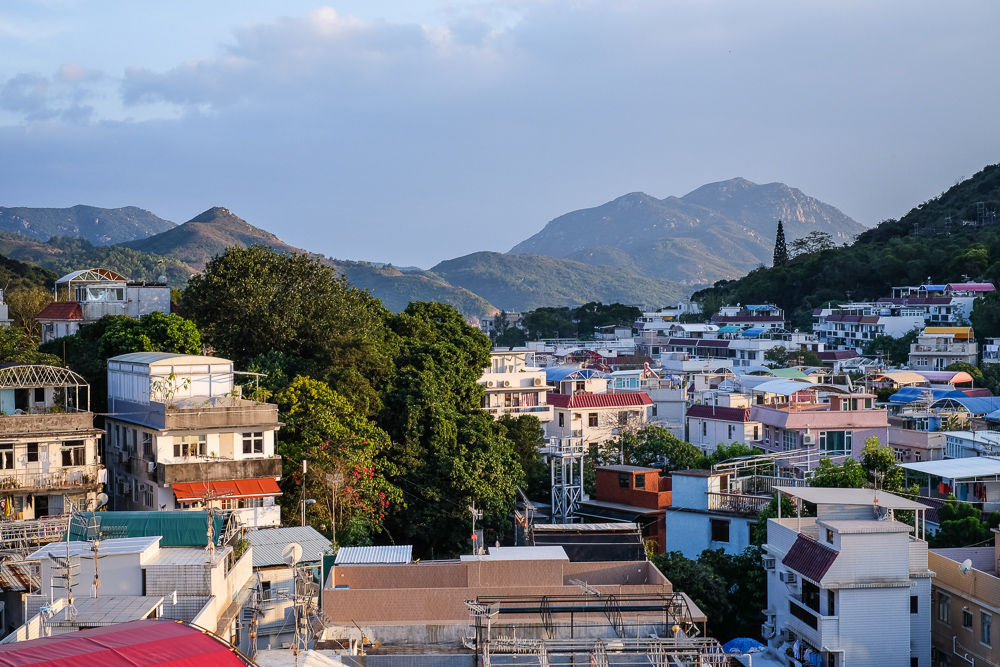 Warning – this post is not for vegetarians.
Exactly two years ago we were bundled up in our sweaters and socks waiting for an entire roasted lamb to be ready. It had been spinning on the spit since 6am, getting the rosemary-olive oil massage treatment and barely visible through the fog of Terovo. We were in the hills of Ioannina for Greek Orthodox Easter where celebrations and their meat are taken very very seriously. Never did we think that two years later for our first Easter in Asia, we would also be waiting for roasted meat, this time in flip flops and shorts, the lamb and goat replaced by ducks and geese.
Chinese don't really celebrate Easter. It is a public holiday in Hong Kong thanks to its past colonial influence, but except for devout Christians, it is not celebrated with the faith and fervour or big family gatherings that you find in Greece, it is more about easter eggs and treasure hunts at country clubs. So when we were invited to a BBQ for Easter Sunday on Lamma island, we thought it was just a coincidence. Coincidence or not, it was big and there was meat; meat that was not taken lightly. In fact, it was more like My-Big-Oversized-Chinese-Easter and we could not wipe our silly grins off our faces.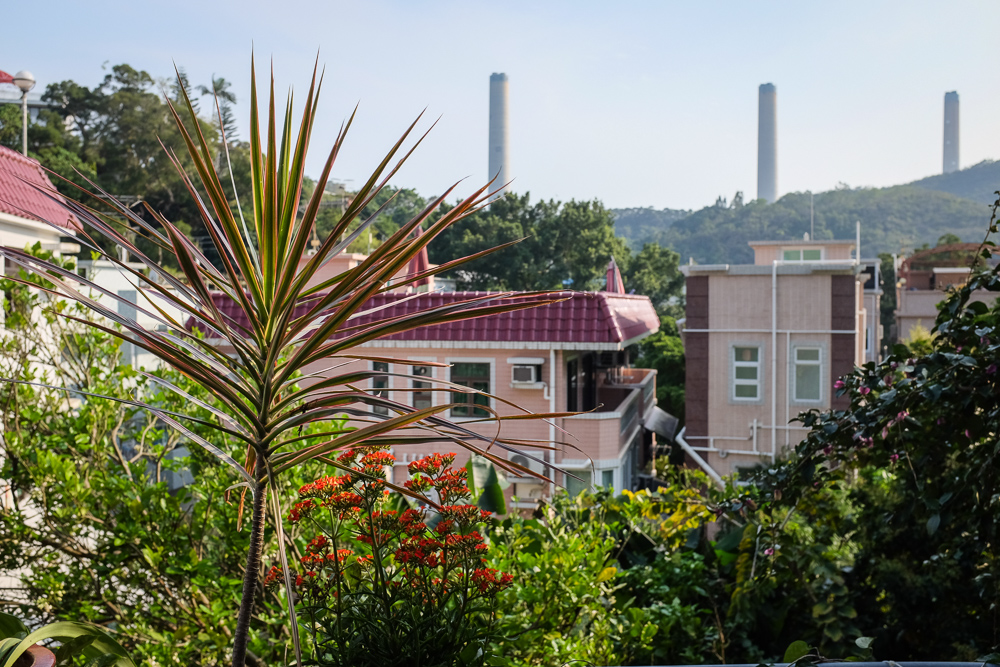 We've talked about Lamma island before, but the longer we are here, the more we love it. It is a village hidden right beside one of the biggest cities in the world, it is the calm to the chaos of Hong Kong's centre, the small community to the personal anonymity of a metropolis. It is our home, for now.
We embark on the five minute journey from our place to the BBQ, with a view of the mountains, the sea and the three chimneys which have become part of Lamma's iconic landscape. One of the island's dirty secrets is that it is also home to a coal plant which supplies a large amount of Hong Kong's electricity. Paradise island versus giant fossil fuel. But most days, paradise island wins.
Our friend's house is quietly busy when we arrive, but not as packed as it will be later – are the newcomers the only ones who showed up on time? Apparently we missed the memo: when in China, do as the Greeks do and show up at least a couple of hours later.
My experience of local BBQs in Hong Kong had so far been about cheap pinkish frankfurters and marinated chicken wings on the beach, but this Chinese Easter BBQ was the real deal, there were two ducks and two geese waiting to honour the day, with a little side dish of char siu, roasted pork, hanging from a clothes rack.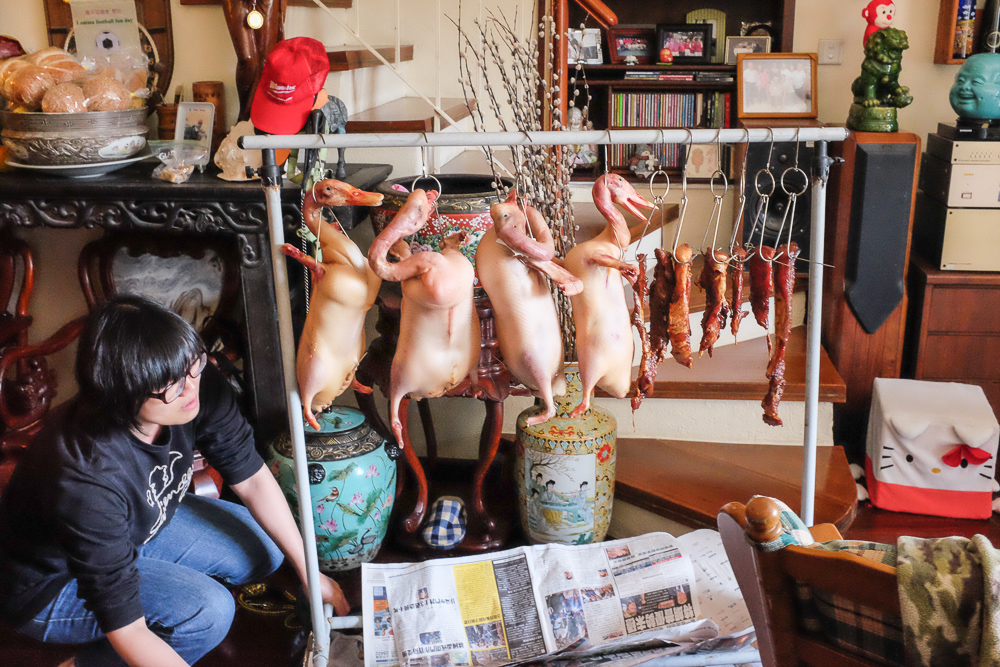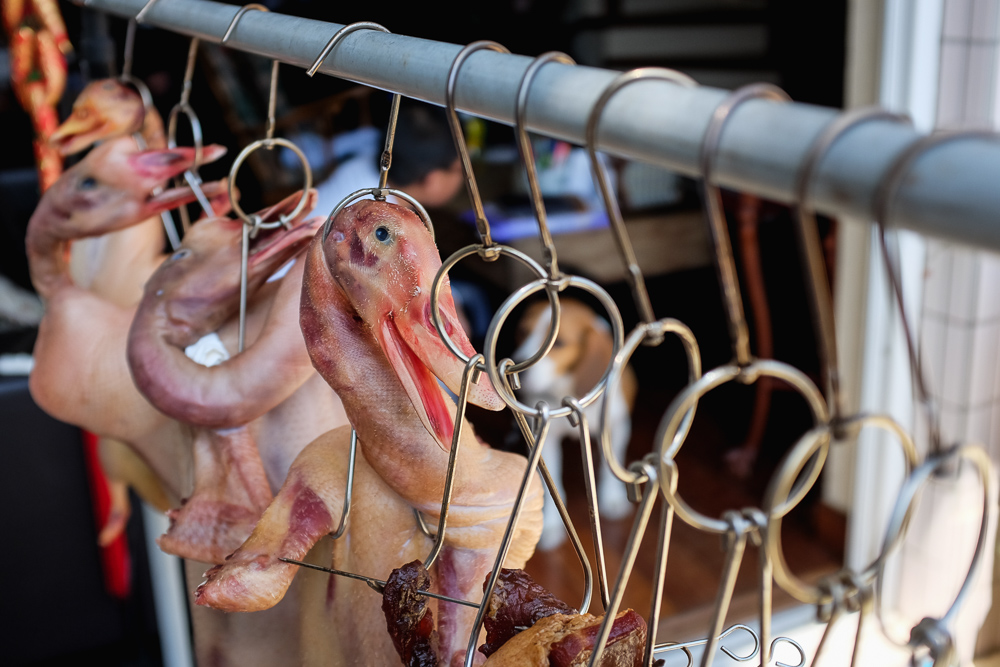 A master roaster prepared the oven, a large metal cylinder with a stack of searing charcoal and lychee branches at the base and a ring around the top to hang the animals from. It reminded me of the underground ovens in Marrakech where lamb after lamb were lowered into the ground on a rope, only to re-emerge tender, their succulent meat falling apart.
Everyone would occasionally approach the oven, checking up on the status of the roasting fowl and the fat drip drip dropping onto the branches below.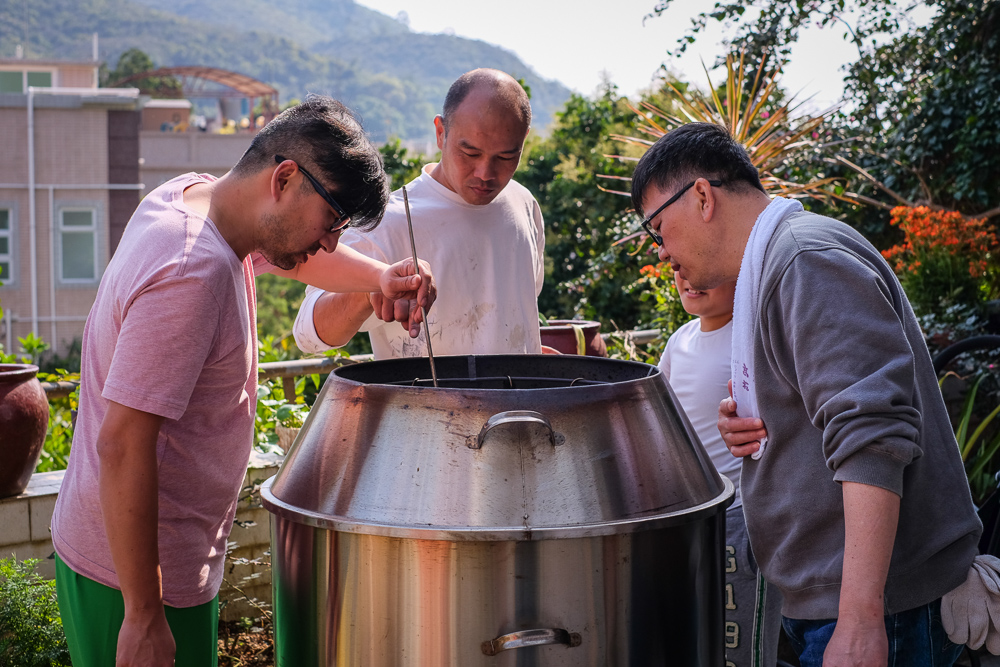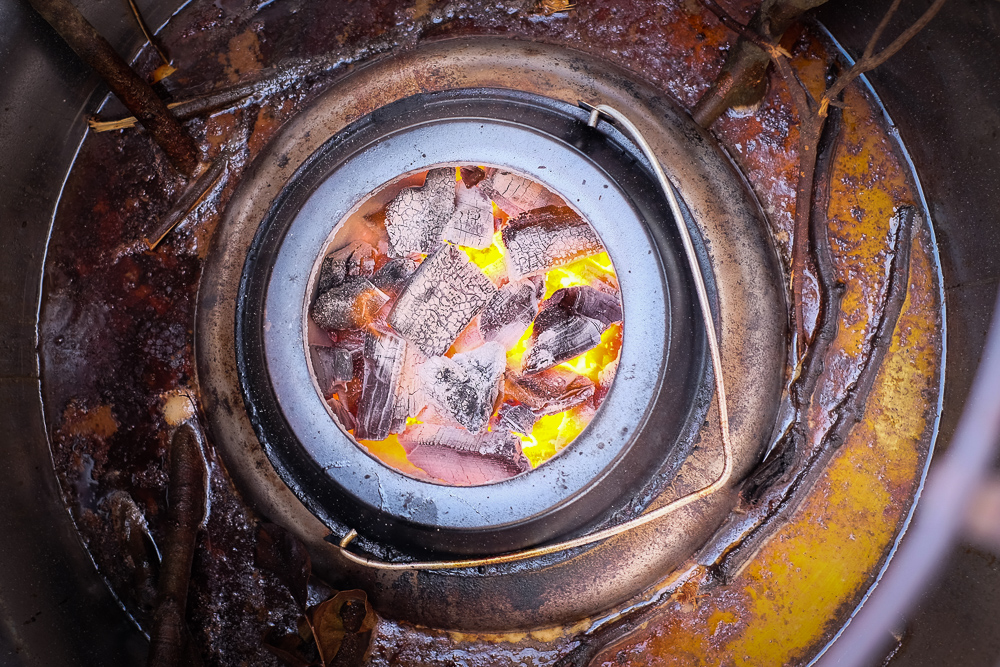 As in Greece, our hosts were not about to let us wait for the main dish empty handed. Here came the frankfurters, fish balls, chicken wings and a huge pan filled with what was probably thousands of dollars worth of Chinese "delicacies". These are the delicacies that everyone scrambles for and that I usually have to politely swallow out of respect. Sweet almond soup with chewy gooey fish stomach – "very good for your skin!" Abalone and pig's knuckle, sea cucumber and chicken's feet, the mixture seems to contain every body part I would prefer to discard, but the Chinese hold in high regard. Then comes the salad with balsamic vinegar, burgers on Chinese sesame buns, potato salad, fruit salad and beer. A modern day Chinese fusion BBQ.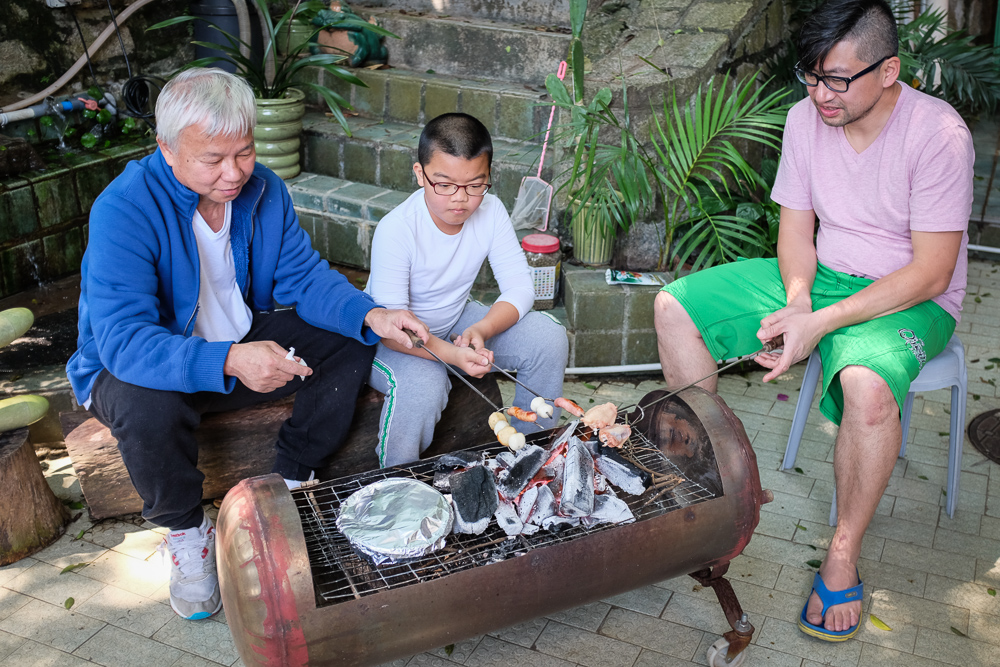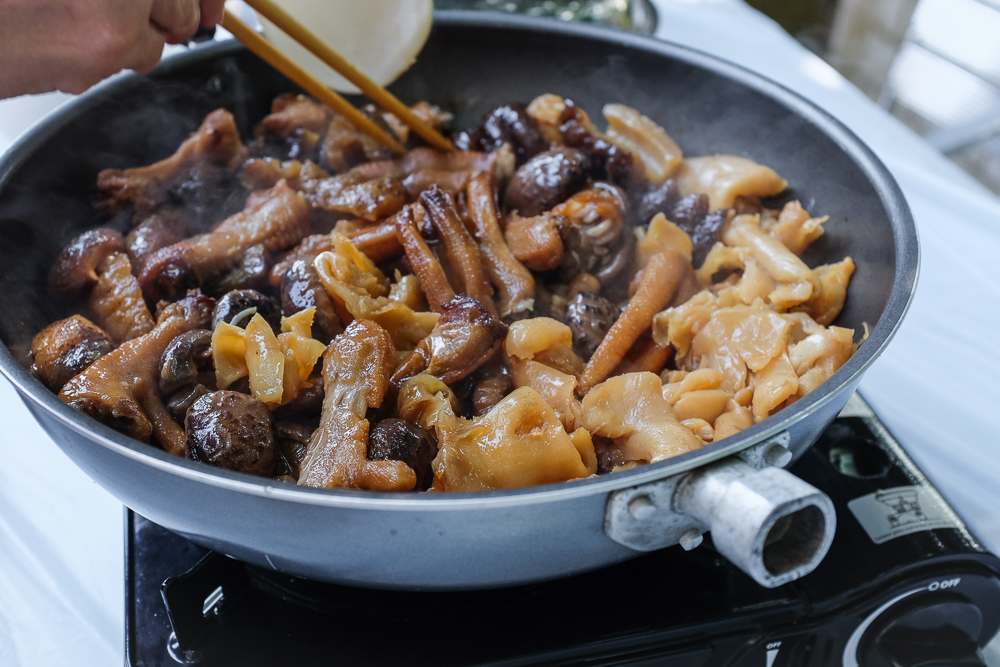 While the duck and geese are in their fiery sauna, the master brushes the char siu with the honey-glazed marinade, letting the fatty bits of pork air-dry for a while before they are sliced into crispy, juicy pieces. The briney salt hits you first then the caramelised smoke flavour with the sweetness of the glaze sink in deeper.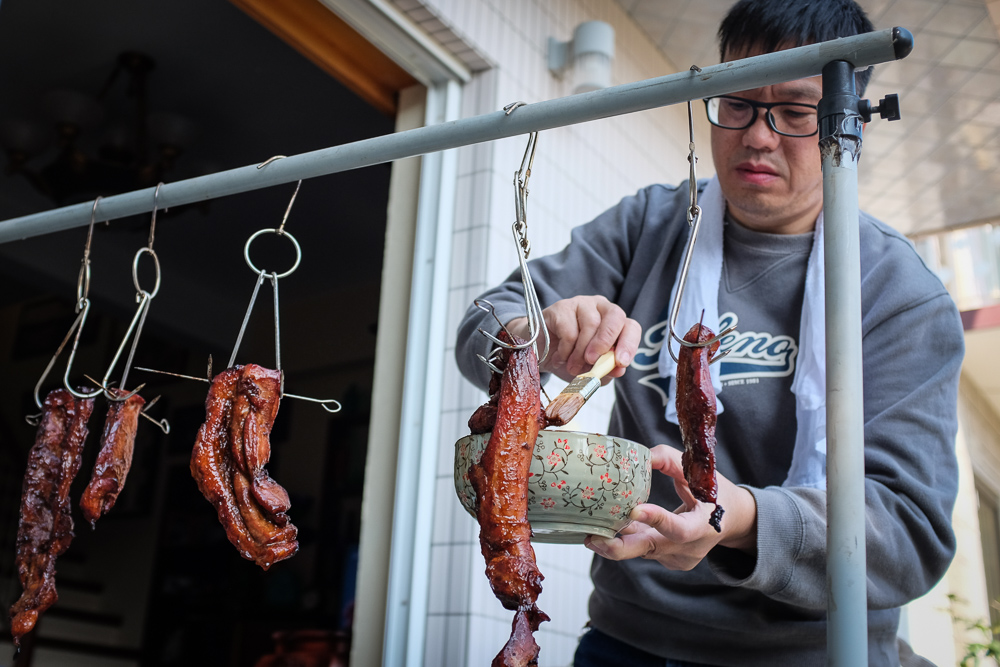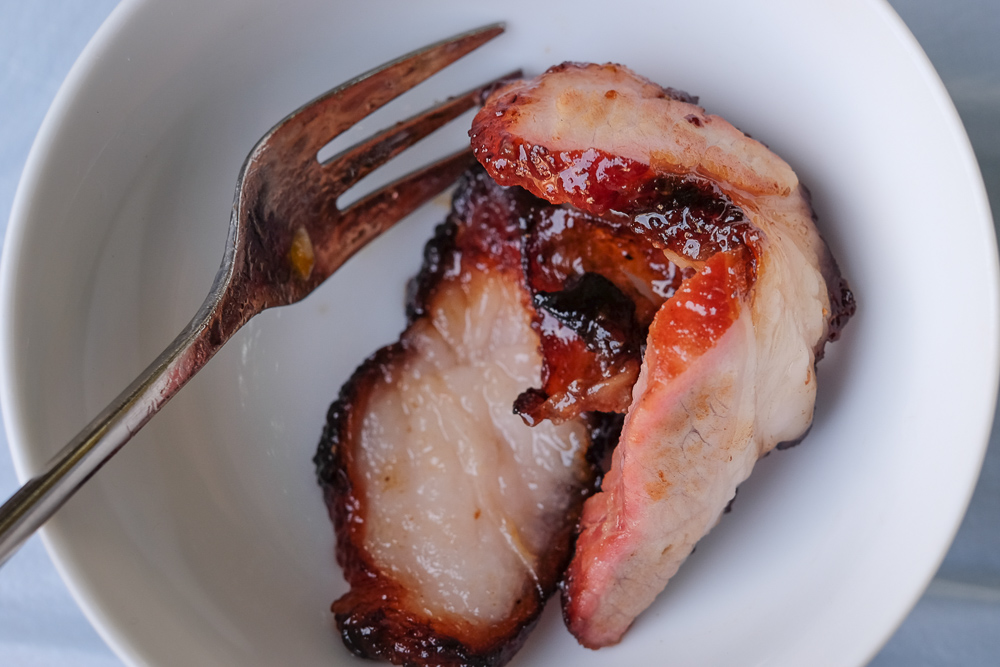 It is an eating marathon and by the time the main show makes an appearance everyone is stuffed. That doesn't stop anyone from reaching out to grab pieces of searing hot duck though, a few selfies later and the crackling paper-thin skin of the duck and moist rich meat of the geese have disappeared, only the bones left in the countless little bowls on the table.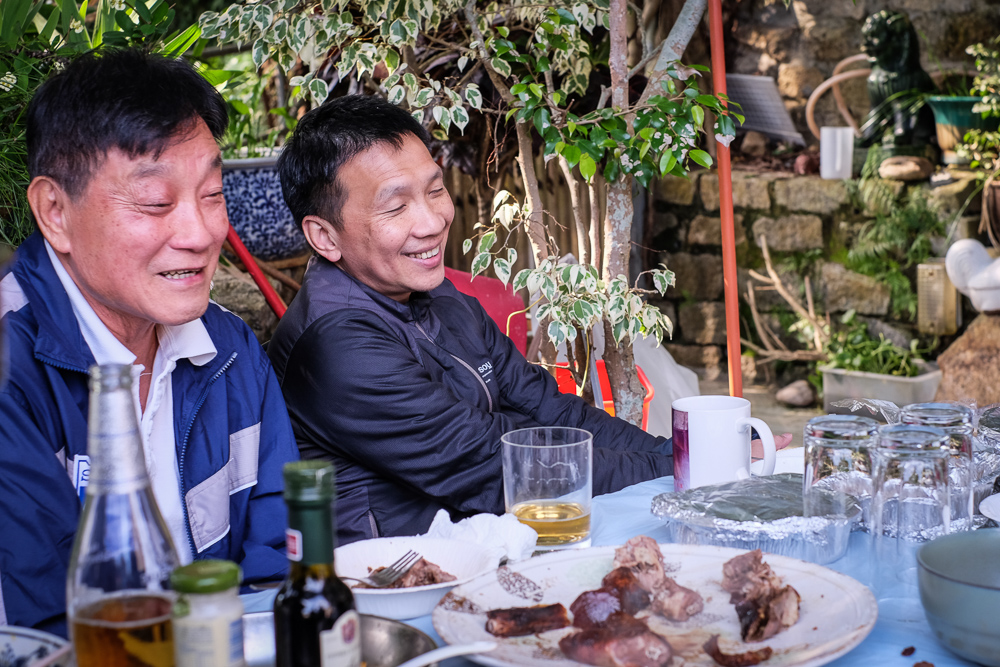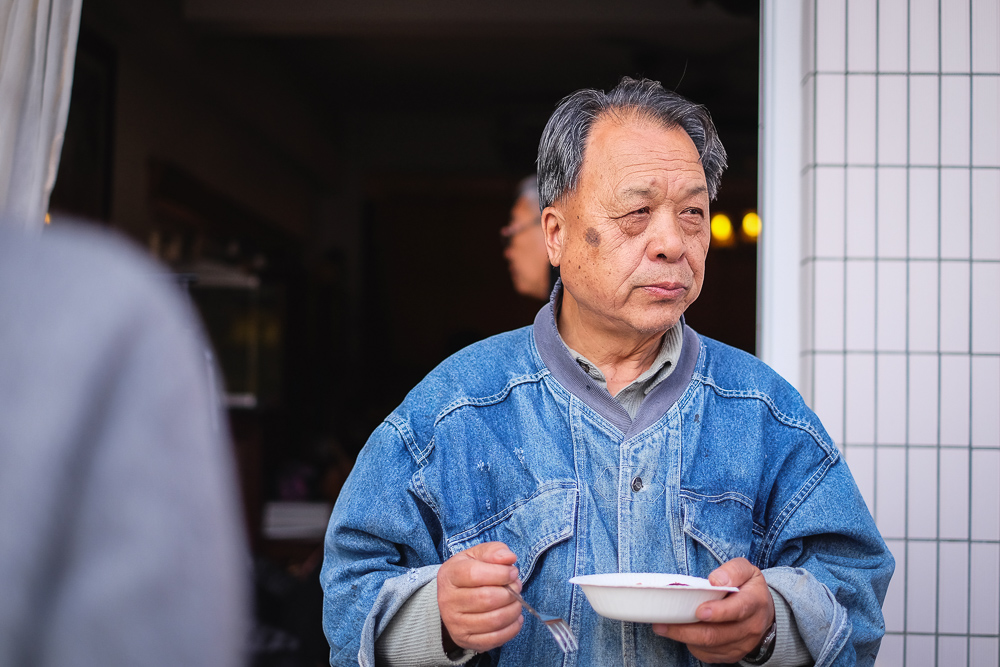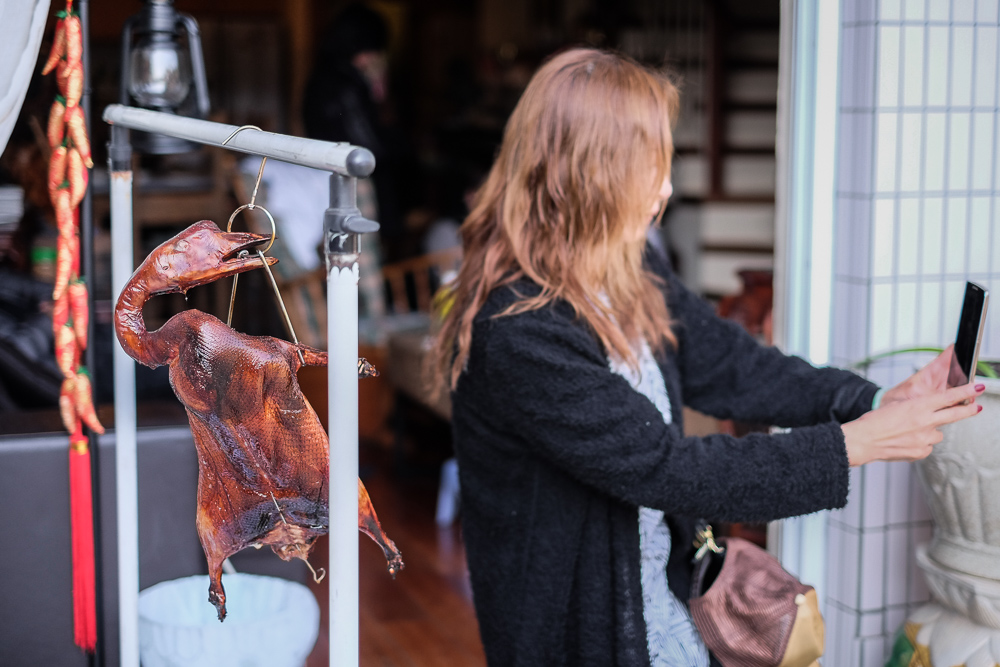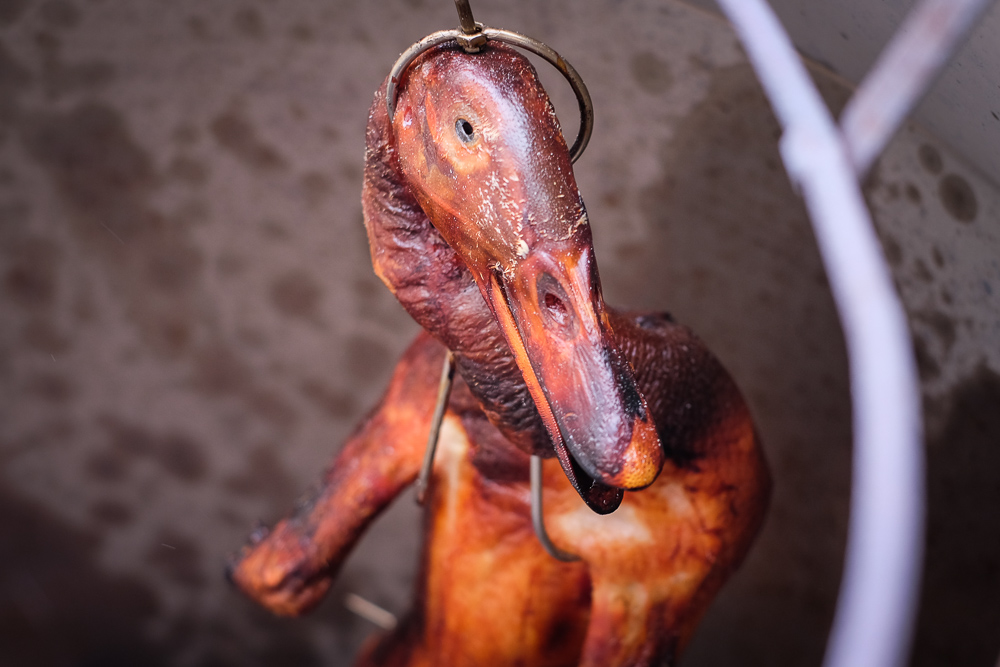 They were not about to let us off the hook without something sweet to round up the feast. Someone had brought homemade apple pie, but we had to fight for it, because just like in Greece, turns out you can have your cake whenever you want and two thirds of the pie was gone before any of the BBQ had even started.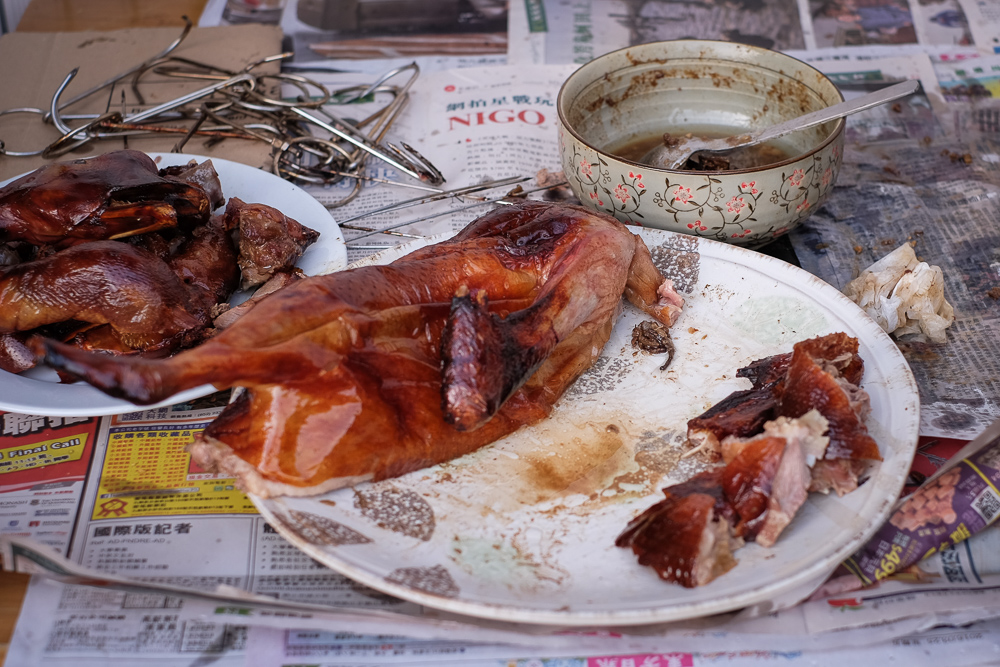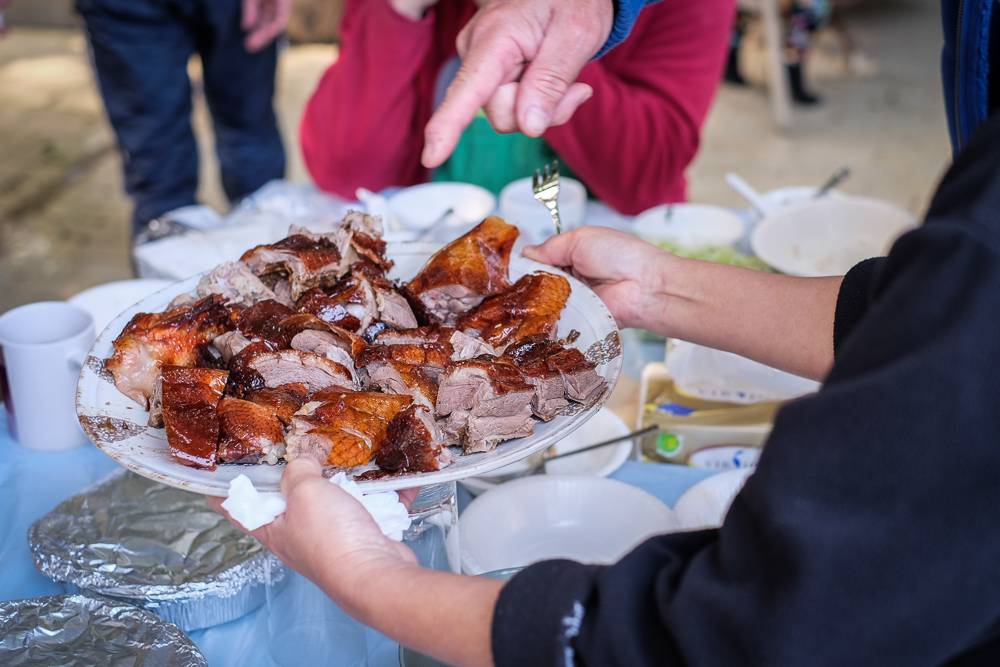 There was no singing this time round, but we left with our hosts stuffing tupperwares of leftovers in our hands, kisses and Cantonese songs for baby Max as we walked back the five minutes towards home. Not enough to digest the ridiculous amount of food we had just consumed, but enough to take in the sunset over the bay as restaurants prepared for their evening customers.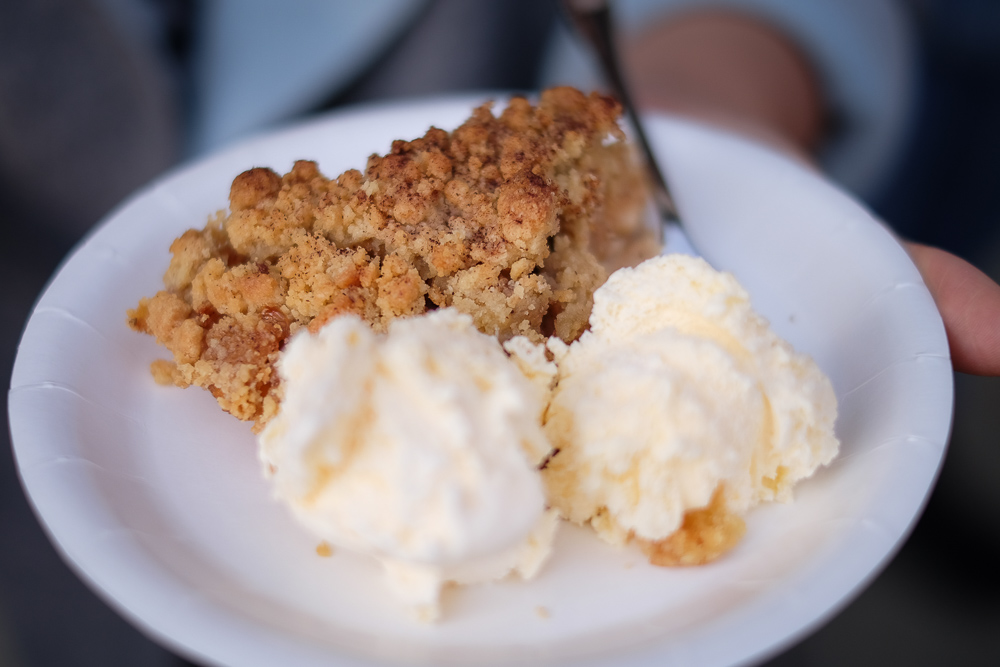 Easter may not be a religious holiday for the Chinese, but if meat, food and eating together were a religion, they take it very seriously indeed.