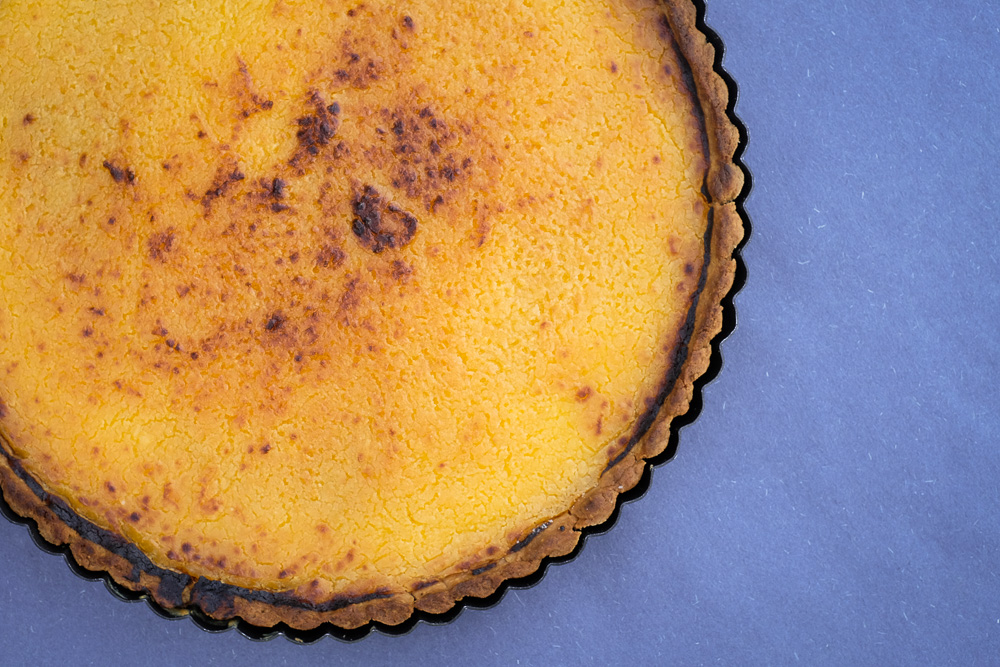 There are so many reasons to bake. And bake as in cake.
After years of comforting myself in the kitchen by stirring, mixing and rubbing in butter, I suddenly realised why I am the one often bringing the cake to the party. The one who bakes banana bread after work, who makes scones for the next day at nighttime, who flips pancakes in the morning (actually that rarely happens), who shapes cookies in the afternoons and makes brown butter walnut brownies on the weekends.
Basically, I am lazy.
Hah. There I said it.
Not lazy to cook, but lazy to source ingredients. As in lazy to shop.
A long ingredient list usually puts me off any other type of recipe except in baking. For baking, I almost always have 95% of ingredients right there in my kitchen. I don't need to find a particular cut of meat or have the foresight to defrost whatever it is I have in the freezer. I don't need to track down an out-of-season vegetable or clean and skin a fish which frankly, who does?
And while it may require bowls and measuring cups, it only fills your kitchen with wafts of sweet vanilla caramelization. When melted fat meets molten sugar. No grease stains on the tiles, no raw fish smell hanging in the air. 
There isn't a perfect word in English for that moment when you remove a cake from an oven, in Italian it's sfornare – to take out of the oven (forno). The anticipation. You weigh the hot pan in your hands, wondering if you poked enough holes in it with a toothpick to make sure every corner is well-cooked with just enough crumb left behind and whether you have the patience to wait it out as the recipe says, "let cool in pan for ten minutes."
It is quiet.
It is something you can do early in the morning or late at night when everyone else has gone to bed. (Unless you are experimenting with meringues or a batter that requires enough beating to wake up the whole neighbourhood.)
It is non-essential.
We may need baking for our souls, but not for our thighs. It is strictly there to satisfy an indulgence or celebrate an event. All that work for a moment of pleasure when that slice sends your body's physical reaction into overdrive and your mind's emotional response to a happy place.
That's why I bake. To create the superfluous. Unnecessary in some ways, completely necessary in others. In an hour or less, I can create something that makes others happy and brings me the praise that I need. Yes, ok, my name is Gabriella and I am a people pleaser.
Baking is the people-pleaser's drug. Plus, I suck at knitting or drawing.
So there it is in clear daylight. I am a lazy-people-pleaser and baking at night is my secret to solving all problems.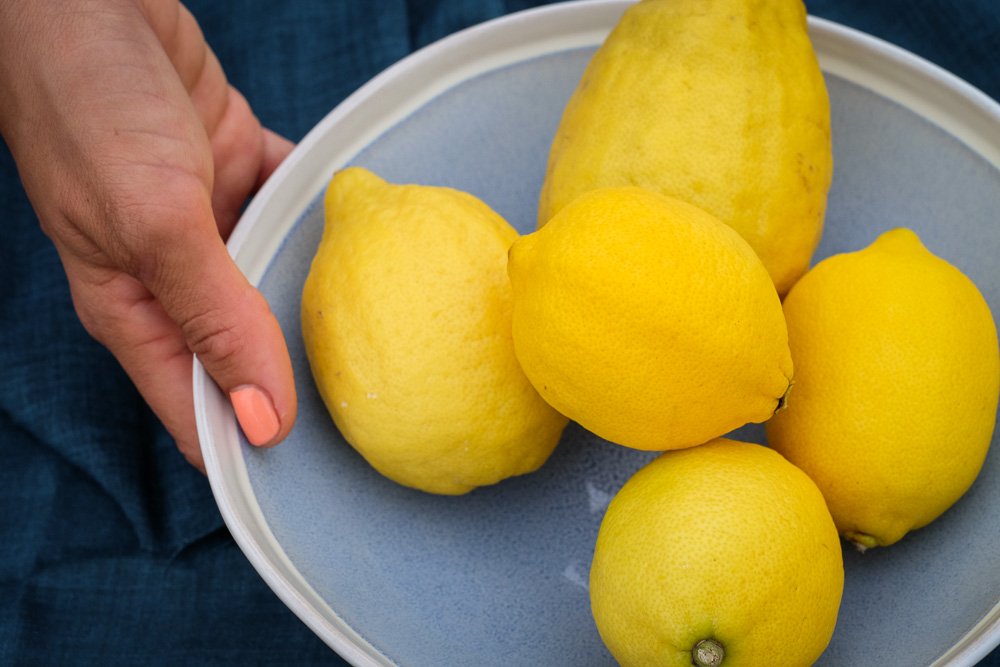 When we returned from our summer travels, our kitchen was bare, but our little corner garden was not. Technically our neighbour's garden was not. It was rich with end-of-summer flowers and the promise of early citrus. The short stubby lemon tree in the corner had signs of pale green globes turning yellow; forcing us to stare at them daily, waiting patiently.
One day our kind neighbour said, "take some, they're ready!"
He didn't need to wave his green thumb at me more than once before I was down on all-fours in the soil trying to figure out which over-sized lemon would twist off first.
Did you know most lemon trees have thorns? Well I do now.
There are perfumes that claim to bottle up "spring", but what about those everyday smells from your own cramped memory that you never want to forget? How do we record that? Because what I now held in my hand was mighty. A whiff of spicy citrus exploded from all its tightly bound pores, like the way freshly ground pepper assaults your nose. It was sharp and when I brought it closer it was overpowering like those artificial dish washing detergents, so concentrated it smelled like soap. By the time I had gone up the stairs it had softened, sweetened, like mild honey with green herbs.
Cutting into it was like slicing into an apple, its un-waxed skin crisp and solid. I will tell you now that I had to lick it, I had to know what that scent tasted like on the inside and to my greatest shock it was almost salty. It brought me roaring back to my youth and tequila shot days, the bitter tequila and salt bringing out the acerbic undertones of the lemon.
At this point I began thinking that maybe after all it would be better sliced thinly on a baked fish instead of my original baking plans, but who am I kidding, was I going to splurge on our home grown lemons in any other way than with a classic lemon tart?
We had a lunch to go to the next day and there was no way I was going empty-handed.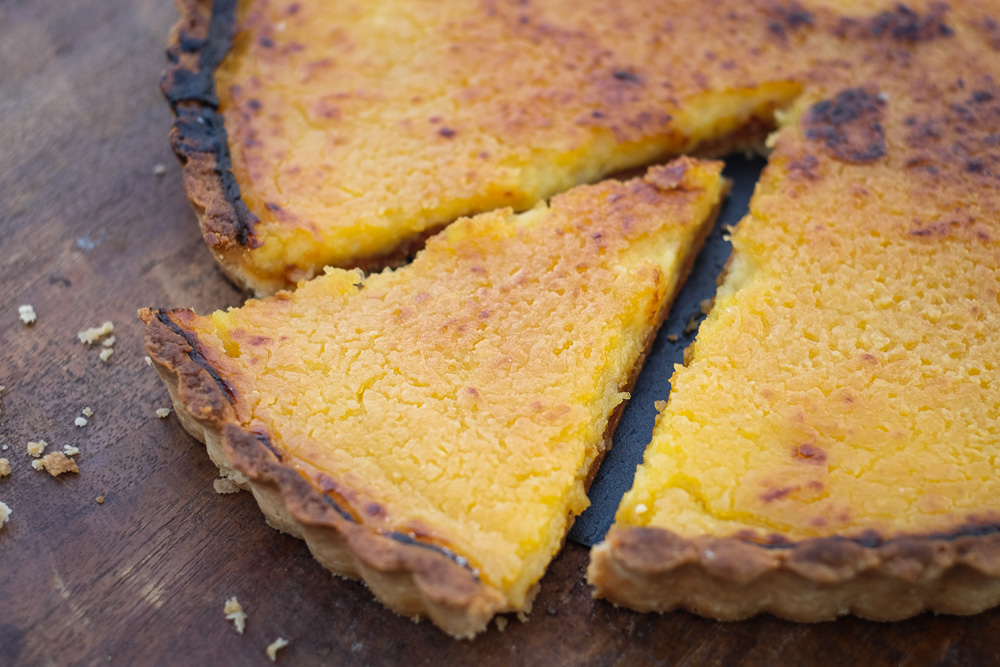 ---
CLASSIC LEMON TART \klæsɪk lɛmən tart\
Barely adapted from David Lebowitz
This simple tart really brings out the flavours of the lemons without any overpowering additions, clean, rich and classic. 
It is also the quickest pastry dough I have ever made, because your butter doesn't need to be chilled or softened or "be" in whatever state most recipes call for. You can start right when you feel like it, with your butter in any shape or form. It comes together ridiculously quickly and most of it is done in the oven for you. The lemon filling also happens to be a one-saucepan wonder, the only slightly fiddly part is when you have to strain it to ensure a smooth curd, but it really is worth it. I tasted the leftover strained bits just to make sure and was very happy that they were no longer a part of my tart filling.
The thin brown sugar topping was inspired by a lemon tart-slash-creme brulée at a café the other day, it is optional, but does add a luxurious touch to an already delicious treat. Go ahead, impress with minimum effort.
lemon・brown butter ・creamy citrus
Equipment : 9 or 11 inch removable bottom tart pan 
For the Pastry  
130g unsalted butter, cut into small cubes
1 1/2 tbsp mild vegetable oil
4 1/2 tbsp water
1 1/2 tbsp sugar
1/4 tsp salt
240g plain flour

For the Lemon Curd Filling
1 cup (250ml) freshly-squeezed lemon juice (about 5 medium lemons)
grated zest of two lemons
3/4 cup (150g) sugar
12 tbsp (170g) salted butter, cut into small cubes
4 large eggs
4 large egg yolks 
optional: 1 tbsp brown sugar, 1 tbsp white sugar 
Make the Pastry 
I adjusted the pastry amounts to fit my bigger 11-inch tart pan, if you are using a 9-inch tart pan, simply save the extra pastry for something else or make little biscuits on the side while you bake the tart. It's good for patching up any cracks later on. 
Preheat the oven to 210 degrees C. 
Place the butter, oil, water, sugar and salt in an overproof bowl or small tray and place in the oven for 10 – 15 minutes, until the butter melts and starts bubbling slightly. Remove the bowl before the butter browns too much. Be very careful when doing this as the melted butter may sputter a bit, especially when it slushes around as you move it! 
The original recipe asks you to dump the flour into the melted butter, but I found it safer to pour the butter slowly into a new bowl with the flour, because I can then hold the bowl with my hands and stir vigorously without risking a painful burn. 
Stir the flour and melted butter until it comes together and forms a ball that pulls away easily from the sides of the bowl. 
Plop the dough on the tart pan and spread it a bit with a spatula.
When it is cool enough handle, use the base of your palm to press down gently and outwards until the dough reaches the edge of the tart pan. Use your fingers to press it up the sides of the pan and cut off any extra dough from the edge with a small knife. 
Keep any leftover dough for patching up. Prick the base of the tart dough with a fork about ten times, then bake the tart shell in the oven for about 15 minutes until it turns a pale golden brown. 
Remove from oven and patch up any big cracks with the reserved dough. Let the tart shell cool before filling or while you prepare the lemon curd.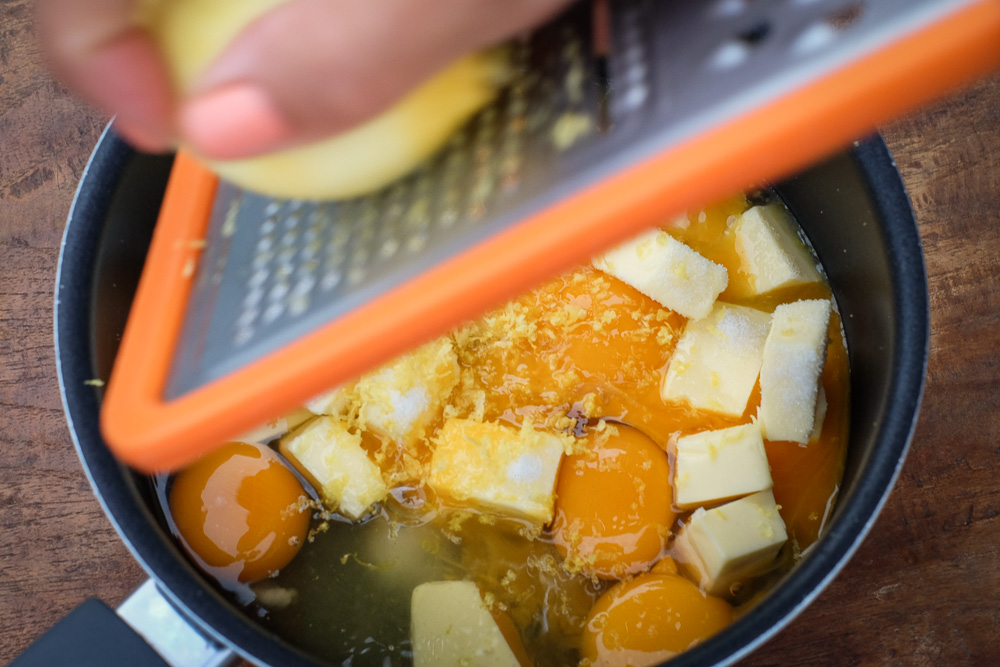 Make the One-pot Lemon Curd
Preheat the oven to 180 degrees C.
Place the lemon juice, lemon zest, butter, eggs and egg yolks directly into a medium-sized saucepan. 
Stir the mixture gently over a low-medium heat until the butter melts, then whisk steadily until the mixture thickens and holds its shape slightly when you lift the whisk. It should take a few minutes.
Pour the warm lemon curd through a strainer straight into the tart shell, using a spatula to press it through. Smooth the lemon curd filling and place it in the oven for about 5 – 6 minutes until the curd is just set. 
Remove from the oven and let cool before slicing and serving or add the additional optional step below.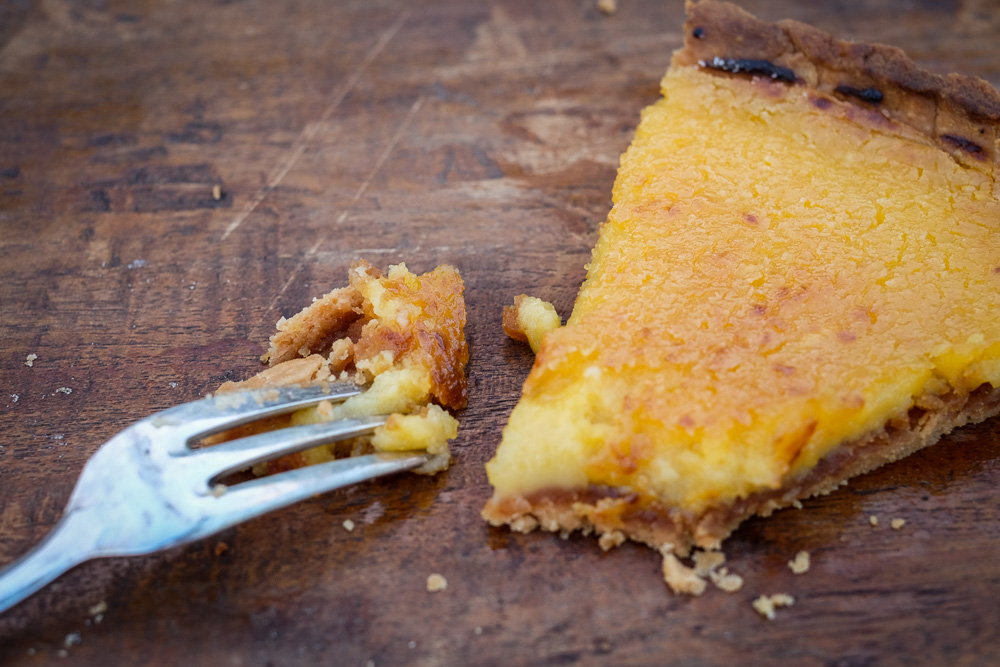 Optional step: Brown sugar topping
Refrigerate the tart for at least 2 hours or overnight if you do this step. Remove from fridge, 10 minutes before, then sprinkle the brown sugar evenly over the cooled lemon tart and place under a broiler or grill setting on your oven or kitchen blow torch until it is lightly caramelised and creates a thin crisp top. (It took my oven about 15 minutes, but may vary drastically with yours, so keep a close eye.)