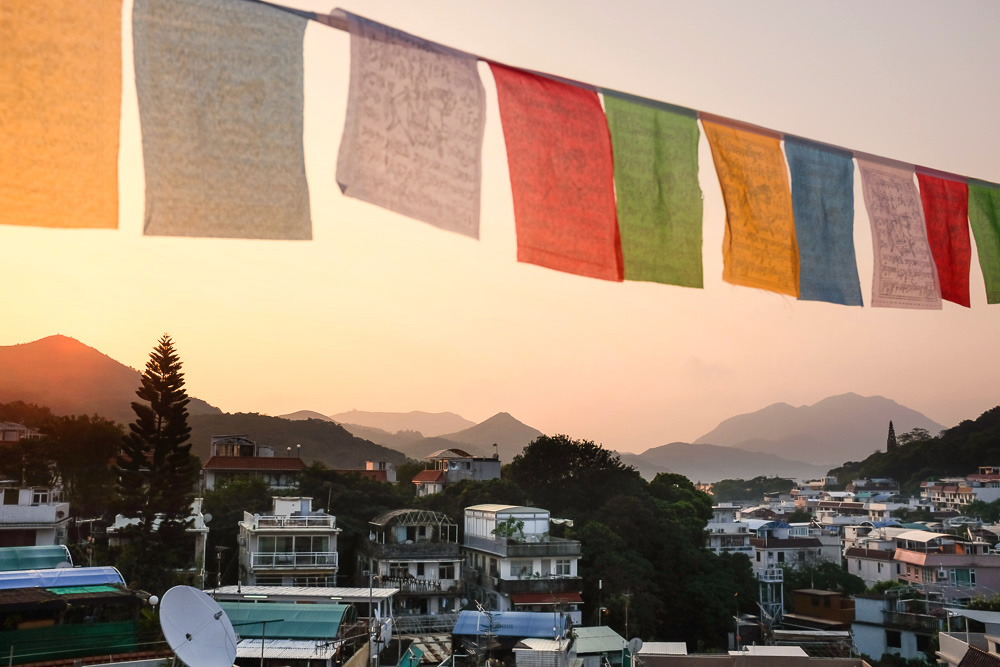 "Sometimes you find yourself in the middle of nowhere and sometimes in the middle of nowhere you find yourself."
– Unknown
I am sitting at our kitchen table overlooking a small corner of the South China Sea. Boats are passing. Some are huge cargo ships, chugging through the waves with containers of rice, wood, furniture and iphones. Some are smaller fishing boats, their nets being untangled on their way back from an open sea expedition. On the other side, there is a huge Flamboyant tree (Flame tree) outside our window, its mustard green leaves light and airy until the next sprinkling of dense scarlet flowers comes next summer. I can hear the birdsongs, species I am incapable of identifying and the beating of dragonfly wings as they wizz past our terrace.
Wait, did I say our kitchen table, our window, our terrace?! Yes I did. On a small island in Hong Kong called Lamma, it seems we are building a home. A home on the road. A home to welcome the little one I have brewing away inside me. We have a baby on the way, a new adventure on the heels of the last one. I don't know about you other ladies out there, but until my belly grew so big that I could not conceal it any longer, I found it very difficult to mention to anyone. It felt like a secret I had to find a way to share and somehow my shyness got the better of me so it stayed that way, a secret. I continued to live our life the way we knew, camping in New Caledonia, hostelling in New Zealand, visiting friends and family in Italy, Brussels and France. Now as I waddle down the roads of Hong Kong and people start to give up their seat for me on public transport (yeay I don't just look fat anymore!), there is no escaping the fact that we have to slow down and nest a little.
So we are starting a new series on the blog called "Life As We Know It". About the transition from constant travel to slow travel, the growth from couple to small family, the ups and downs of adjusting to a new place, dramatic changes and way of life.
We are excited to be building a new home. We don't know for how long this will be our home, but for now, it is what we need. The thing is, travel is so much easier. Many are scared to leave everything behind, to give up their "stuff", to part ways with their commitments and responsibilities. To give up the security of a job, of proximity to family or weekly meet-ups with friends. But in reality, leaving it all behind for long-term travel is the easy part, the hard part is settling down again. Long-term travel has been so liberating. It is where you live day to day, where you leave your bills behind, your furniture behind, your admin behind, you clothes behind. You are FREE. Free from judgement, free from obligations, free from "shoulds". All you have to think about is what you will eat that day and where you will sleep. There is no long term plan, no negotiating with landlords, no IKEA queues, no weekend crowds to get things done. Because for you on the road, every day is a Sunday.
Every morning you get to wake up and decide on your day. There are only emails if you feel like it, otherwise you could always blame the bad connection. There are no fixed appointments, no real deadlines except self-imposed ones. And you learn to live on the cheap, because deep down you know this is somewhat temporary. The constant moving from place to place every single day can only be temporary. Long-term temporary, but temporary.
At some point the movement switches down a gear and you slow down. Slow down to get to know a place better, to discover its people, its ins and outs. To build relationships that will last long after you leave.
We are not exactly "back". We did not choose the easy option of going "home" to Brussels where we already had everything. We chose the option of setting up in a new place in Hong Kong 香港. I am not opposed to raising a baby with the bare minimum, still perhaps in denial and hoping we will be able to continue travelling light. But a new home still means finding an apartment, bedsheets, chairs, tables, kitchen equipment…with the same budget we had for travelling. It is not easy to face reality again. Or do we all actually get to choose our own reality? Travelling is just as real as staying put, it is just a different reality, a different choice. Now we are settling in to a new reality.
A reality where we can discover a city both old for me and new for Nico. A reality where we will explore a region from top to bottom. A reality where we can incubate new projects, a baby, photography, a cookbook. A place where we hope to make new friends and where old friends will come visit.
As I rediscover vacuuming (yikes), baking (in my own oven!), cleaning (bye bye dirty hostels) and sleeping in the same bed for more than a month;  hopefully this new reality by the sea will make us feel we made the right decision.
And hopefully eventually, it will be a reality which will make us say once again, "we are so lucky."