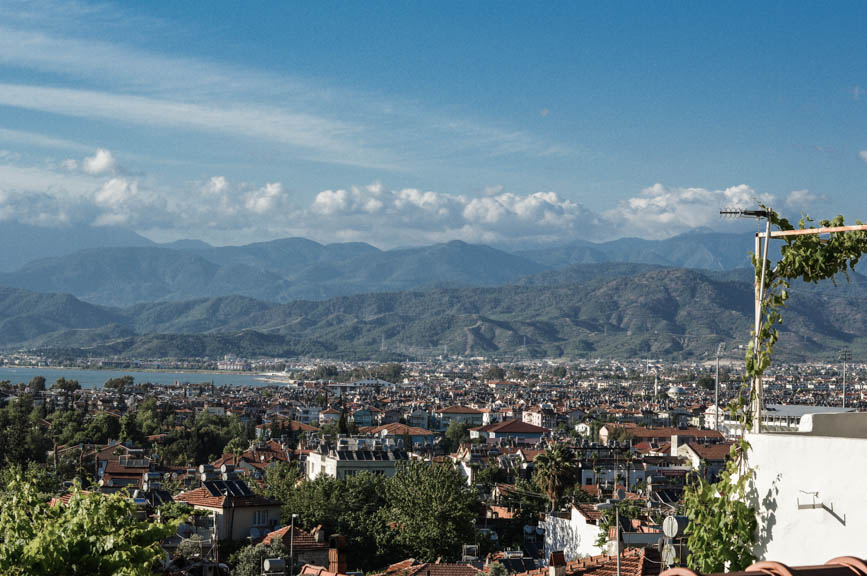 The lure of Turkey's turquoise coast attracts over a million tourists a year with a high percentage of the country's best beaches located only a couple of hours from the town of Fethiye. Coming from the sleepy and peaceful Greek islands of Amorgos and Astypalea, we were initially skeptical; excited to be moving onto Turkey, but convinced that our first stop in Fethiye was mainly a necessity before starting our week-long trek of the Lycian Way. A quick and superficial information search about the medium-sized town did not sway our assumptions – google images showed an average port with too many buildings and not much else. Don't make the same mistake as us. 
On arrival, Fethiye was a wonderful surprise, chilled out, friendly and picturesque – you just have to find the right spot. Basing ourselves at a sweet family pansiyon (the turkish word for pension) towards the end of the marina, the relaxed town quickly felt like home. 
Yes, Fethiye is touristy, the bazaar is full of the usual trinkets you can find all over Turkey, scarves, carpets, lokum, spices and imitation handbags; numerous restaurants and bars serve slightly overpriced mediocre food; the marina is filled with "gülets" boats promoting day tours to the valley beaches nearby. Yet it is never overwhelming, far from being a tourism pocket, it is a town where local life continues, you can easily escape the tourist circuit by walking two minutes more. 
Fethiye is home to the starting point of one of Turkey's most beautiful hikes – the Lycian Way, making the town a good place to prepare and stock up. For two food-obsessed travellers like us, the timing of our stay could not have been better, it coincided with Fethiye's weekly tuesday market.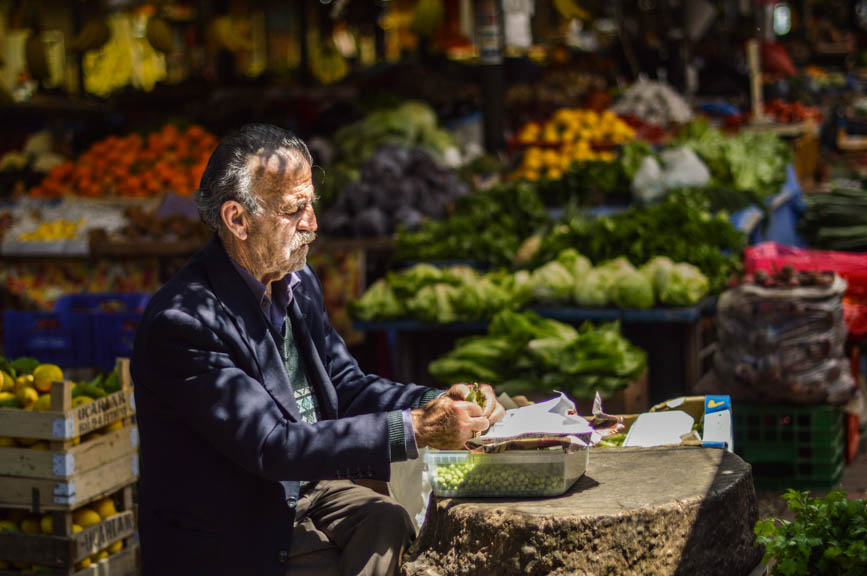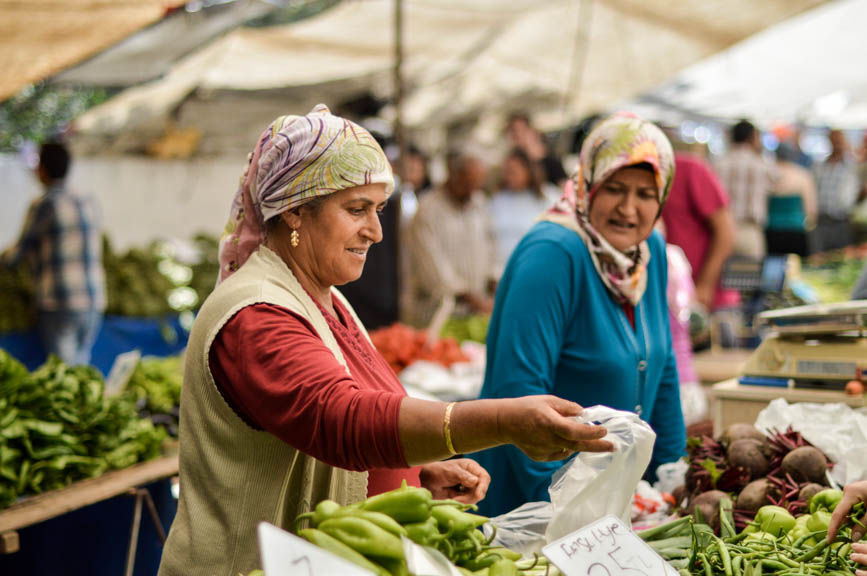 Along the narrow canals of Fethiye, a gigantic market comes to life every tuesday. Farmers descend from surrounding villages and carefully lay out their produce – Artichokes the colour of green olives and violets, baskets of mulberries whose juice immediately stain your fingers a pretty shade of deep purple, mottled pink borlotti beans, the omnipresent turkish tomato, dusty beetroots, lemons the colour of an icy sorbet and mountains of spring green – spring onions, lettuce, spinach, cucumbers, cabbage, green peppers, fava beans, long beans and bundles of parsley, mint and dill. 
There are carts of olives, fat and juicy, small and shrivelled, green, black, purple, in brine or in oil, with herbs or with chillies. There are stalls overflowing with dried fruits and nuts – orange and brown apricots depending on the drying technique used, chubby cranberries, raisins golden and black, sticky dates, strawberries that could easily replace any of your favourite candies, kiwi rounds and ginger crystals. How to choose the nuts for our trekking trail mix? Sesame coated peanuts, caramel hazelnuts, salted almonds, delicate cashews and crispy pistachios.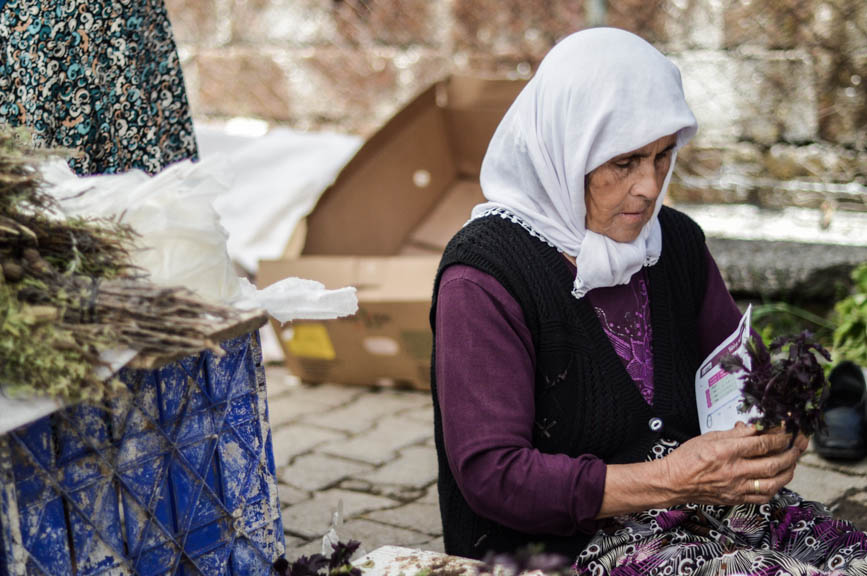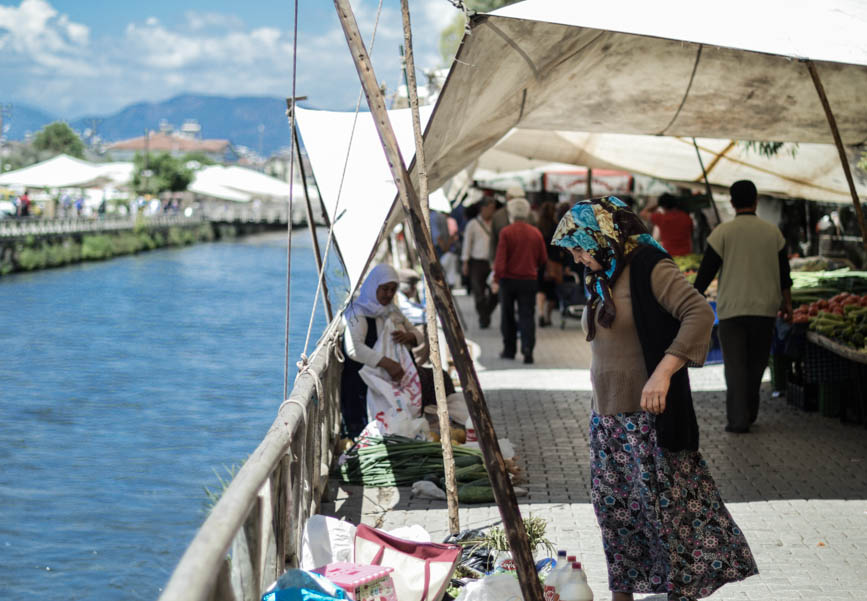 There are obligatory towers of multi-couloured lokum (turkish delight) for locals and tourists alike, boxes piled high with the advertised price of buy two get one free. Fruit flavoured teas are offered at every corner, mainly touted to foreigners since locals prefer their tea black. Would you like apple, lemon or peach? 
Perfectly shaped conical hills of spices and dried herbs complete the colourscape – cumin, coriander, saffron, paprika, chilli, turmeric, pepper white, black and green. Every time there is a slight breeze I wonder how the cones stay mysteriously intact, perhaps like little sand dunes, one day they will migrate over to the neighbouring stall.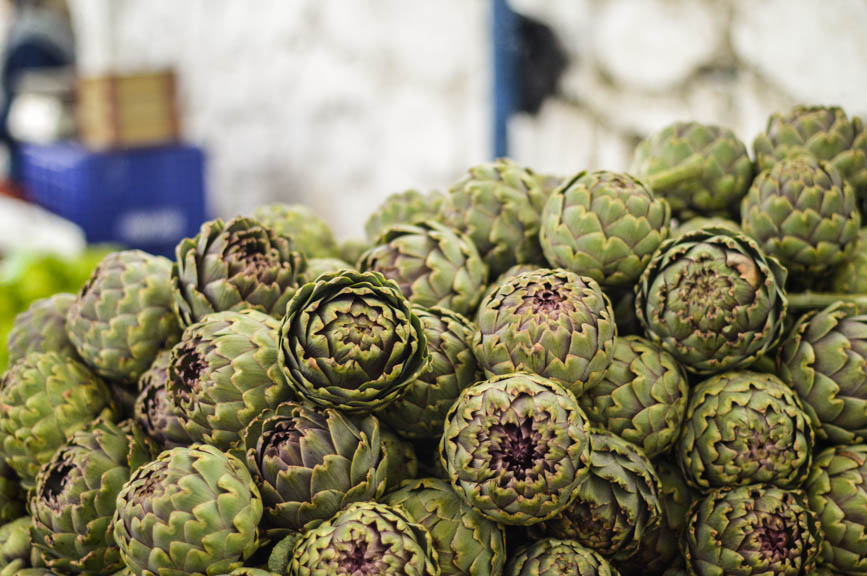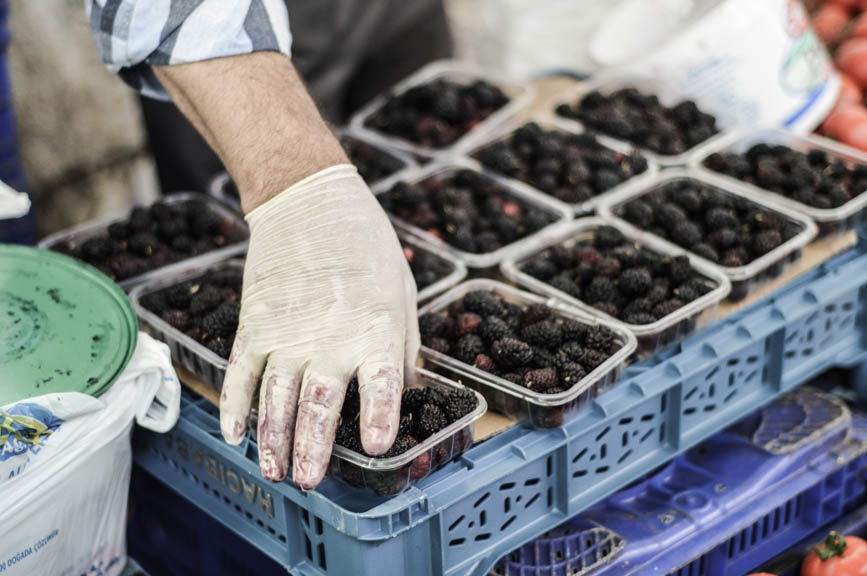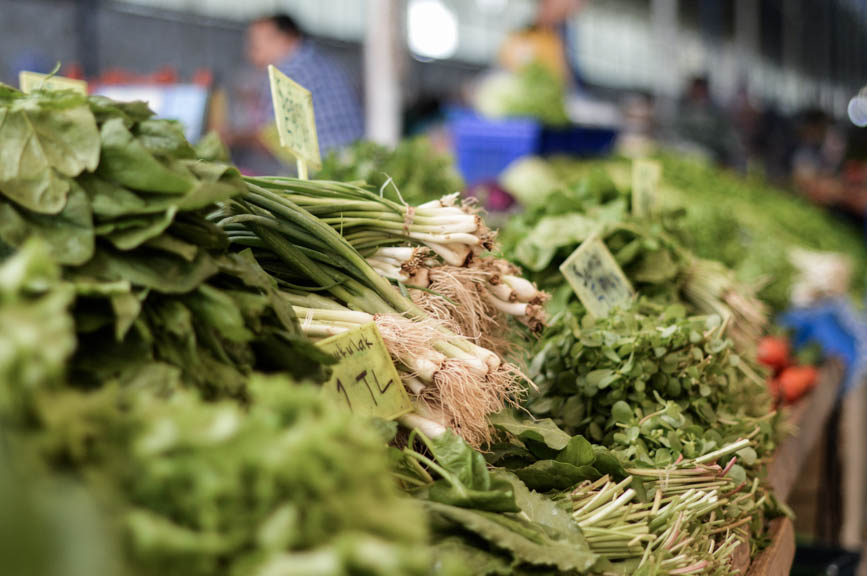 To compliment your meal of vegetables and fruits, there are the turkish staples of olive oil and peynir. Peynir – turkish cheese comes in many different forms, mainly from sheep or cow, they range from dry and salty parmesan-like crumbs to soft and crumbly feta-like chunks. You can purchase them in blocks, little plastic bags or scoop them straight out of a bucket. 
For lazier folk or cooks pressed for time, there are abundant ready-made versions of ingredients to help you along – stacks of ready-made börek pastry, waiting to be stuffed and baked at home. Pre-cleaned artichoke hearts that leave me salivating for artichoke ravioli, not very turkish I know, but the memory of cleaning about fifty artichokes for my last ravioli attempt is still fresh in my mind. A well-dressed man sits dignified in the shade as he calmly goes through a crate of peas, delicately removing the little green jewels from their pod.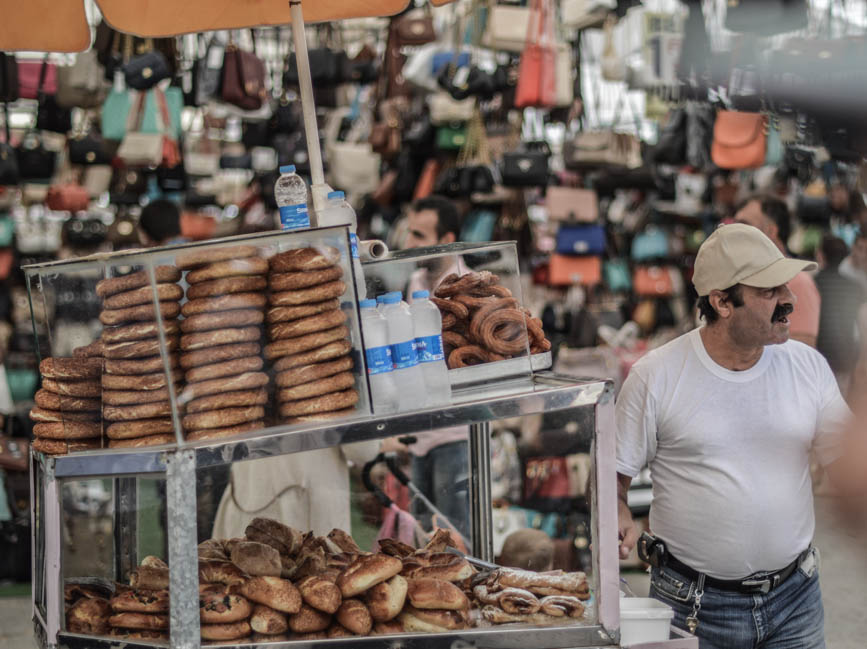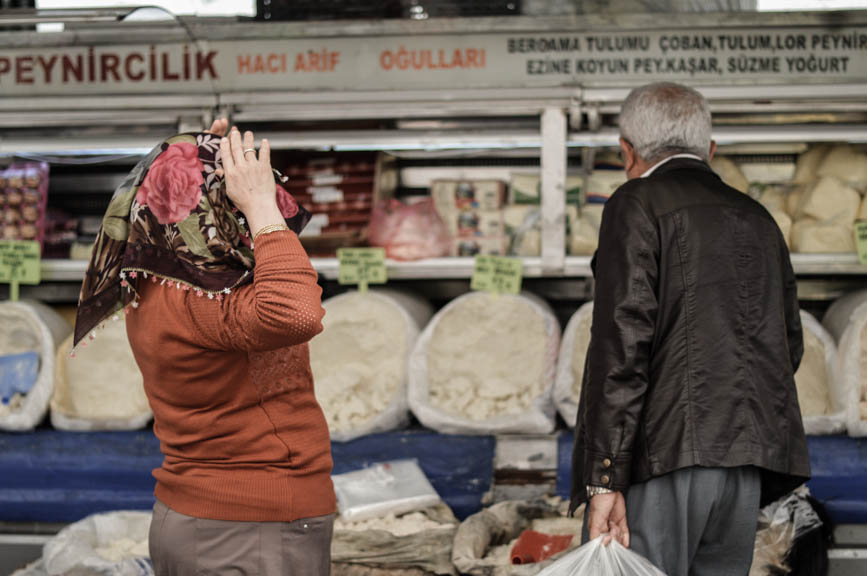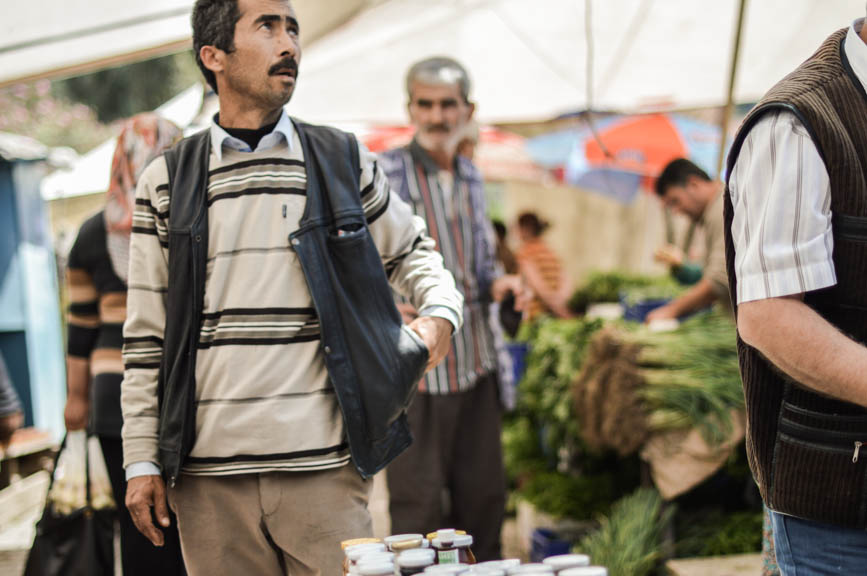 This is what makes the life of the market, the people who proudly and devotedly present their labour's fruit. Ladies in colourful headscarves line the edges of the canal, posed on flowery cloths as they wrap their flower or herb bundles with twine. The street-food vendors who seem extra busy dishing out breads, pastries and corn on the cob from their carts.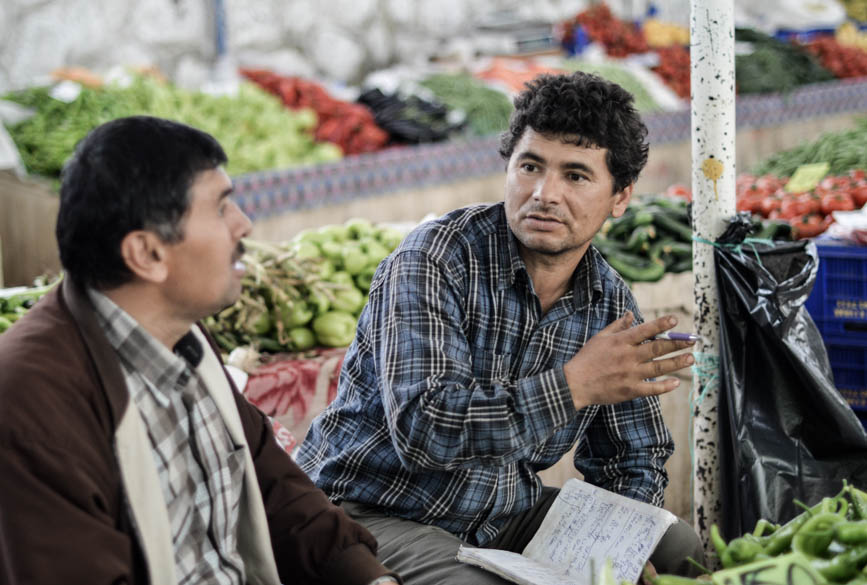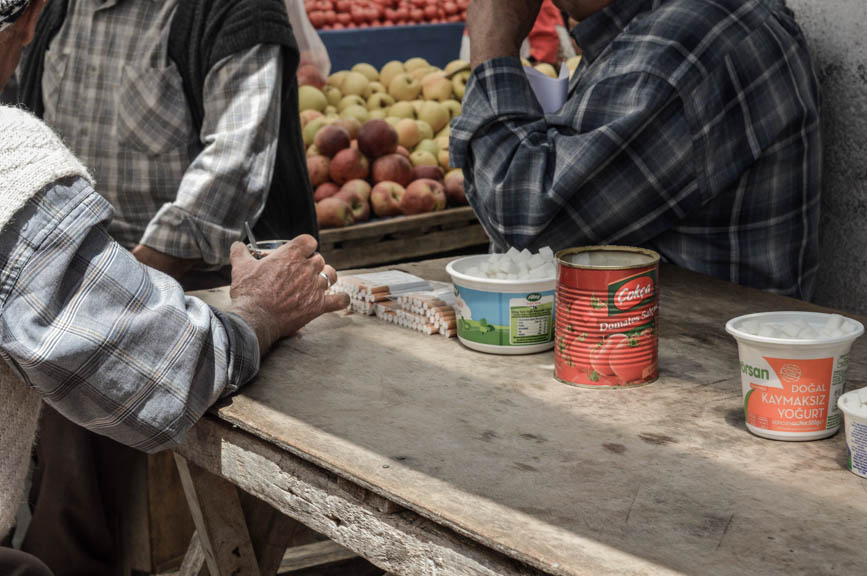 This market is not only about buying and selling, it is also the hang-out spot du jour. Men sip on tea and puff on cigarettes that they buy one at a time. Future orders are planned and negotiated among the fruit and newspapers are leafed through as shoes are being mended. On the other side of the canal is the market's "food court". Groups of women run temporary stalls selling Gözleme (geuse-leh-meh) and Katmer (cat-maersh) – turkish pancakes filled with ispanak (spinach), peynir (cheese) or et (meat). Sit down, have a tea and enjoy watching them prepare the hand-made deliciousness as you sample a few pickles from the big plastic jars on each table. Between the stands is the market's "main street" – people meeting up with friends, stopping for a chat or simply walking mission-like to their next destination.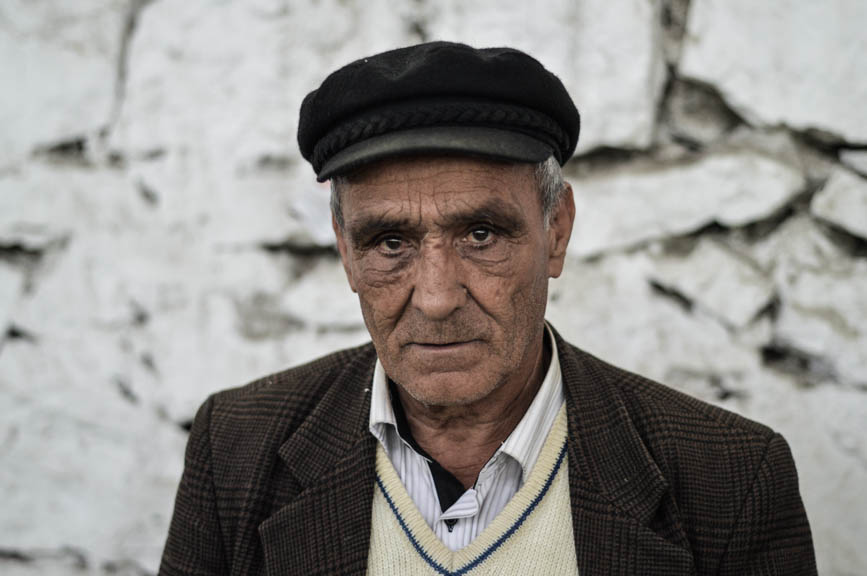 Hours of exploration fly by until we finally leave with our bags full of dried fruit and nuts – our survival kit for the trek, but the market leaves me dreaming of a fully-equipped kitchen and more time in town to experiment with all the produce it has to offer.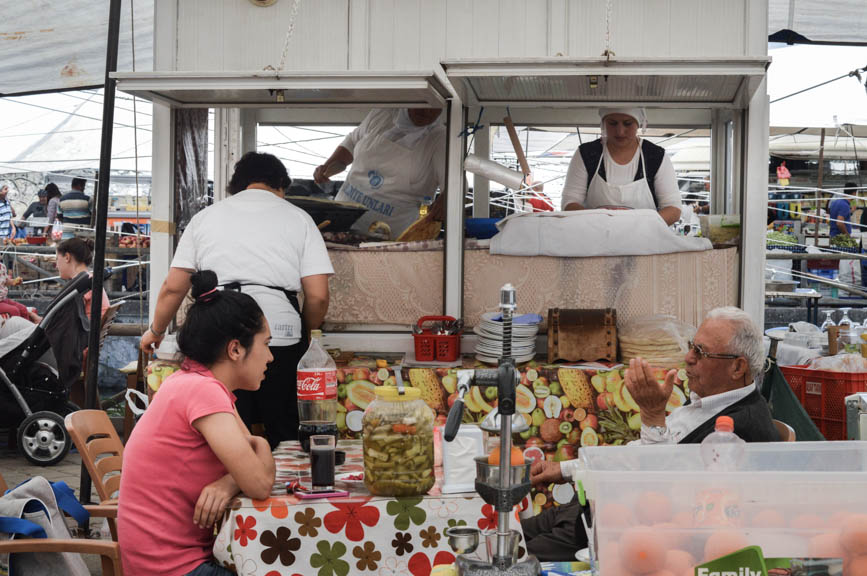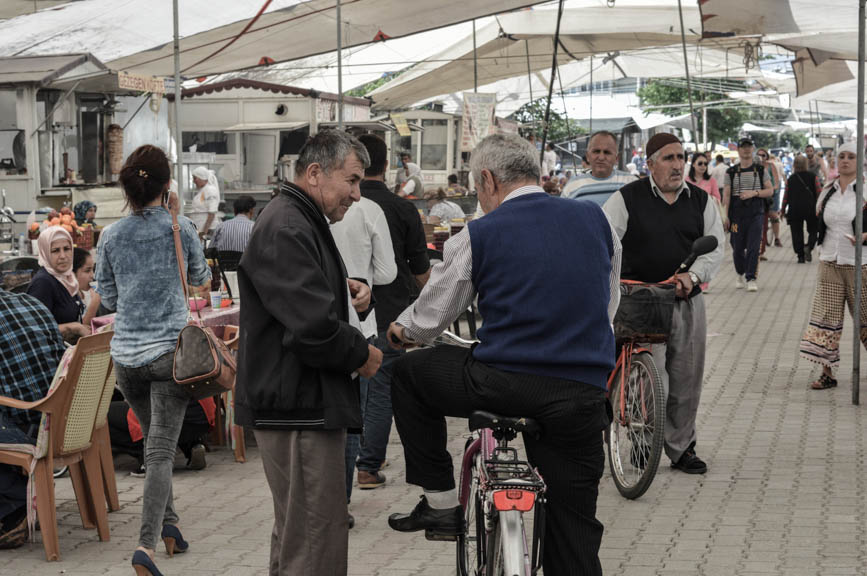 FETHIYE'S FISH MARKET
The immense market may come to town only once a week, but the daily fish market could potentially give it a run for its money. If you are a fish-lover, the costal richness of Fethiye is your paradise. A courtyard surrounded by one storey buildings, its centre hosts about thirty fish stands. In most of them you will find fish that is still breathing, shrimp that is still crawling and calamari ready to be cooked anyway you want.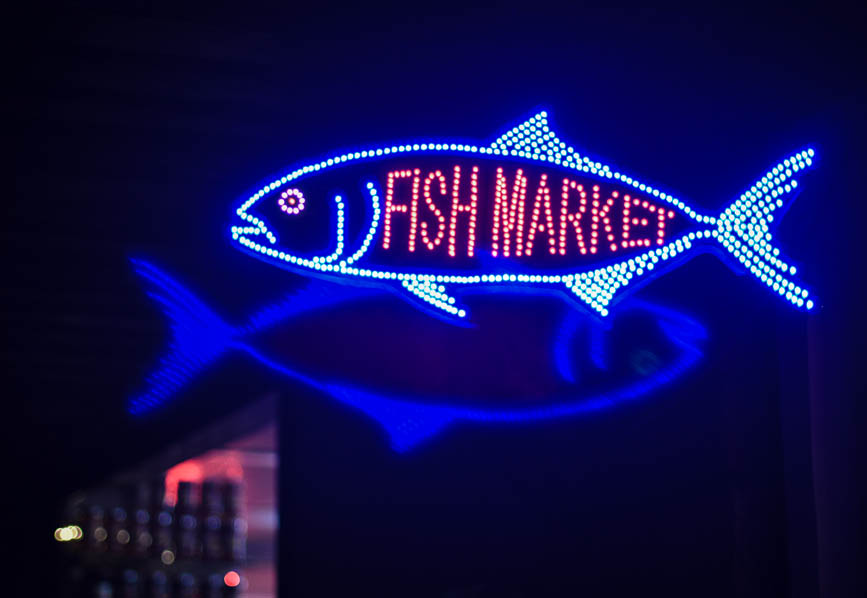 An organised purchase-and-consume system is in place. The internal courtyard is lined with fish restaurants – step 1. choose your fish and seafood, step 2. bring it to the restaurant of your choice to have it fried, steamed or grilled. 
Any portion of our tight budget that may have been saved at the day market is splurged on dinner at the fish market, but it was worth it. Most restaurants offer to cook your fish and serve it with a mixed salad and garlic bread for 6 turkish lira (about 2 euros at the time of writing), if you are wondering like us how they manage to make a profit, order a glass of wine and you will see. But a splurge is a splurge and there are some fantastic turkish wines to be discovered in great harmony with your grilled snapper or prawns. There are also partnerships between some fish sellers and restaurants, but no one will stop you from going to the one of your choice.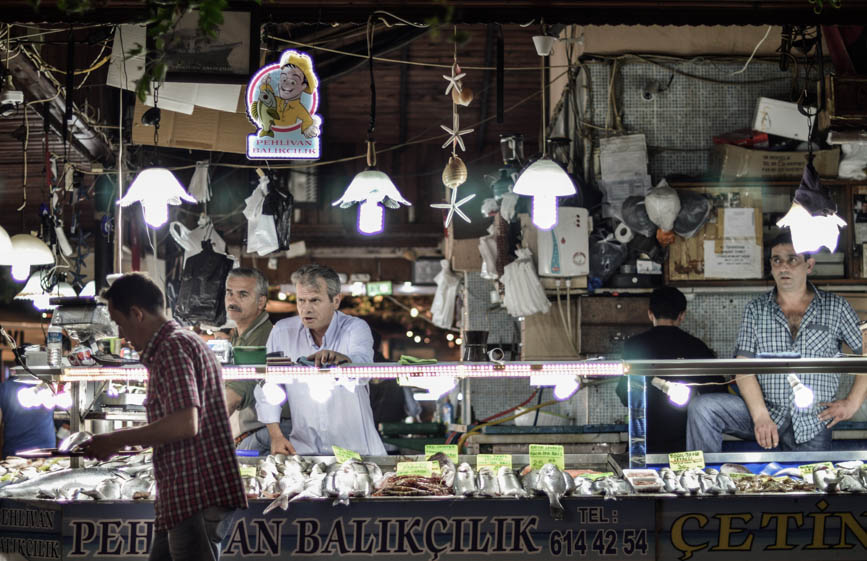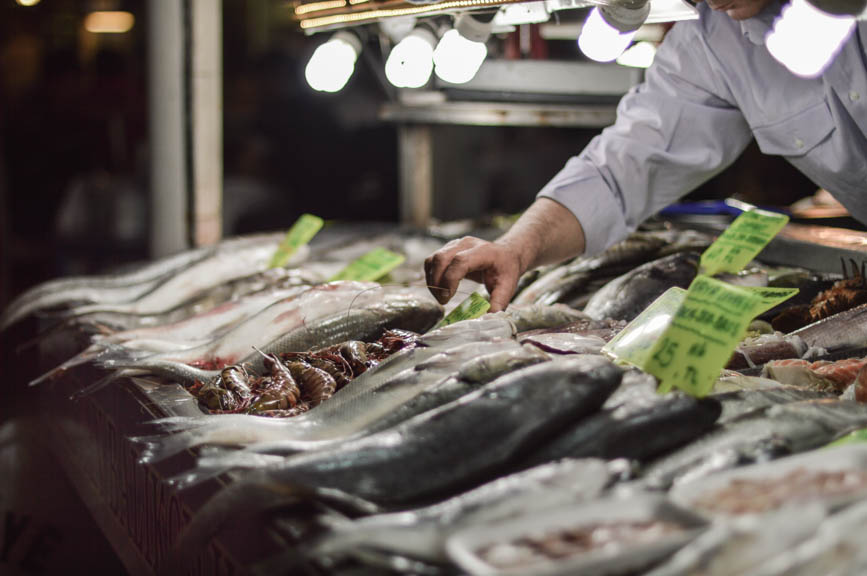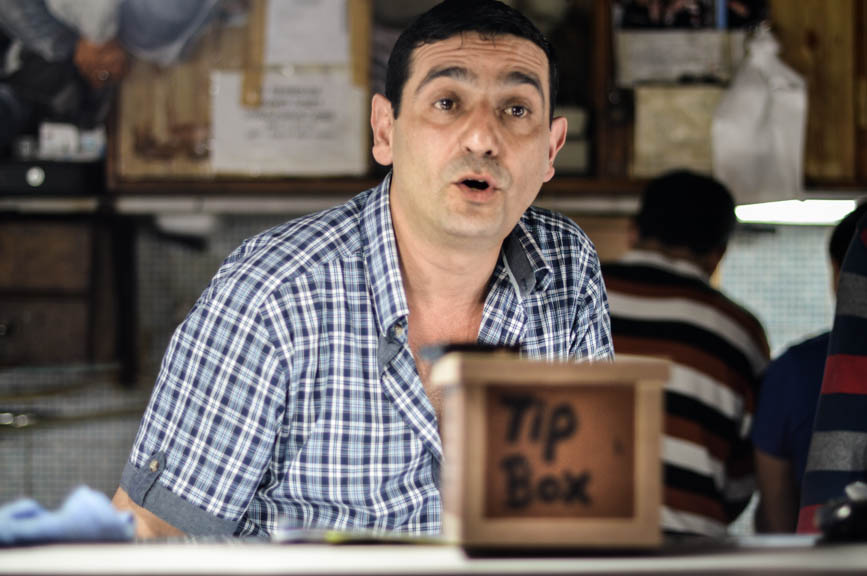 Ah, this is where we discovered the chilli butter prawns. It sounds simple enough and indeed it is a dish of few ingredients and basic technique, but somehow the exact flavours married each other so well, that we continued dreaming about it all through our trek and were determined to come back to get the recipe on our return to town. 
Arife is the chef at the small corner restaurant Osman's Place – managed with her husband and son Anil, she churns out crispy fried calamari and grilled fish like nobody's business, but the dish that beat them all hands down was the chilli butter shrimps. Shrimps not usually being my seafood of choice, this dish could easily convert me. It is not a complete recipe, the proportions are not precise, but if you would like to attempt it, here is what we can share with you –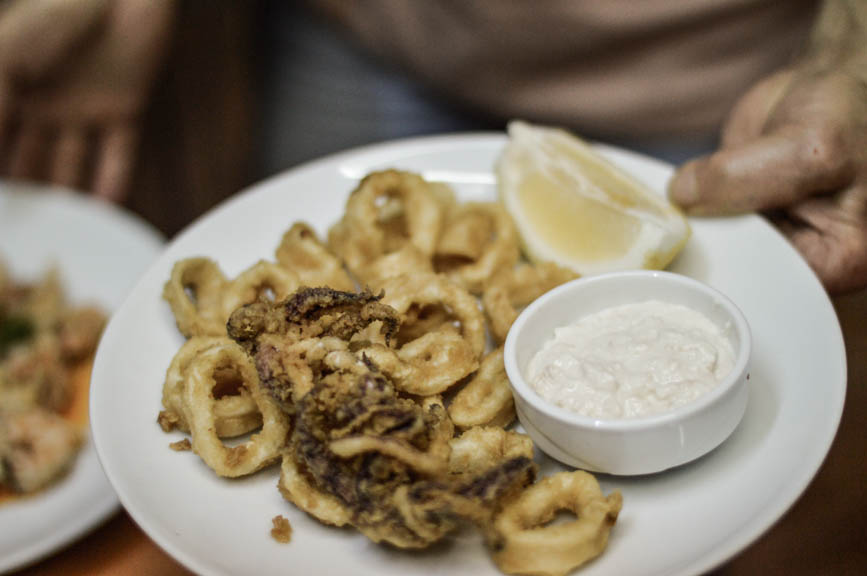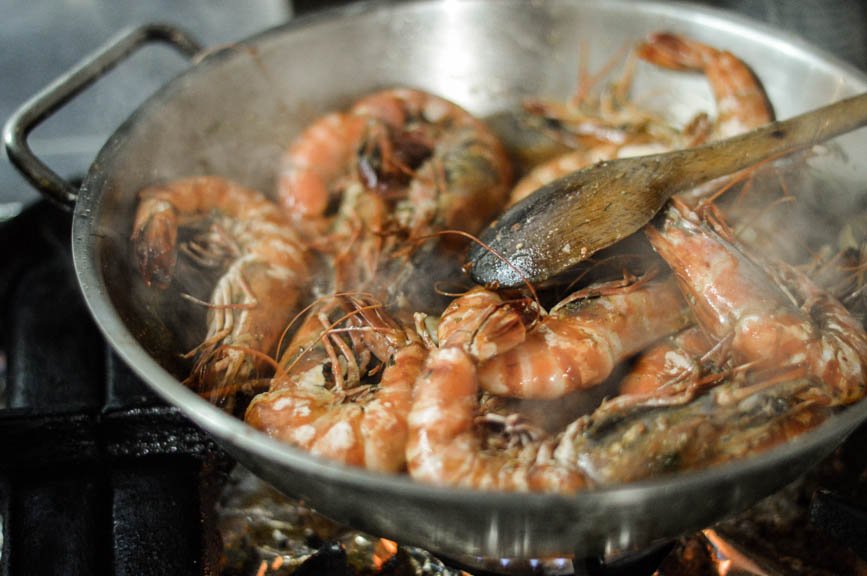 CHILLI BUTTER SHRIMPS
We went for the small local prawns in this dish, you could also use bigger ones, though if I had a choice, I think little ones would give you more sauce per shrimp than bigger ones. 
Melt a generous amount of butter in a pan and add quite a bit of chopped garlic. Arife has a pot of salted butter already mixed with garlic and dill which she scoops out of, I imagine reproducing a pot of this garlic butter at home would give even more time for the flavours to develop and it would work for numerous other dishes including as a scrumptious topping on toasted bread. Am definitely going to make my own whenever we are back "home". 
Add some dill and then throw in the shelled and deveined prawns. While the prawns cook add freshly chopped deseeded red chillies or red chilli flakes, the amount depending on your tolerance (I would not add too much though as it will overpower the flavour of the prawns), then season with salt and pepper. Finish with a guzzle of dry white wine and more fresh dill. The secret is to add a couple of spoonfuls of water at the end to give the dish extra "sauce".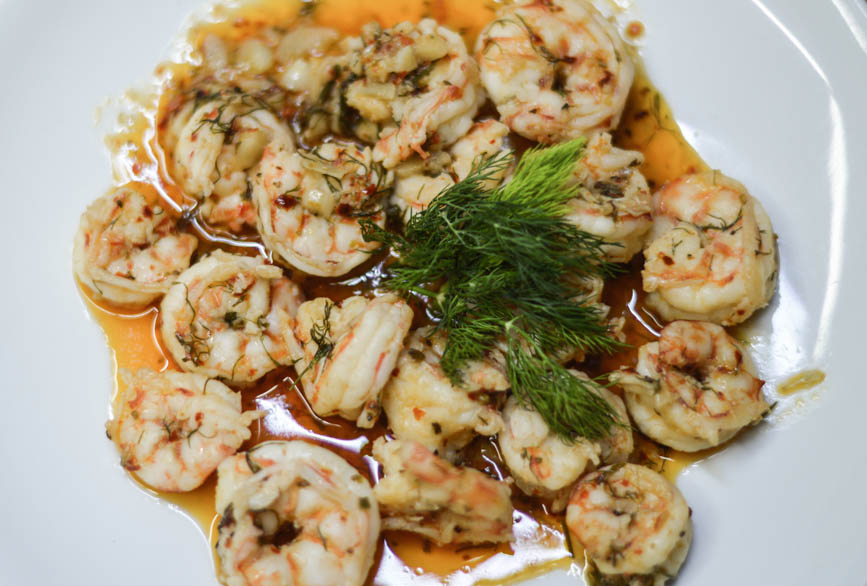 And there you have it. Yum yum. 
Thank you Fethiye for giving us a great start to our adventures in Turkey this time round. Oh, and shrimps that we will fantasize about for the remaining part of our journey.