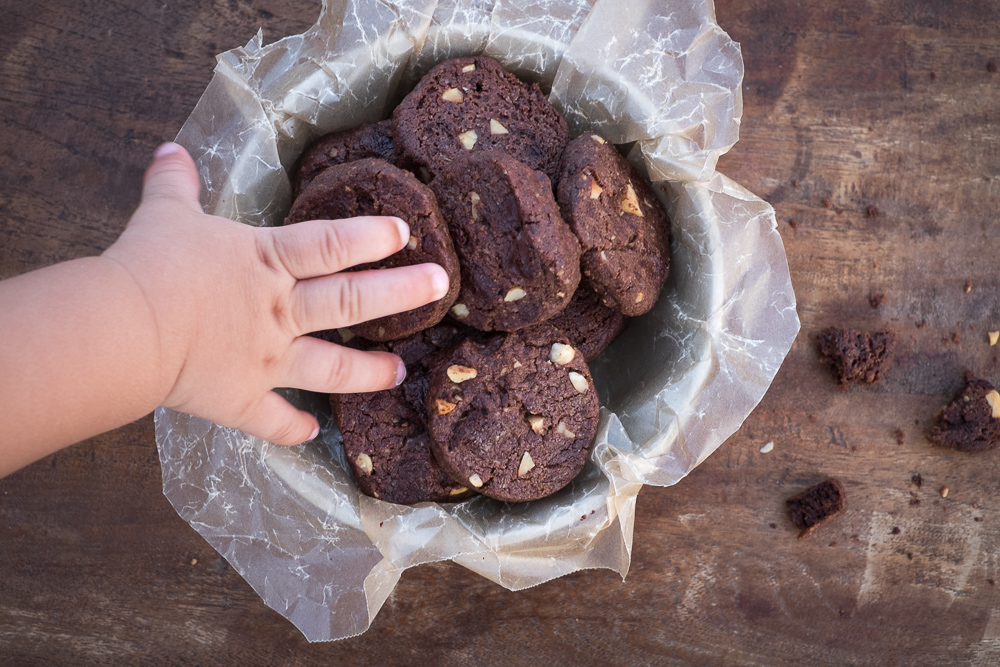 We woke up before the results were in.
We spent our morning in Vietnam refreshing the Guardian's page again and again, watching the US electoral college votes go up excruciatingly slowly and punishingly red. Then it became more red and finally all red. And like what seems to be happening way to often this year, the incredible became reality.
A car crash happening in slow motion. You see it coming towards you, your mouth slowly widens into a scream, but until the last minute you keep hoping that by some miracle the pick-up truck will freeze. Only it doesn't. 
Yes. It happened.
There are so many things I want to say. 
So many ideas and arguments swirling around. Misunderstandings multiplying, finger-pointing, blame-shaming.
I don't even know where to begin. Anger, sadness, pain, despair, shock, determination.
Guilt. Sadness. Anger. 
Questions and more questions.
It keeps going round and round and round in my mind.
I have read and read and read and read some more. Trying to process it all. Attempting to understand how we got here. Yes, WE.
So I'm not going to write anything just yet. This time I am just going to Listen for awhile. 
(These cookies most probably will not bring World Peace, but I am ready to give anything a shot.)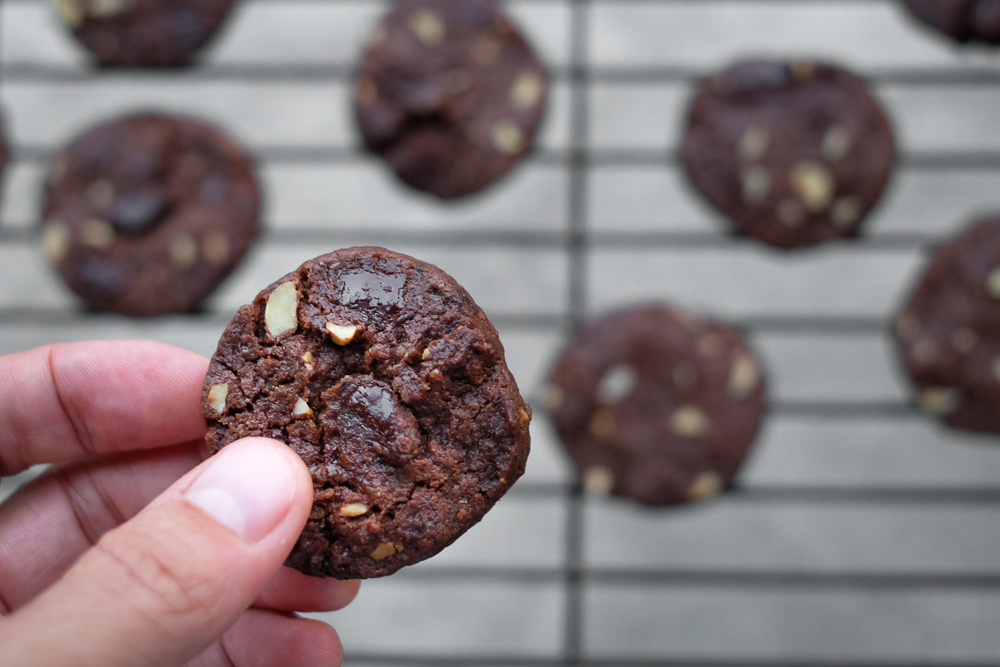 ---
WORLD PEACE COOKIES \wɜːld piːs ˈkʊkiz\
These cookies were originally inspired by french pastry chef Pierre Hermé who brought together the french sablé and married it to the American chocolate chip cookie. A love affair between America and France. They were named after his Paris restaurant, Korova, until Dorie Greenspan's New York neighbour rechristened them as World Peace Cookies. The idea being that they are so good, if everyone in the world ate them we would achieve world peace.  The decadent dark chocolate cookies are uplifted by a sprinkling of fleur de sel – salt. And with what is happening all over the world, it seems like we are going to have to take all of our "realities" with a grain of salt. 
Lightly adapted from Dorie Greenspan
Makes about 30 cookies
sea salt・dark chocolate ・hazelnut
For World Peace Cookies
1 1/4 cup of plain flour
1/3 cup of unsweetened cocoa powder
1/2 tsp baking powder
155 g butter, unsalted or salted at room temperature
2/3 cup light brown sugar
1/4 cup white granulated sugar
1/2 tsp fleur de sel or 1/4 tsp fine sea salt
1 tsp vanilla extract or espresso coffee
142 g of bittersweet chocolate, chopped into small chunks or mini chocolate chips  
1/4 cup hazelnuts, finely chopped

 Sift the flour, cocoa powder and baking powder together. 
Cut the butter into large chunks and beat (with a hand held mixer or stand-up mixer) until smooth and creamy, but not yet fluffy. Add the two sugars, the salt and the coffee or vanilla. Then beat until mixture is smooth again, about two minutes.
Turn off the mixer and pour in the sifted dry ingredients. Use a spatula to cut in the flour so that it does not fly everywhere when you turn the mixer back on. Beat on low until all the dry ingredients have blended into the dough. The dough may look crumbly at this stage, but uniform in colour. Add in the chopped chocolate and the hazelnuts and mix until the pieces are well-distributed. If the dough does not come together, you can knead it gently to bring it altogether into a bowl. 
Place the dough on a work surface and carefully divide the dough in half. I usually place them directly onto a sheet of clingfilm (plastic wrap) so that I can use that to help me roll the halves into logs. The logs should be about 4 cm in diameter. Wrap them up and chill them for at least 3 hours in the fridge or freeze them for at least 2 hours. They can keep for 3 days in the fridge or 2 months in the freezer. (You can bake straight from the freezer, you just need to bake them about 1 minute longer.)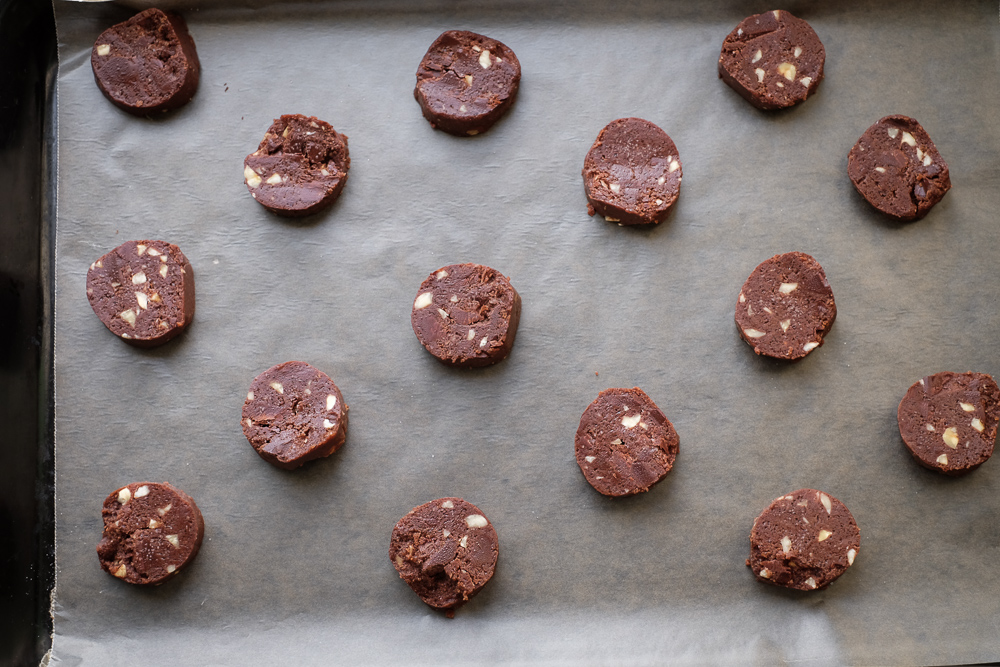 To Bake 
Preheat the oven to and line two baking sheets with parchment paper. 
Slice the logs into rounds slightly thicker then 1cm with a sharp knife. The rounds can crack a little, but you can just squeeze it tighter again. Place the rounds onto the baking sheet with enough room between them, about 2 cm apart. 
Bake the cookies one sheet at a time for 11-12min. They may not be firm, but will have cracked a bit on the surface, that's how they should be. Try to resist opening the oven before they are done! When done, remove the cookies from the oven and place on a cooling rack.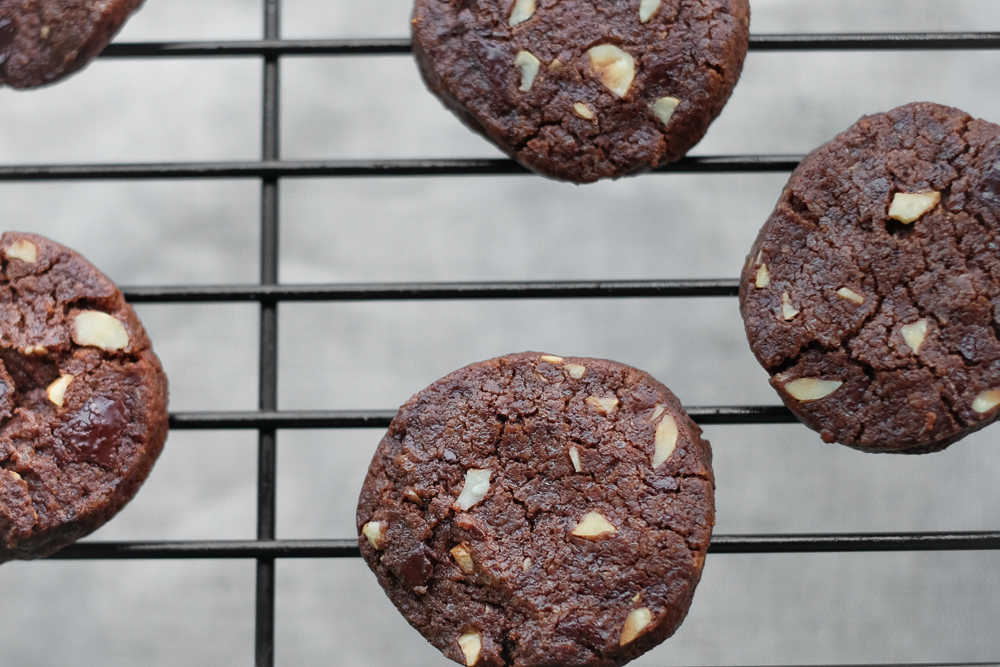 Store the cookies in an airtight container where they will keep for up to 3 days at room temperature or freeze them for up to 2 months.