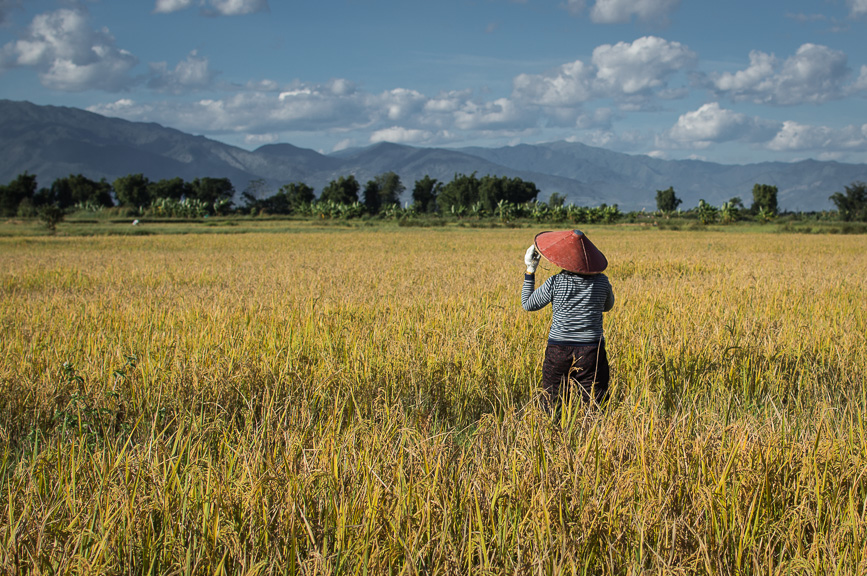 Myanmar is awash with avocados. Every market and almost every fruit stall we passed had pyramids of the dark crinkly skin, holding ripe green avocado cream within them. It is not typically a fruit I associate with South East Asia, so when we discovered them for the first time in the market in KyaingTong, not only was I surprised, but ecstatic. First introduced to the country about 60 years ago, it was grown in the hilly regions of Eastern Myanmar and has now become a backyard crop for many families. 
A study by the FAO and the Myanmar Agriculture Service showed that the dietary habits of local people can often be deficient in vitamins and minerals, arguing that the development of avocado production in Myanmar could help compliment diets for its anti-inflammatory, anti-cancer benefits as well as promoting blood sugar regulation and better cardiovascular health. Avocados are a fantastic source of dietary fibre, copper, folate, potassium and vitamins B6, E and C. Good for the skin and good for the heart. Do we need any more reasons?
Unfortunately, avocados are pretty much a love or hate fruit. We seem to be either addicts or disgusted by them. I am definitely a lover and hope you are too. This miracle fruit is delicious on its own – my mother used to take the pit out, simply drizzle in some olive oil, balsamic vinegar and a sprinkling of salt before digging in with a spoon. And as I found out this time, it is also the perfect picnic food. Extremely portable and durable before it is opened, it can also act as its own "bowl", meaning you don't even need extra utensils.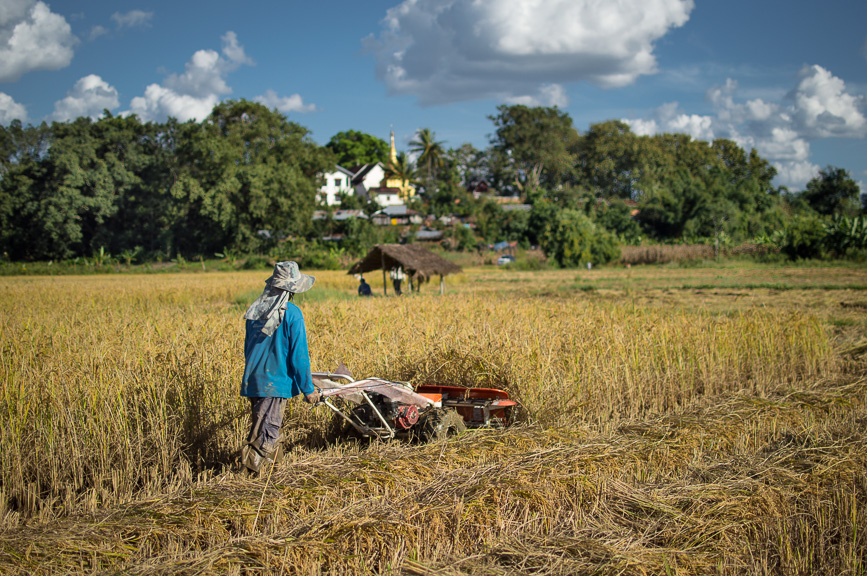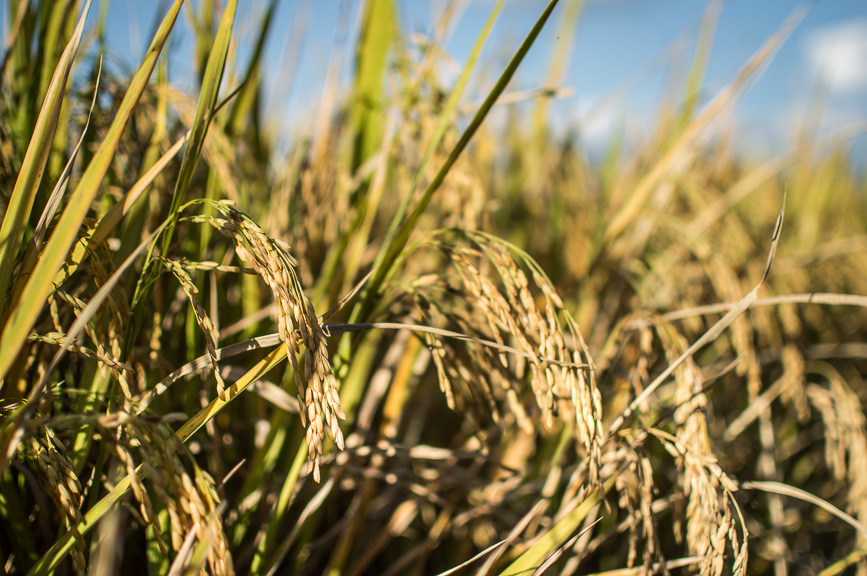 It was slightly painful walking through the Kyaingtong market, thinking I would not be able to cook any of the beautiful produce available…until I realised that avocados could be easily turned into guacamole without a kitchen at all. We did not even need a plate. After months of being on the road, I  desperately wanted to make my own food, to decide what goes into a dish and advance slightly beyond peeling an apple. This seemed like the perfect compromise.
So we ran around, chose several ready-to-eat avocados, grabbed some spring onions, chillies, garlic, a couple of limes and a handful of coriander and we were set for our asian-inspired guac. We took off towards the outskirts of the town, beyond the giant pointing Buddha, around the peaceful Naung Tung lake, past the golden stupa of yet another monastery and landed on the edge of golden rice fields.
Groups of families in conical hats were harvesting the never-ending gardens of rice stalks, one half heavy with grains ready to be slayed and whipped, the other half lying flat, ready to be husked and stored. 
We find a spot under a tree just by the rice paddy's rim and lay out our copy of Myanmar's Democracy Now newspaper. The travelling kitchen is ready with all we need and as we devour the easiest fresh guacamole straight from its shell, we couldn't have asked for a better view. So for all you travellers out there who miss cooking and don't have access to a kitchen, explore, find your favourite corner, try this out and let us know how it goes!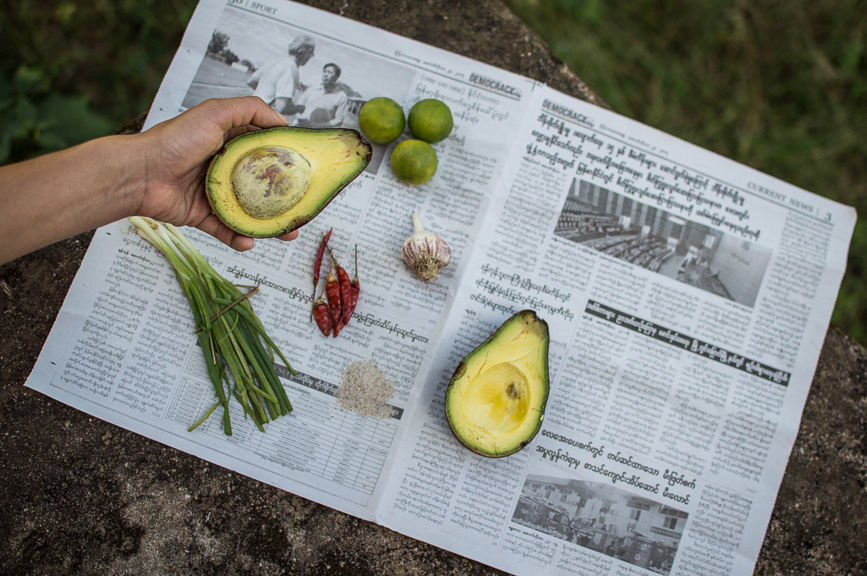 ---
BURMESE RICE PADDY GUACAMOLE  \ˌbərmiz rajs pædi gwɑkəmoli\
Serves 1
For the Guacamole
1 ripe avocado
1 lime
1/2 red chilli, deseeded and finely chopped
1 small garlic clove, finely chopped
1 spring onion, finely chopped
a handful of coriander
salt & white pepper to taste
Once you have prepared and finely chopped your garlic, spring onion and chilli, slice the avocado vertically in two.
Here's the secret to removing the stone. Take the half with the stone still in it and using the blade of your knife, strike the avocado stone at its centre (watch your fingers!) so that the blade gets stuck in the stone, then twist about 90 degrees and voilà the stone will come out with your knife.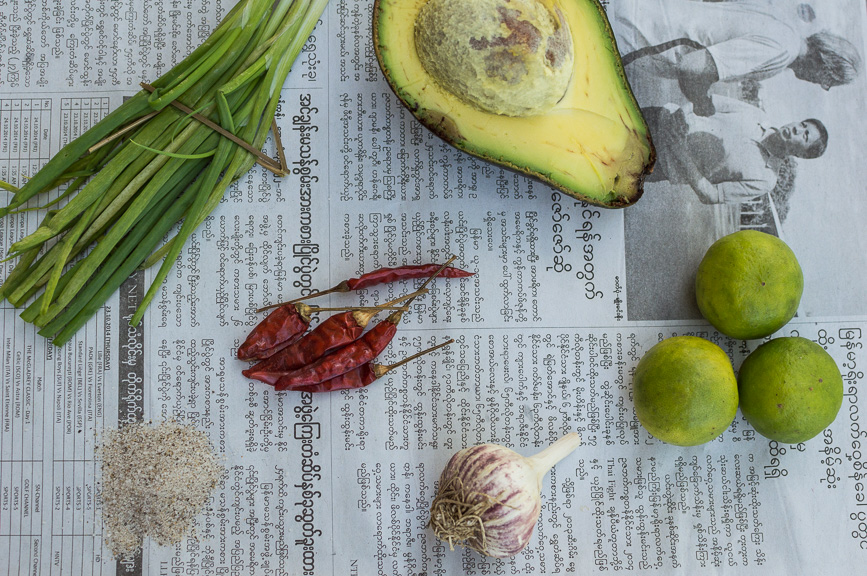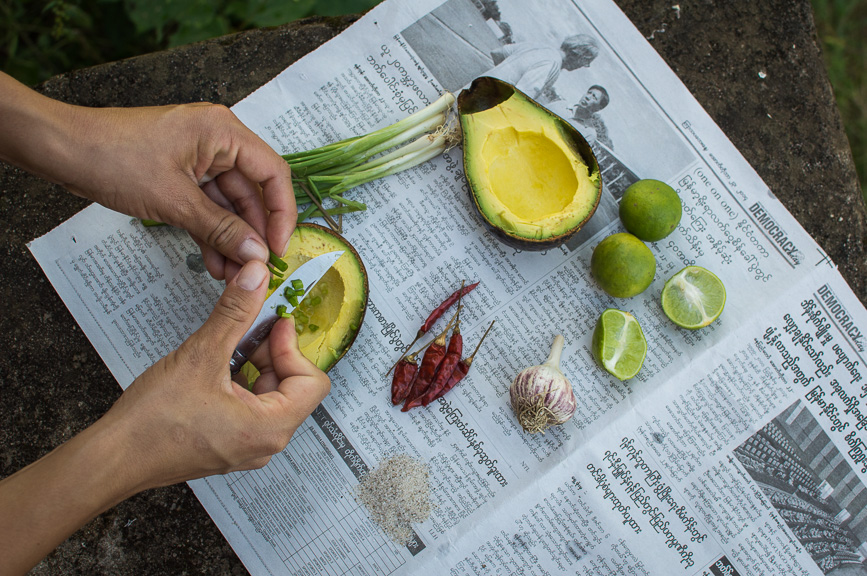 Squeeze half a lime into each half and separate the garlic, spring onion and chilli equally into the two halves. Using a fork, simply mash the avocado with the ingredients straight in its shell until you have reached your preferred consistency. I personally prefer it chunky, but feel free to mash until smooth, it will depend on your stamina!
Shred the coriander leaves with your hands, this will keep the herb fresher than chopping it and sprinkle it on your guacamole.
Add salt and white pepper until it tastes just right. Then grab your nachos, crackers or carrots and dig right in.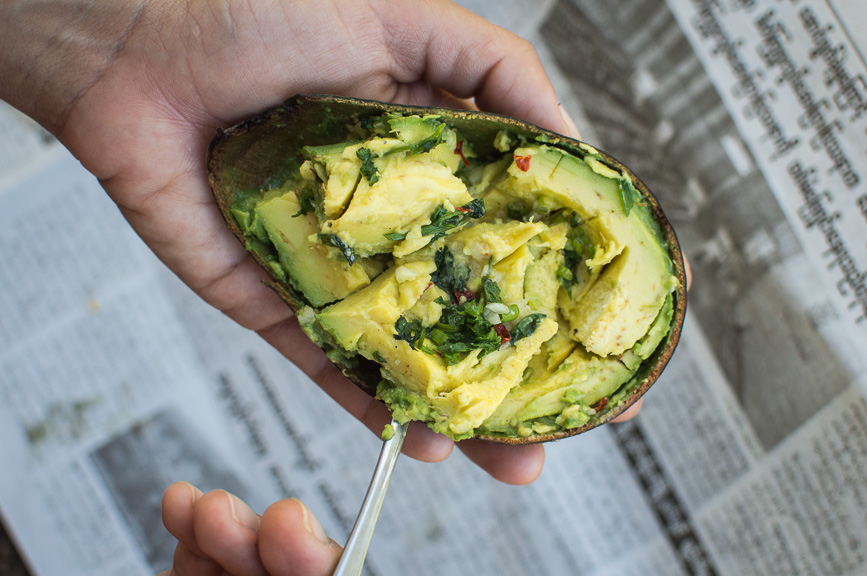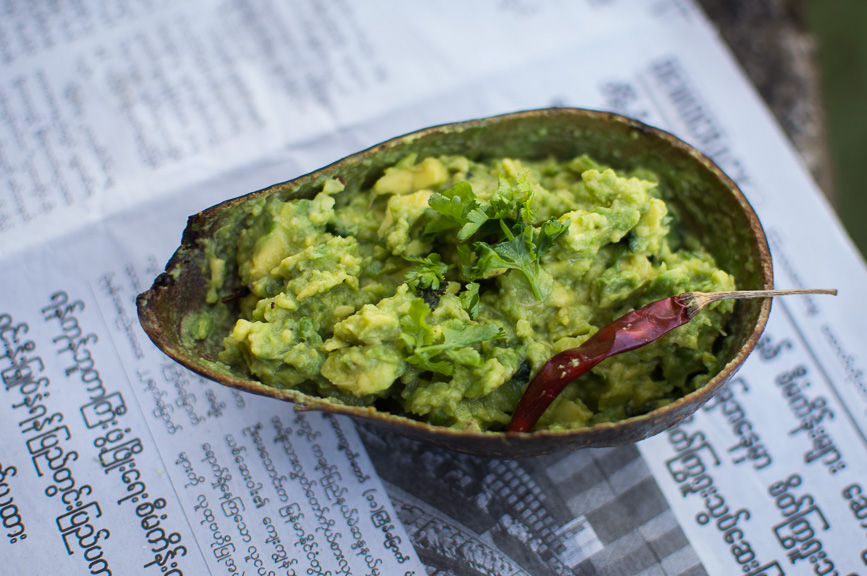 You can double, triple or multiply this recipe to feed as many mouths as you want!