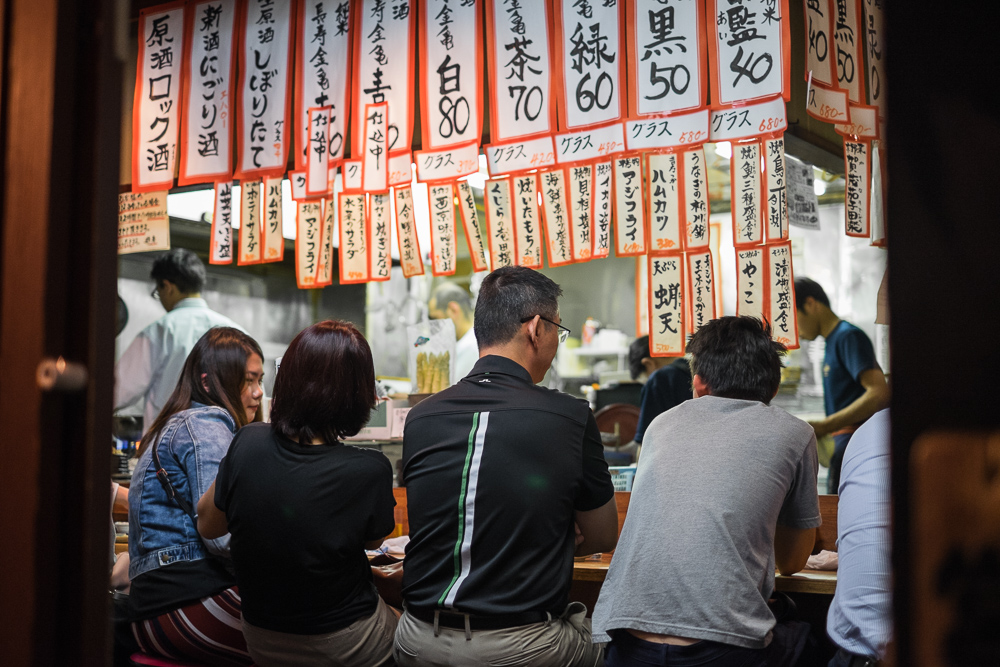 You know that any trip to Japan has only one fundamental mission right? To eat, to eat and to eat more. You can be distracted by stunning temples and loud fashion statements, but really the only obstacle to fulfilling culinary ecstasy is how much time you have and well, maybe how far you are able to stretch those stomach muscles.
Kyoto is one of those cities which challenges your time-management skills and strategic eating plans. There are so many unmissable options that you almost need an organizational chart to prioritize which you will tackle first. Our limited stay this time meant we only skimmed the surface of possibilities, but even a taste of that mouth-watering "surface" leaves you wanting to dive right into the deep end next time.
KANSAI REGION
The Kansai region is full of specialties, it is home to Kobe beef, Kyoto Yudofu & Yuba, Osaka Takoyaki & Kushiage, Okonomiyaki, Funazushi (a must for sushi fanatics), Kyoto Tsukemono and Uji Green Tea. The list goes on and on.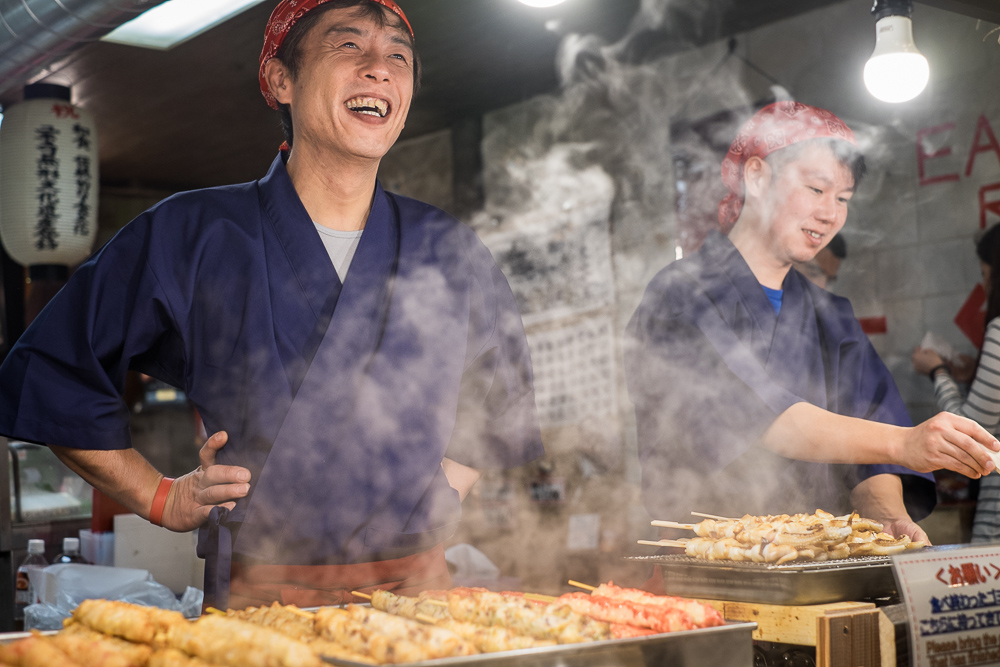 NISHIKI MARKET
Since the weather was not on our side when we arrived, we decided to start our food explorations with the covered Nishiki Market, a main thoroughfare for all foodies in Kyoto. It is actually one long covered alley densely packed with stalls on either side, each grabbing for your attention with their heaving trays, boiling cauldrons and display cases of food, snacks and more food. There are fish cakes of all sizes, cigar-shapes, balls and just fried triangles. There are single mini octopus with a quail egg inside, served up for the brave. There is a shop dedicated to Snoopy shaped food, cakes, biscuits and more, only in Japan of course. There are boxes of mini dried shrimp, eel that has been caramelized to perfection and the mandatory takoyaki stall. This essential Kansai street food always commands a long queue; somehow the grilled batter balls filled with chunks of octopus and topped with a mountain of ingredients such as cheese, bacon and corn never fails to draw crowds.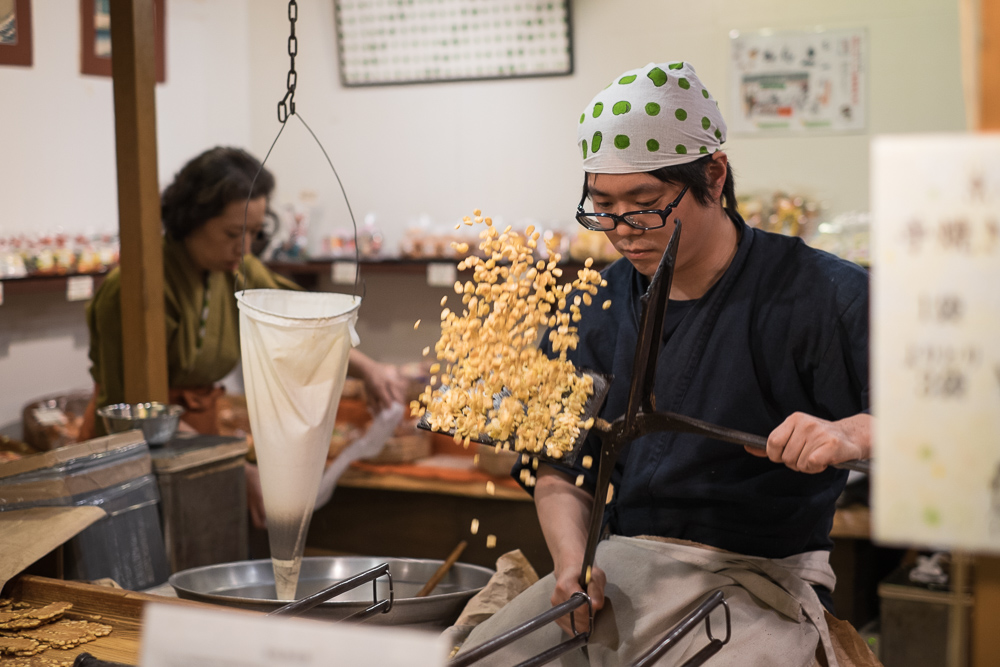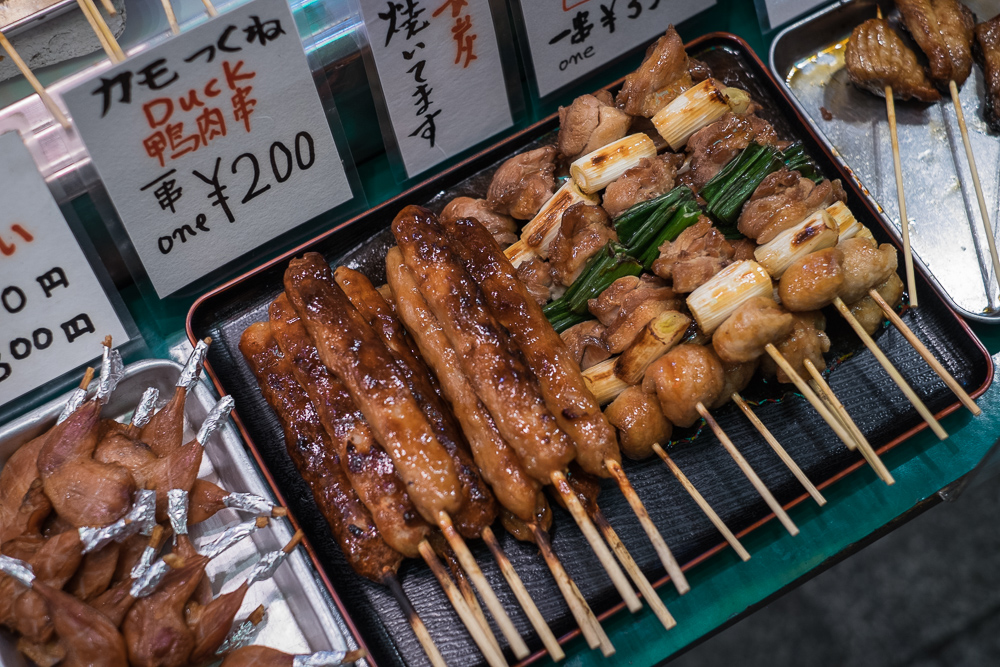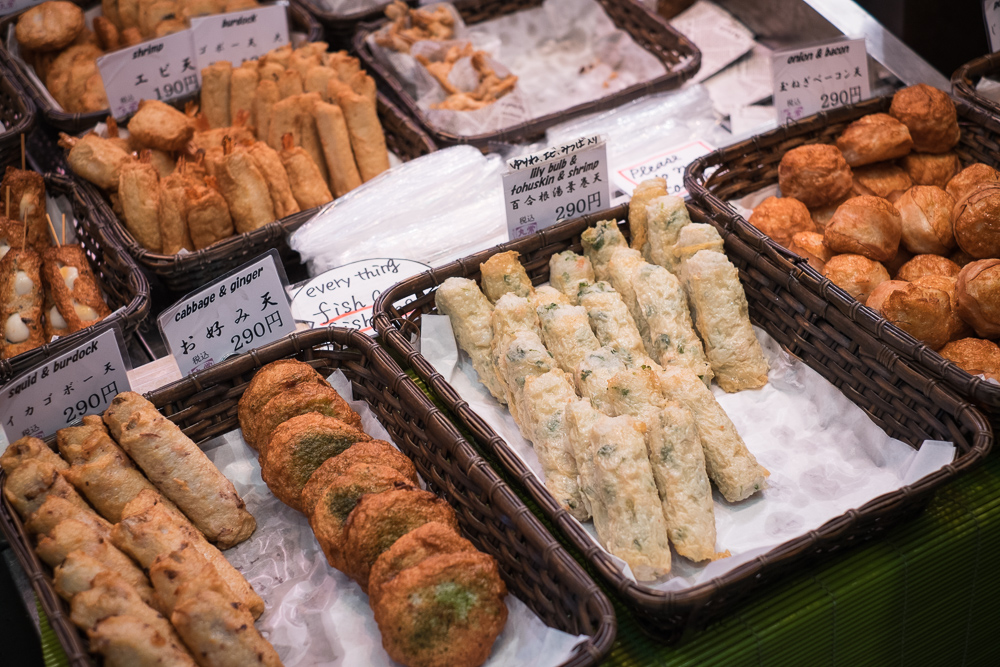 There is a craftsman expertly roasting peanuts then delicately adding them to a thin batter to make crispy peanut wafers. Other men are pounding fresh mochi to reach just the right amount of stretch and others guard the grill over a piece of Kobe beef or huge sardine.
We picked and mixed our way through the crowds, trying to save space for our lunch later on and failing a little in that department, but succeeding in maximum satisfaction.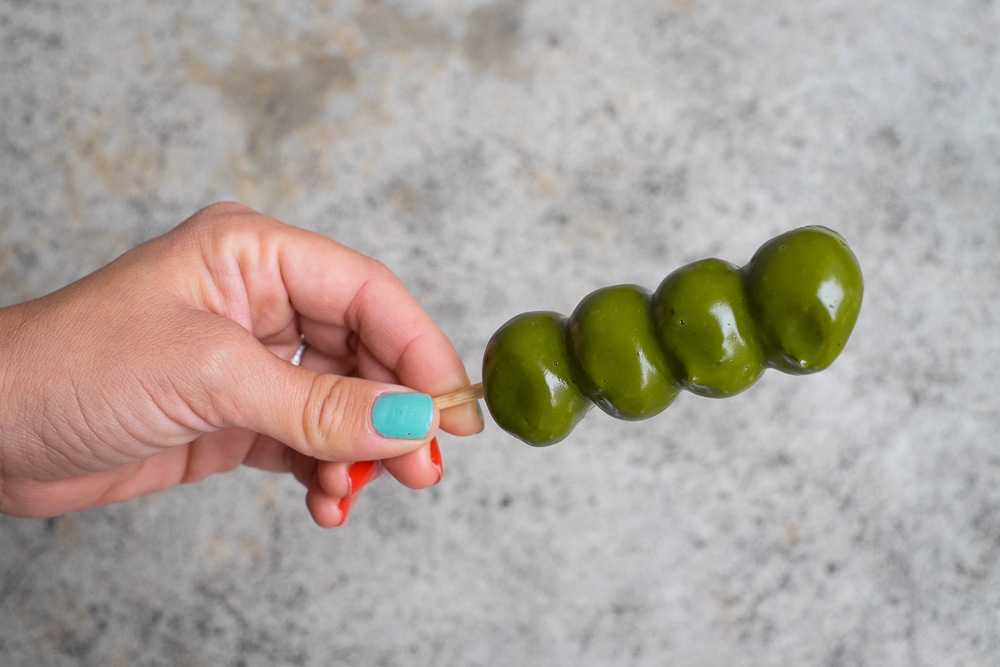 Matcha Kushi Dango
Dango are basically little glutinous rice flour (mochiko) balls and kushi dango (串団子), literally meaning "stick dango," are balls on a stick. Supposedly the dango's history began as an offering during the Mitarashi Festival at the Shimogamo Shrine in Kyoto. Festival goers would wade into the pond's cold spring water, hoping for good health for the rest of the year. The dango are supposed to resemble the bubbles created in this special water.
The ones we tried at the Nishiki market were coated in a rich matcha syrup a dark shade of green moss. Matcha in Japan always seems to taste stronger to me, the flavour being more intense than your usual creamy sweet green tea flavoured dessert. The intense aroma balances out the tender, pillowy sticky rice balls which I never seem to be able to resist.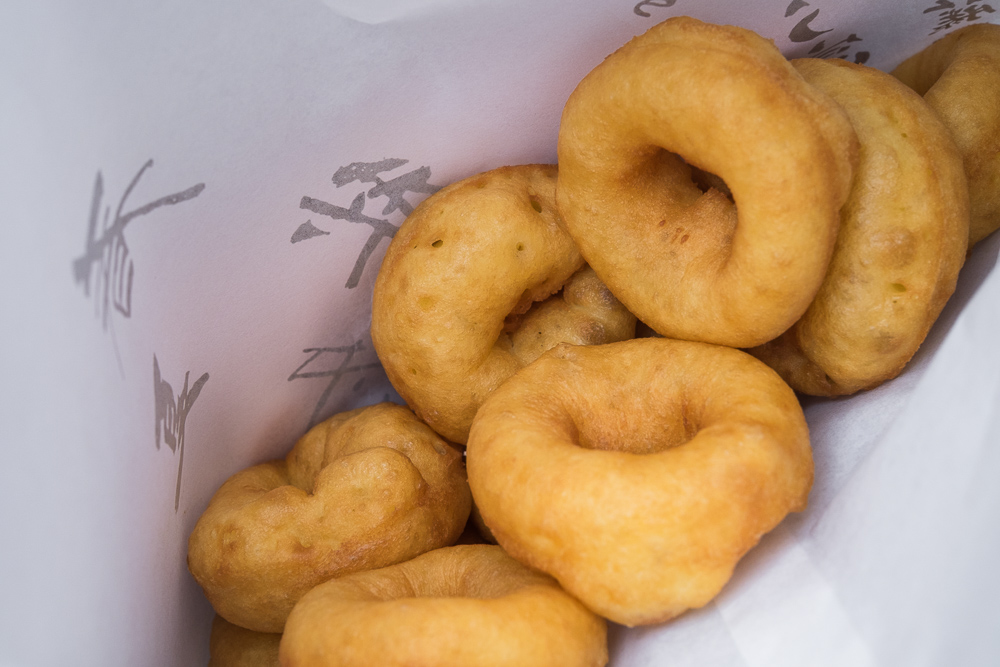 Mini Soy Milk Donuts
Another specialty of the Kansai region, are soy milk donuts. You would never believe that these fluffy light mini donuts were made from soy milk and okara, the by-product of tofu production, which is basically soy milk pulp. You can almost convince yourself that they are "healthy". When tofu first arrived in Japan through China, it was brought to Nara in the Kansai region, the capital at the time. When the capital moved to Kyoto, tofu came with it and so did the beginning of the city's obsession for all things soybean. Kyoto always conjures up images of vegetarian monks and clean water from the surrounding mountains, perfect conditions for nurturing the best tofu there is. This is one soy incarnation that will convince even the most skeptical tofu hater.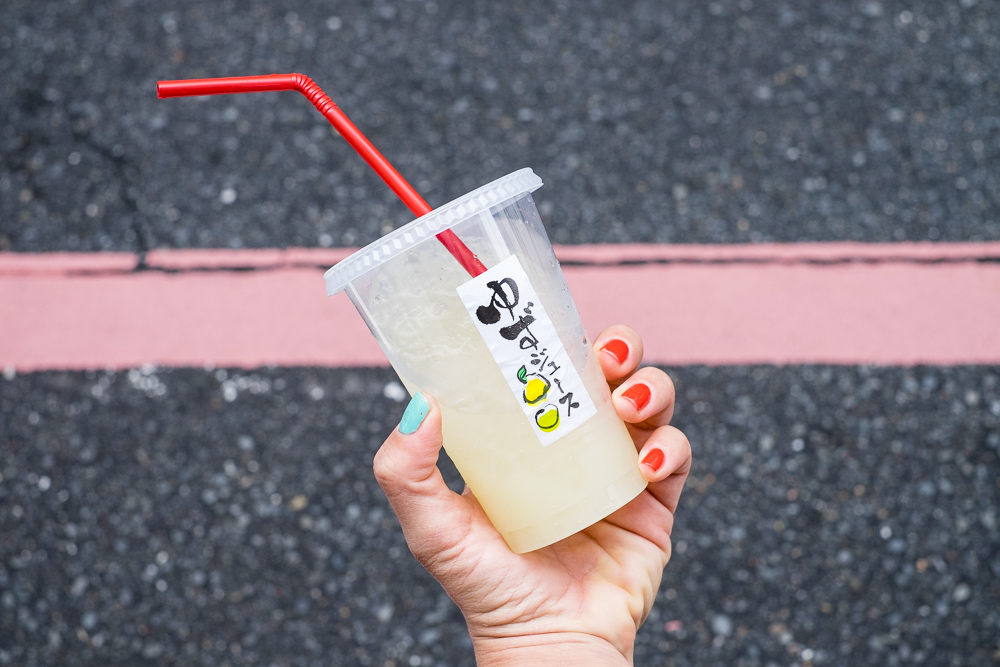 Yuzu Juice
My love for all things yuzu probably started a few years ago when I had my first Yuzu drink in a Korean bar. There is something intoxicating about its fragrance and sweetness, a citrus with an undeniable twist. It grows wild in Central China and Tibet and was introduced to Japan during the Tang Dynasty. Nowadays it identifies much more with Japanese cuisine than Chinese.
It is rarely eaten directly as a fruit, for its tart grapefruit flavour accentuated by tones of mandarin orange is still rather too much for most people. But when combined with honey to make yuzu hachimitsu, a syrupy citrus aromatic bomb, I am left begging for more. This syrup is often used to make yuzu tea, which can also be drunk cold as a "juice" and also used in cocktails such as yuzu sour.
Supposedly you can even have a Yuzu bath, a yuzuyu, a custom that dates back to the early 18th century. Whole fruits or sliced yuzu are placed into hot water to release their fragrance and is said to protect against colds, treat the roughness of skin and relax the mind. How did I not know about this before? Now if only I can get my hands on some fresh Yuzu…
Tsukemono
Japanese Pickles. Aaaaah I could probably live on Japanese rice and pickles. I get ridiculously giddy over these multi-coloured little (often) side dishes, but for me, they are the main show. Not that I can take the incredible funk that some of them emit; the gentler, sweeter ones are my friends, but man have the Japanese got pickles done right. Forget soggy hamburger gherkins, these crunchy, salty, sour roots and veggies pack more flavour in one bite than a whole bowl of noodles. My absolute faves are probably the bright yellow takuan made from sun-dried and salted daikon and the purple magenta shibazuke. Not only is it pretty on anything, but this mix of chopped cucumbers and eggplant that has been salted and brined with red shiso to give it a strong unique herbal note. I wanted to take them all home with me.
GION/ PONTOCHO AREA
This area by the Kamo River is possibly the most picturesque and atmospheric in Central Kyoto. Whether by night or by day, the weeping willows and classic architecture will transport you to another time. Less street food and more restaurant oriented, the limitless choice here will also leave you racing to try it all.
We actually squeezed in two dinners one night, as desperate times call for desperate measures.
Miso Ramen
By the time we neared "hangry" territory, we stumbled upon this little hole-in-the-wall ramen place along the small river. It was just what we were looking for. The lone chef served only one dish, his very own perfected miso ramen. Setting his mini timer to exactly 2:45, he dunked the noodles into boiling water then lifted them up and plonked them into the thickest miso broth I have ever had. Topped with pork belly, fresh beansprouts and thinly shredded cabbage and raw onions, it filled us up till we were more than happy again. It reminded me of thick succulent taglierini in brodo with al dente noodles, practically more Italian than Japanese and is most definitely a winter dish. The big cold beer that comes along side it is more than necessary to help you wash it down on a hot summer's night.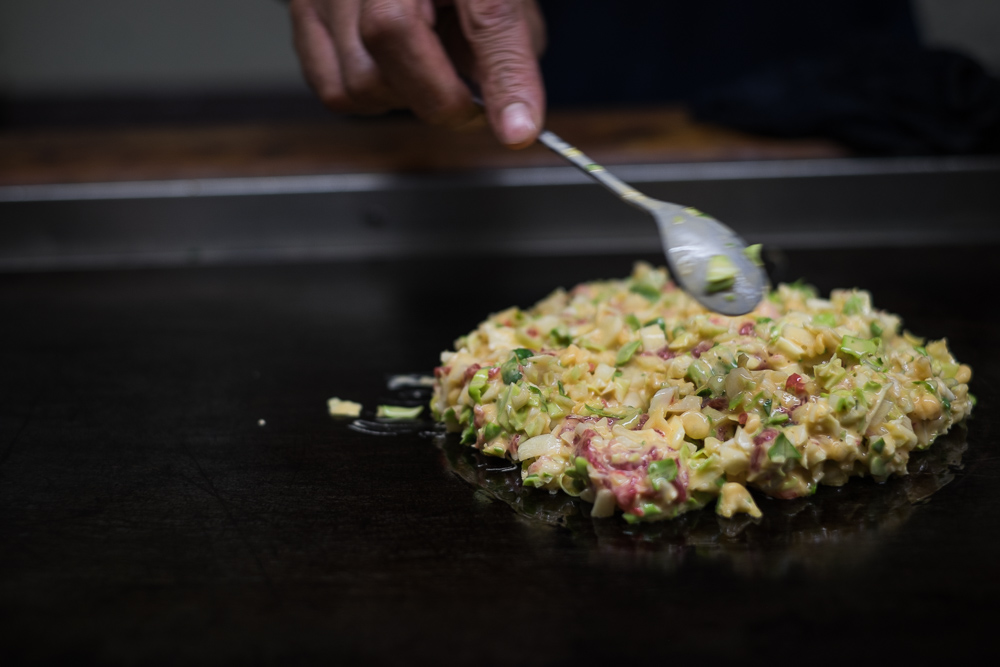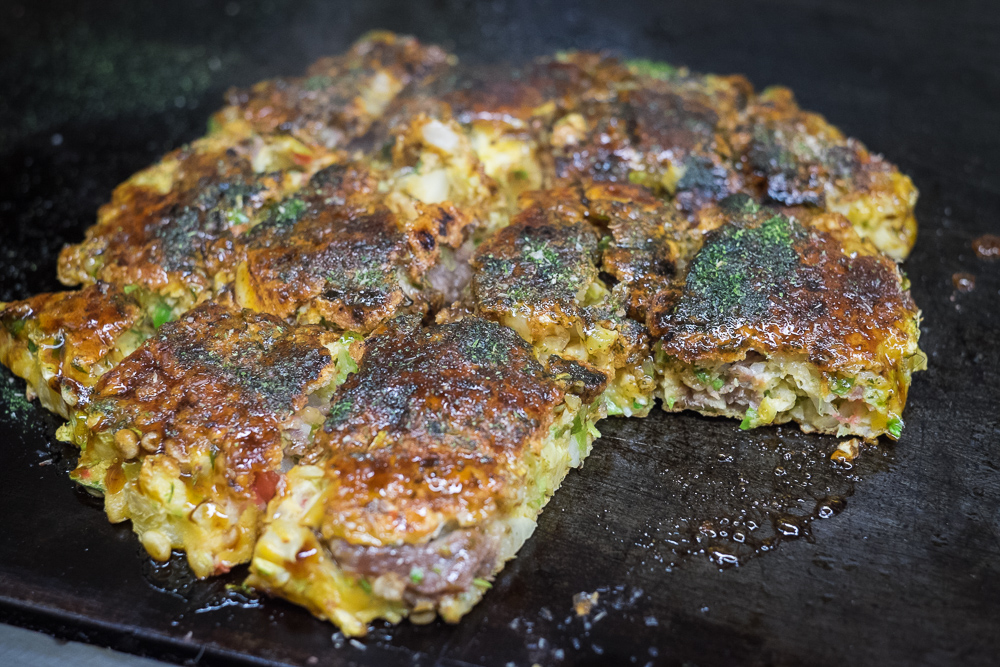 Okonomiyaki 
Another Kansai speciality, okonomiyaki literally means "how/what you like it grilled", technically you can probably add whatever you want to this savoury pancake. It is often referred to as Osaka Soul Food, but there was this tiny little joint near where we were staying in the Gion area that kept calling our name. There was no English sign, just a little plaque infront of its colourful curtains with the single word "okonomiyaki" and its opening hours. Any specialized restaurant that opens from 2pm to 4am is enough to intrigue us and I could already imagine the sizzling fumes and the clinking of sake glasses. The problem is we always walked past already full on our way home, until one night we were determined to make it happen. The lone chef carefully composed our batter of flour, grated nagaimo (yam), dashi, cabbage and eggs onto the hot teppan before sprinkling over pork, squid and spring onions.                                      
We patiently stared at it until finally it was time to flip and top with a thick, sweet sauce and copious amounts of green powder. It was a challenge to finish considering we had already eaten one dinner, but we managed to scrap it all up of course.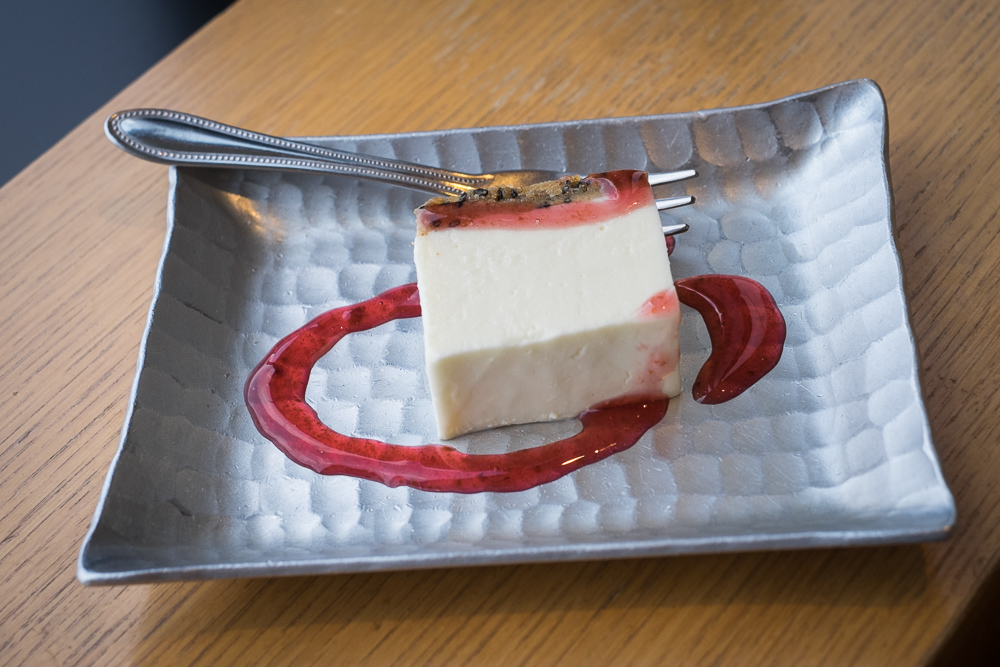 Kyoto Tofu
You cannot come to Kyoto and not have a tofu lunch, I can't believe I managed to convince Nico to participate in this adventure. Our foray into the world of tofu did not disappoint. It is not something I would do every day, but the tofu appetiser was presented like a fancy cheese tasting platter, ranging from super soft to dense, to chewy to a dark sesame cube. There was a deep fried tofu cream cutlet to die for, some fermented tofu that was less our cup of tea, dried and freeze-dried tofu mixed into fried rice with grains and bean; an endless supply of yuba tofu skin and a hot creamy one that you scooped up directly with a spoon. I have never been so impressed by coagulated soy milk. Leave it to the Japanese to create silky smooth matcha tofu pudding and German tofu cheesecake for dessert.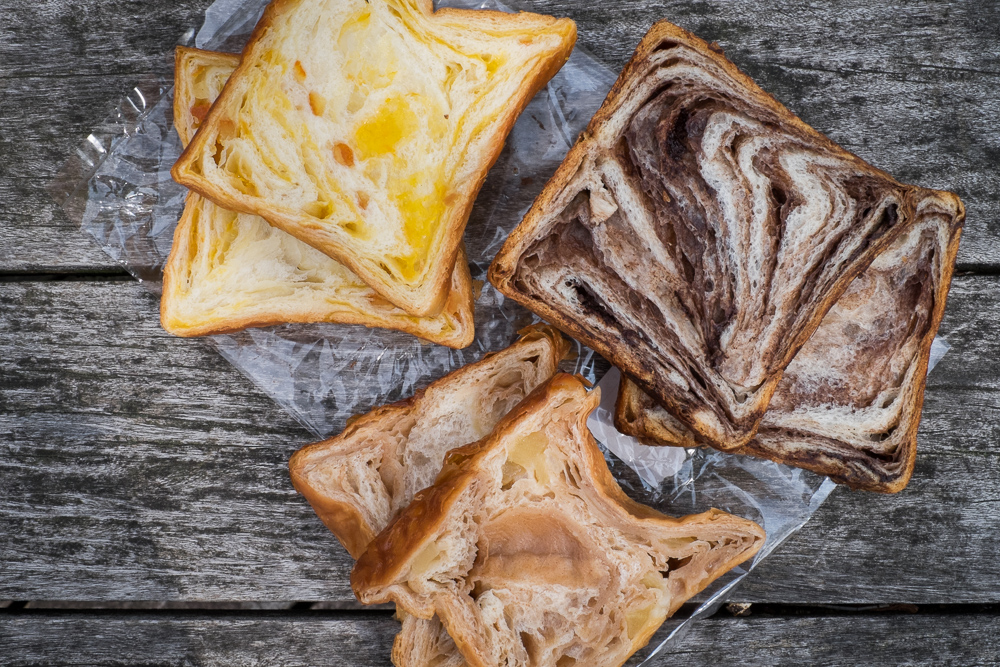 Japanese Bakeries
The best in the world. There really is nothing more to say. Hands down, they learn from the best, then improve until THEY are the best. 
Oh there will be a next time Kyoto.