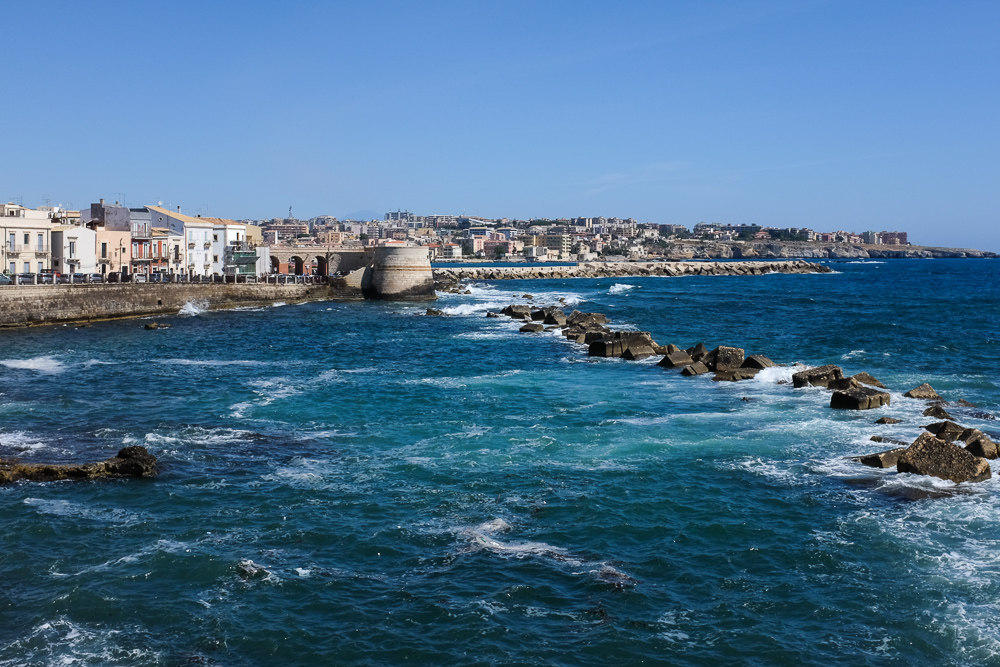 The island of Ortigia smells like the sea and the intense heat of summer carries with it a scent of soil, of volcanic ashes and hot ancient bricks. As we weave through the narrow alleyways of the Giudecca neighbourhood, you can hear waves crashing against the city's salty walls, competing against the television sounds of the latest football match escaping from behind the white linen curtains of the ground floor kitchens.
Palm trees and lemon trees sprout out at random corners, overflowing from rooftops and bringing some green blood to the parched columns and baroque architecture of its grand buildings. Parts of the city's calls are skirted by "lidos" which in the north we call "bagni". These are swimming and lounging establishments usually providing umbrellas and chairs or if you really want to go fancy, even towels. Beautifully tanned customers are sprawled out besides the crystal water working on their tan even further, an essential Italian summer activity.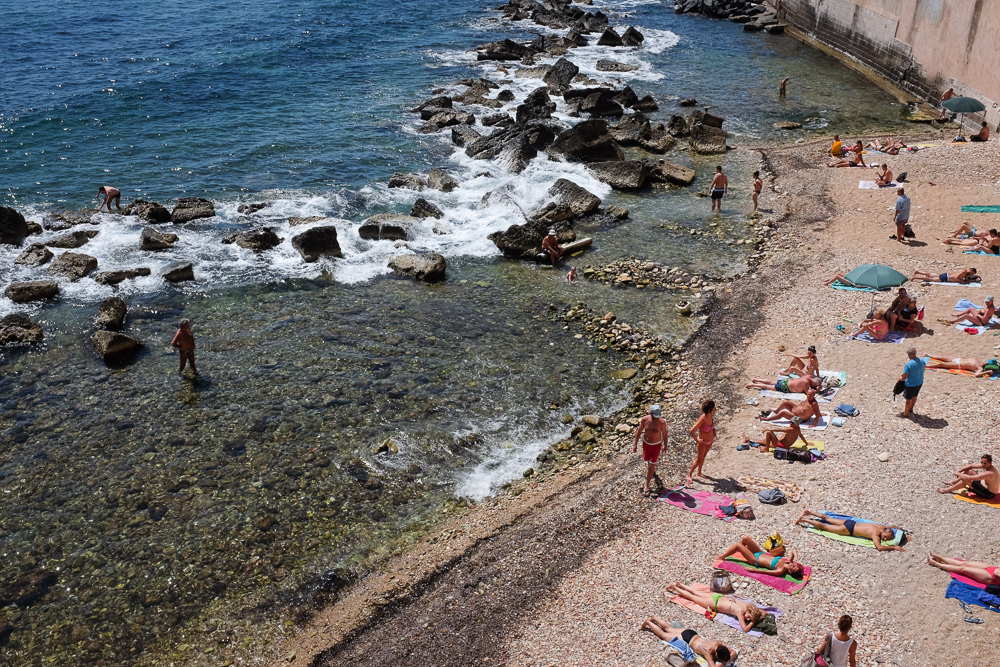 Ortigia is an outdoor museum, just walking around and keeping your eyes open is a feast of faded stucco walls in classic Italian gelato colours, some arches are crumbling and every window (of the same building!) seems to be framed by a different sculptural pattern. Wires hang loose from barely there terraces and dark wooden shutters.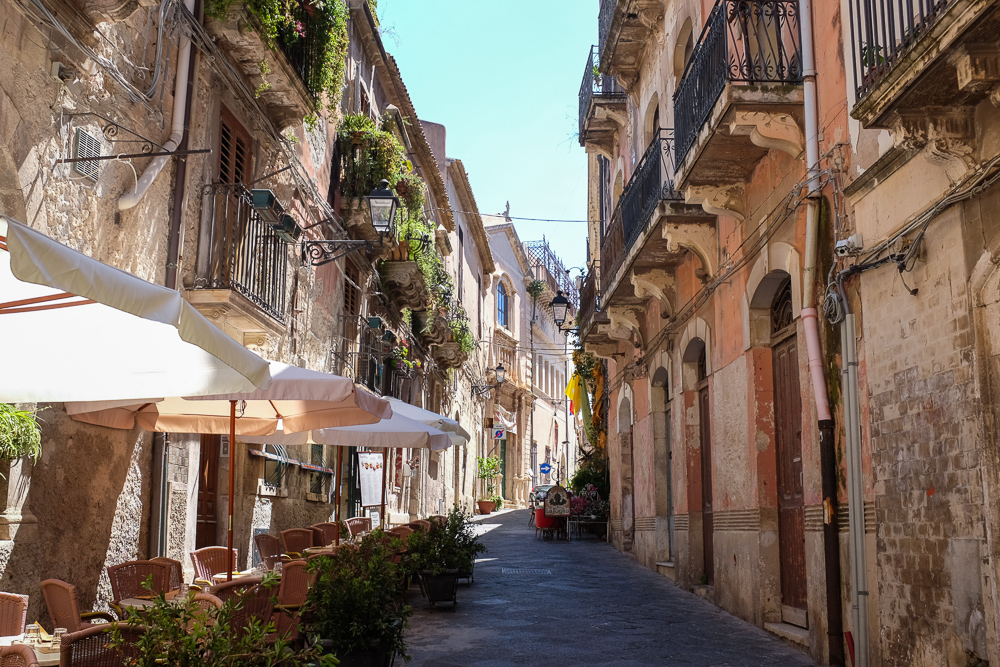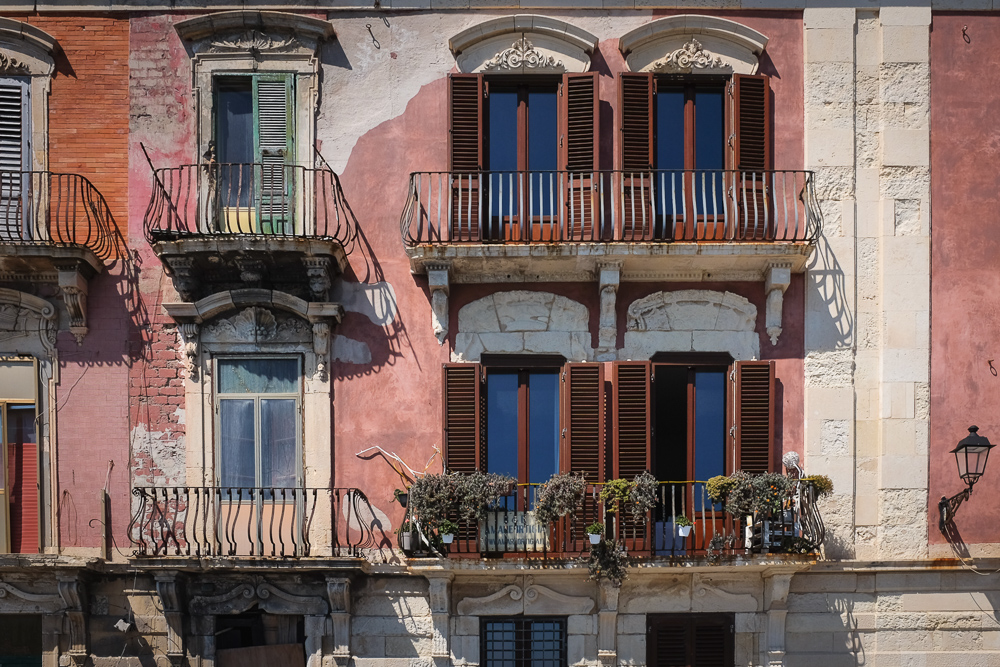 We head to a cafe for a shot of espresso with almond granita, making it more of a dessert than a caffeine pick me up. There is probably no better flavour combination than this, except perhaps for Vietnamese Coconut Coffee, it's definitely tough competition out there.
After walking around all morning, for lunch we head to Castadiva's headquarters, where Mariella has promised to teach us her family's much loved arancini recipe. All of Castadiva's products are made without additives and chemicals, inspired by the ancient grains of the region and the flavours of the south. Walk into their elegant shop in Via XX Settembre and you won't be able to resist getting your hands on jars of fig jam, pistachio cream and blood orange marmalade.
Mariella's family used to run a restaurant called Il Grifo di Caltanisetta , so she knows well the labour that goes behind churning out arancino after arancino, a favourite snack in the south of Italy. Anytime I delve into anywhere considered the "south" in Italy, I hunt these down. They are filling and substantial, but never compromise on flavour; a good solid one frozen cold would have enough heft behind it to seriously injure someone in a fight. Somehow, I have only ever had one grabbed quickly in bars or on my way somewhere and while they are the perfect portable snack, I thought it was about time to try a hot one fresh out of the deep fat fryer. And let me tell you, there is NO comparison. NO comparison at all, these cheese and whatever you desire filled crispy rice balls are to die for.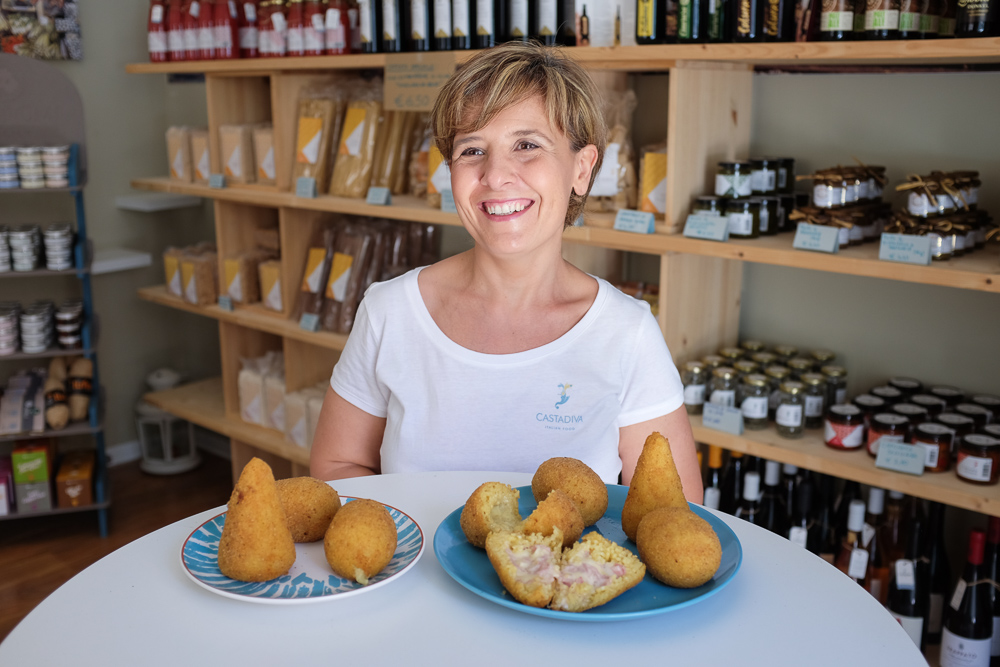 What are you still waiting for?
---
ORTIGIA ARANCINI \ortidʒa arantʃini\
I have always wanted to learn how to make these. They are quite labour intensive though not difficult and I promise you, I have tried so many arancini at bars and restaurants in Italy, but nothing can beat eating these piping hot and fresh. So the only way to get them that way is to make them yourself!
Makes about 24 large Arancini
For the Rice
1 kg Arborio rice
2 litres of good stock
1 medium onion, chopped finely
2 tbsp butter
0,4 g saffron threads, infused in warm water for at least 40 minutes

For the Fillings
Prosciutto Cotto 
300g prosciutto cotto slices, chopped into small pieces
250g mozzarella, cubed
50g parmigiano, grated
freshly ground black pepper
freshly ground nutmeg
Artichoke
100 g of cream di carciofi (artichoke puree)
250g mozzarella, cubed
50g parmigiano, grated
freshly ground black pepper
freshly ground nutmeg

Besciamella (white roux)
50g butter
50g plain flour
500ml milk at room temperature
freshly ground black pepper
freshly ground nutmeg
To Assemble
1 1/2 cup plain flour
Water
Breadcrumbs for coating
Vegetable oil for frying 
Prepare the Rice
You will need to prepare the rice the day before, or at least in the morning if you plan on making the arancini in the afternoon. Start by softening the onion in butter over medium heat in a deep pot, then toast the rice a little as you would for preparing a risotto. When all the rice has been lightly coated in butter, add the stock and stir. Add the saffron tea at the same time as you add the stock, it will give the rice an attractive golden hue. Cover with lid and allow for all the stock to be absorbed by the rice. It is ready when the rice is tender and the stock is gone. 
Spread out over a large plate and let cool. Store in fridge overnight. 
Make the Fillings
Prepare the besciamella by melting the butter in a heavy-bottomed pan, then add the flour and stir quickly to form a paste. Slowly add the milk while whisking continuously to avoid creating lumps. If some lumps do form, do not worry, continue whisking gently until you get a smooth sauce. Add the pepper and nutmeg to taste. The consistency of the besciamella should coat the back of a wooden spoon. Set aside. 
Divide besciamella into two bowls and mix in the various contents of the two different fillings. Allow both mixtures to cool, it should solidify to a thick cream.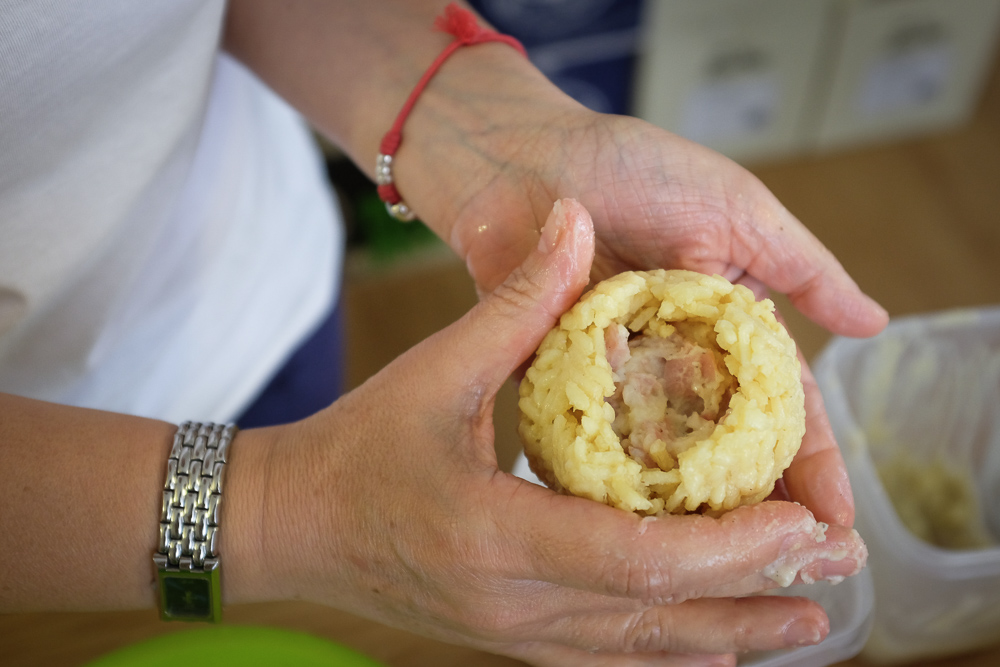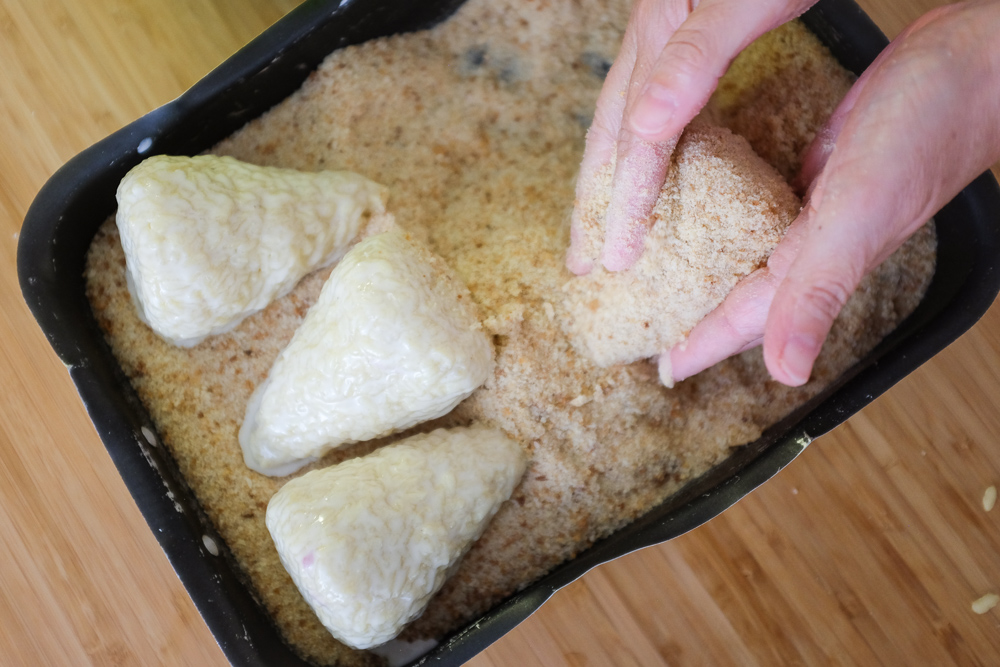 To Make the Arancini 
Prepare a large tray or plate for the arancini. Take the rice and prepare a small bowl of cool water to wet your hands in. Dip you hands in the water to stop the rice from sticking to your hands and scoop out about 100g or rice per ball. Shape all the balls equally and place on tray. 
Take the two fillings. Taking each rice ball, make a dent in the centre and widen the hole to thin out the "wall" of the rice ball. Take one heaping tablespoon of filling, place into centre then seal the ball and shape as you wish. Usually different fillings will be shaped differently so that you know what is inside. We made the prosciutto into cones and the artichoke into rolls. 
When you have completed all the arancini, take another bowl and pour in the 1 1/2 cup of plain flour for assembly. We will mix this flour with water to form a coating for the breadcrumbs to stick too. Add some water to the flour and whisk until you get a smooth consistency. Add water slowly, the amount will depend on the humidity of the day and your flour. It should end up being a thin ribbon consistency when you lift up the whisk. Some people use beaten egg as a coating, but this water and flour mix will crisp up even more when the arancini are fried. I prefer to do them in batches, maybe do about 5 arancini at a time. Dip in batter then roll in breadcrumbs and set aside.
When you have done all of them, prepare the oil. If you have a deep fat fryer, use that. Follow instructions and fry for about 6 minutes or until golden brown at 170C. if you don't have a deep fat fryer, it will be slightly more messy, but doable in a large heavy bottomed pan. Heat up about 1 1/2 litres of vegetable oil (if you have a thermometer measure the temperature, otherwise test with a piece of bread. It should sizzle gently when thrown into the oil). When done, remove arancini from heat and drain over kitchen paper on a plate. There should not be much grease if the oil was hot enough.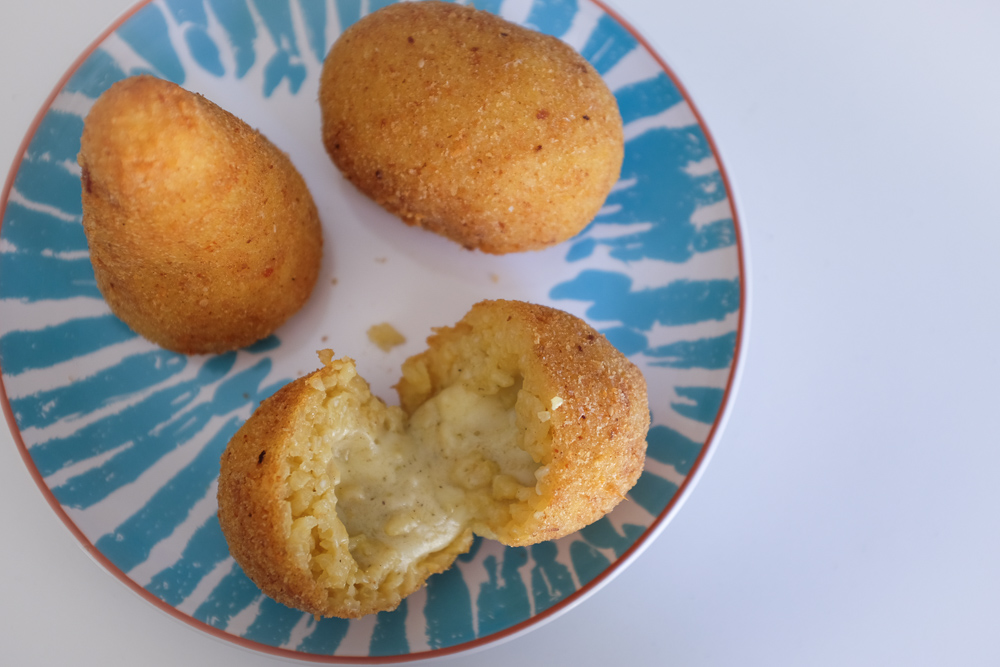 Let cool a little to avoid burning yourself, but seriously don't wait too long, eat them hot hot hot!
Alternative Filling Options
Pistacchio pesto, speck, mozzarella & besciamella

Italian sausage, radicchio, smoked scamorza cheese & besciamella
If you do not plan on eating them right away, uncooked ones can be stored in the freezer, simply defrost and re-coat once in breadcrumbs for the best effect. Cooked one will keep in the fridge for a day. 
 *