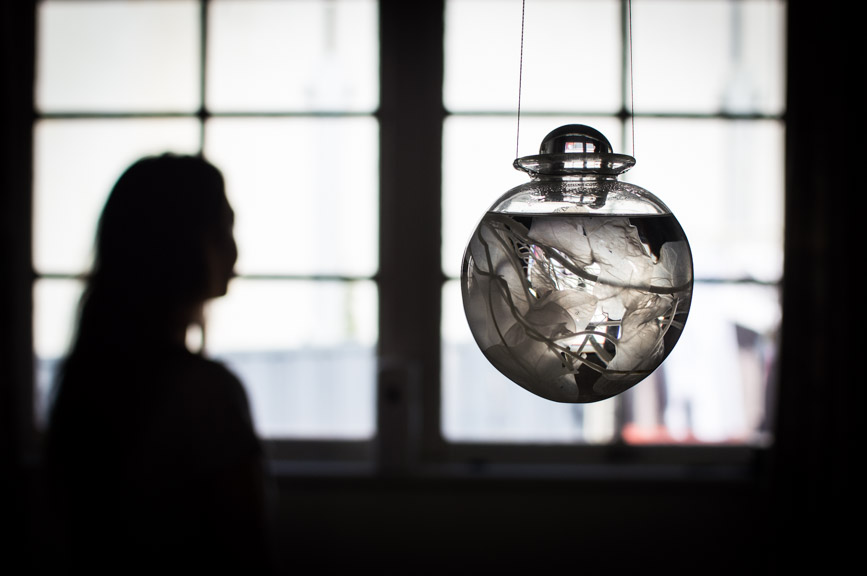 While everyone is building up their chocolate egg collection this time of year and here in Hong Kong, desperately trying to keep them from melting in the heat and humidity, I was dreaming of something entirely different. An Easter Pavlova. And since in this weather, it would be culinary suicide for me to even attempt it this weekend, I am turning to you fellow home cooks, to fulfil my holiday cravings for me. 
While we were on our Journey to the East, we stopped in Auckland, New Zealand, just after a month of camping around the South island before we made our way to New Caledonia. It was Easter time and our friend Sandy with whom we were staying had promised to teach me her secret to pavlova.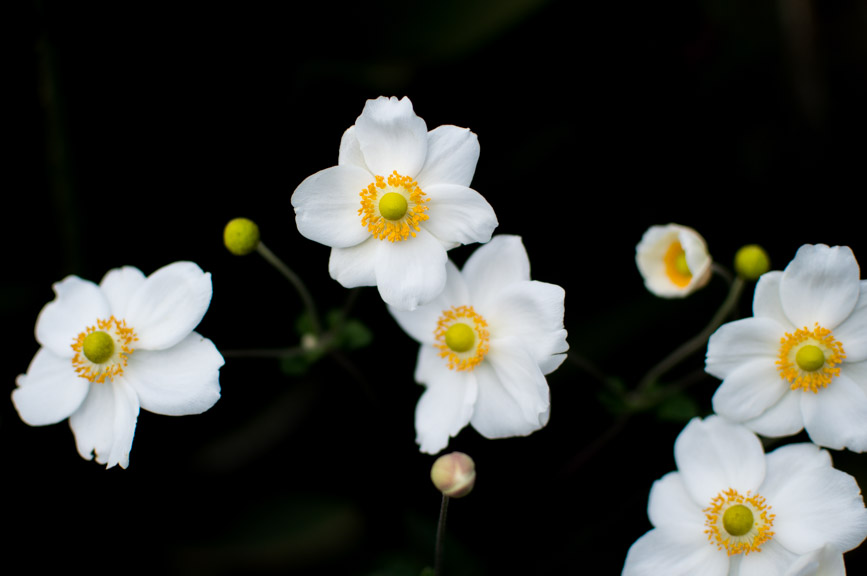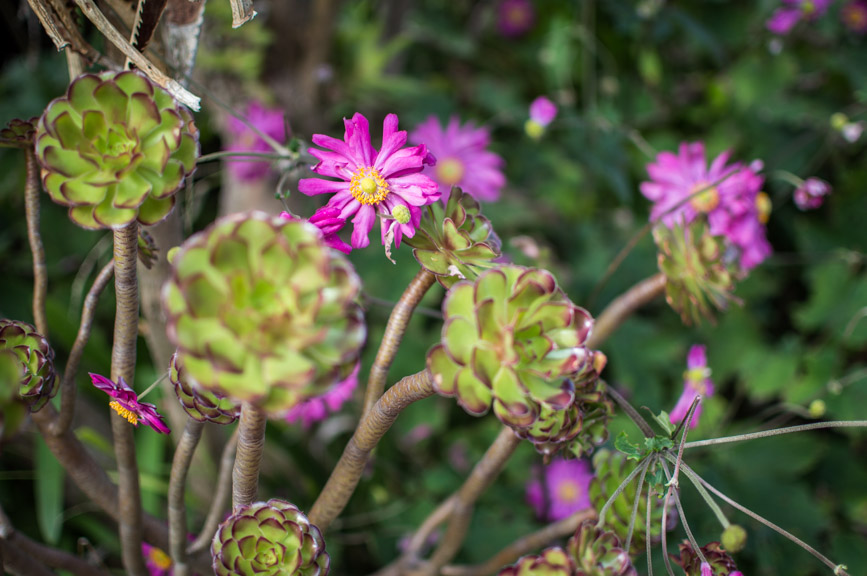 We woke up early and her house on Mount Wellington was tranquil and mellow. It had been a month since we had had a nice warm shower and a proper soft bed to sleep on; I wanted to stay forever. Outside in her garden, flowers were blooming, ignoring the chill that was beginning to descend every night. 
I considered just lying back and sleeping some more, but I wasn't going to miss an opportunity to finally learn one of New Zealand's most famous desserts. Some would even say it is a national obsession. The thought of making pavlova has always terrorised me. Meringues and I have just never gotten along. Almost every time, my efforts have resulted in something completely flat and chewy. More like a molten biscuit. French macaroons, meringues, the whole family hates me.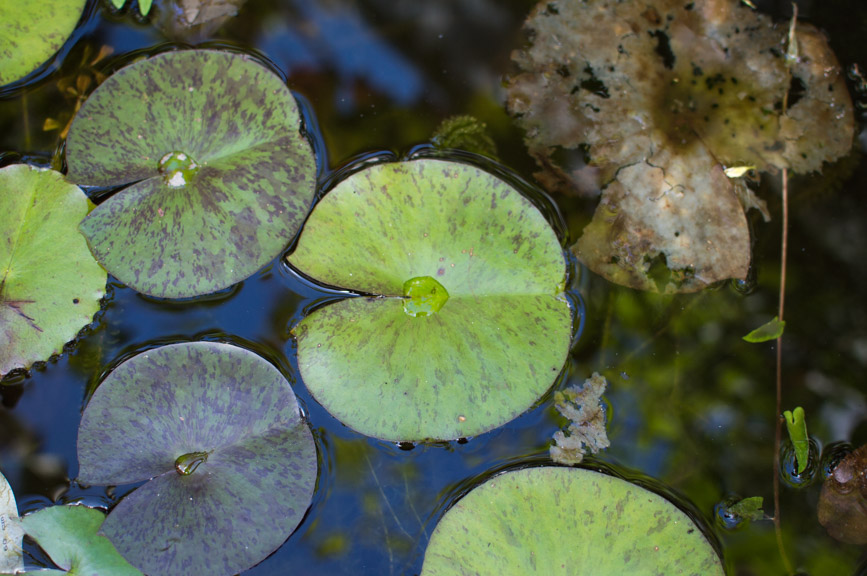 Like any self-respecting New Zealand cook though, Sandy promised me it was a piece of cake and she had a recipe that worked every time. Her secret was using malt vinegar and sticking pretty much to Edmond's Pavlova recipe. The Edmond's Cookery Book is an institution in New Zealand kitchens. 
It was first published in 1908 as The Sure to Rise Cookery Book, used as a marketing tool for its Edmonds baking powder. Over the years however, it has become a NZ icon. The cookbook has gone though many editions in the past century selling over 3 million copies. It is still NZ's fastest selling book with over 200 000 copies sold in a year. 
Some have said that it is "as much part of New Zealand's kitchens as a stove and knife," so who am I to argue with that? Tried and tested sounds like the way to go when meringues are involved. And Sandy did make it look like a breeze. When it was ready, dressed up and sliced into generous portions, it was divine, marshmallow gooey on the inside and delicately crisp on the outside. 
There is only one very important thing to remember when pavlova creating – DO NOT under any circumstances, open the over door until that gorgeous thing is ready. Trust me, I have learned my lesson one time too many. "But how do I know it's ready? Just a tiny peak" … NO!
OK, go forth pavlova bunnies, have faith in traditional NZ wisdom. If you do end up making one, please send me a photo so I can drool over it in this sticky heat.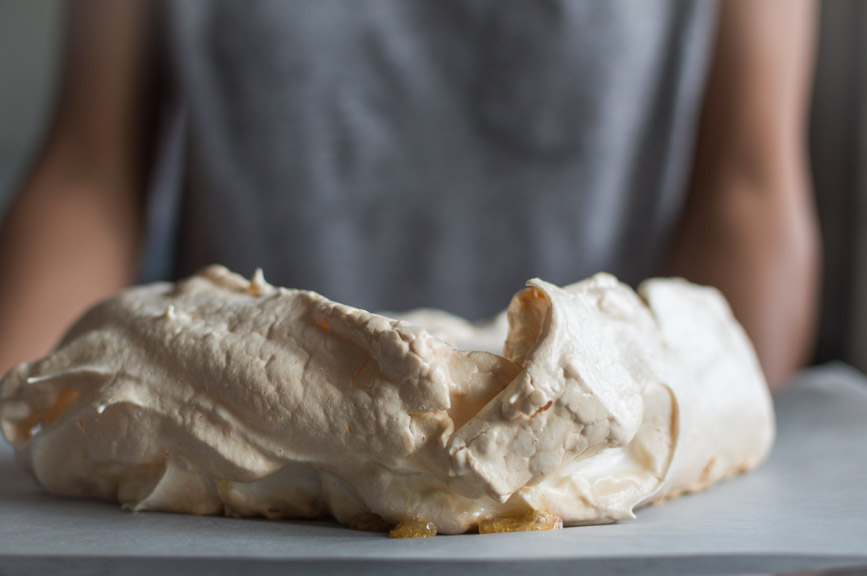 ---
MOUNT WELLINGTON EASTER PAVLOVA  \ˌmawnt wɛlɪŋtən istər pavlova\
There has long been a debate between the Kiwis and the Australians about who actually invented the pavlova. This recipe based on the classic Edmonds Cookery Book version is most definitely from New Zealand. 
For the Meringue 
4 eggs and 1 tbsp water per egg
1 cup granulated sugar
1 tbsp corn starch
1 tsp vanilla essence
2 tsp malt vinegar

For the Raspberry Coulis 
2 cups frozen raspberries
3 tbsp brown sugar (or to taste)
fresh mint leaves, optional

For the Cream
250ml whipping cream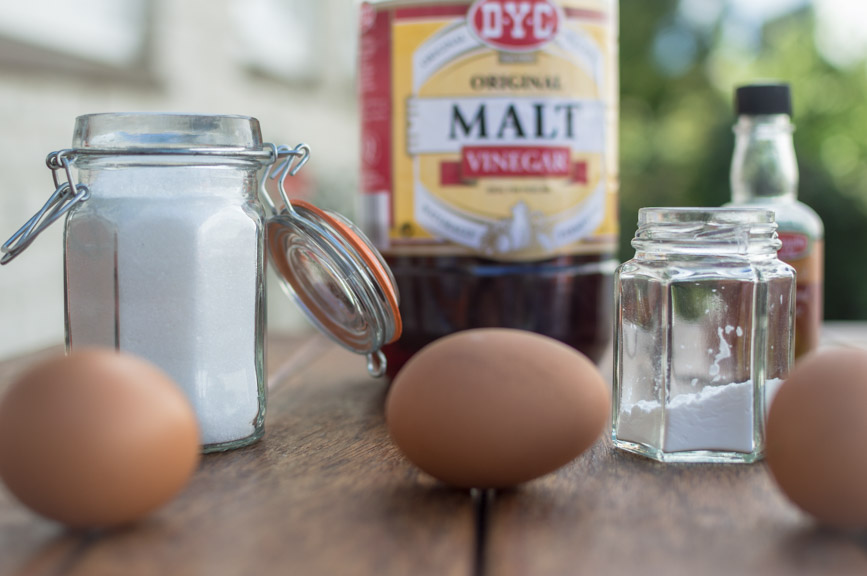 Make the meringue.
Preheat oven to 120C. (an electric oven works better for meringues than gas as they cool down slower)
Separate the egg yolks from the whites and save the yolks for something else. (I am a big fan of Nigel Slater's lemon curd recipe for this!) 
Beat the egg whites on high speed with a hand held mixer until semi-stiff. It should be airy. Then add the 4 tbsp of water and carry on beating on high speed until soft peaks form. 
Add half of the sugar while still beating on high speed until the egg whites become smooth and glossy. Turn onto low speed and add the rest of the sugar until the eggs are still glossy, but form soft peaks. 
Add the vanilla essence, malt vinegar and corn starch and fold gently into mixture. 
Carefully nudge the meringue gently onto a thin baking sheet that has been prepared with non-stick baking paper. It helps to have drawn out a rough circle in pencil before hand on the baking paper to help you stay within the lines and try to keep the meringue at about 8cm in height, since it will spread out during baking. 
Bake at 120C for 1 hour, then turn off the oven and leave the pavlova in the oven until ready to decorate. It will have puffed up into a big rise, then cool down and get crispy, so make sure you do not open the oven door!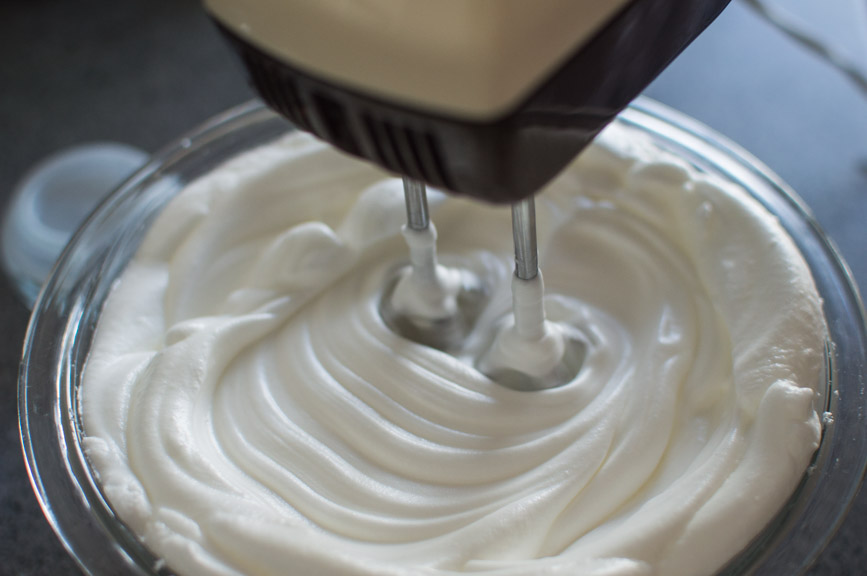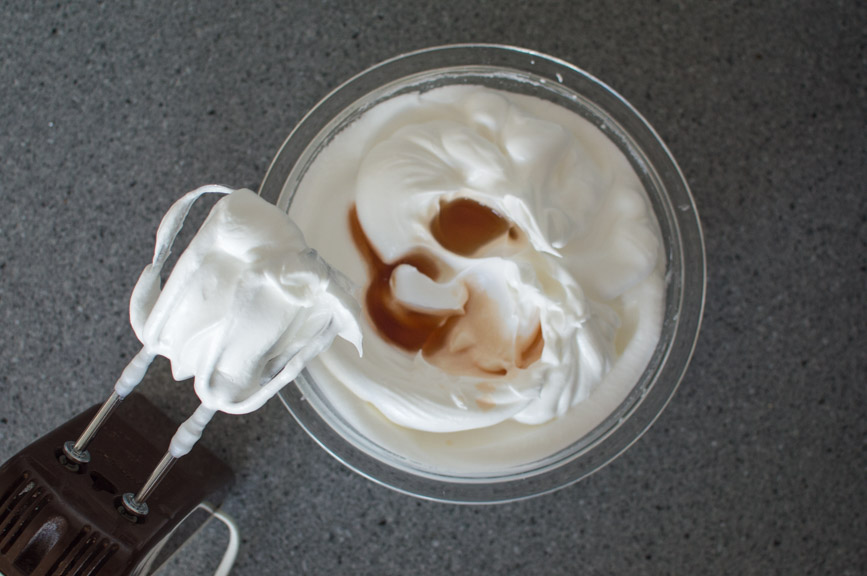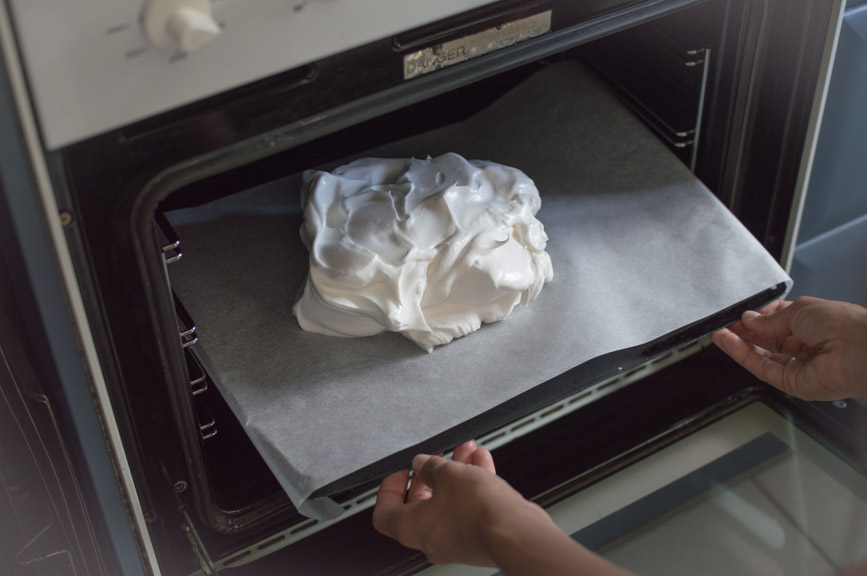 While the meringue is baking, prepare the raspberry coulis. 
Sprinkle the sugar over the raspberries before they are defrosted. Once semi-molten, use a fork to mash gently. Add some chopped mint leaves if desired. Of course this can be replaced by simple fresh raspberries instead, in that case you could even skip the sugar.
Whip the whipping cream on high speed until nice and thick.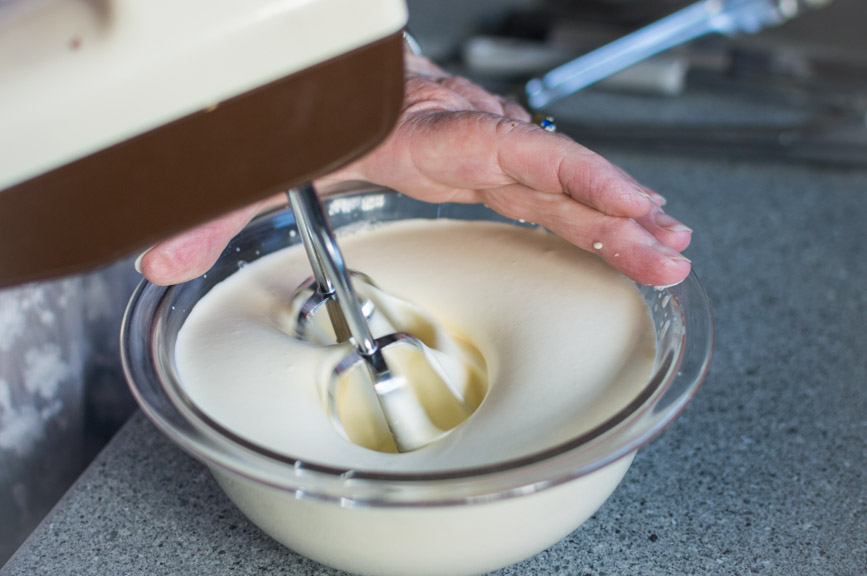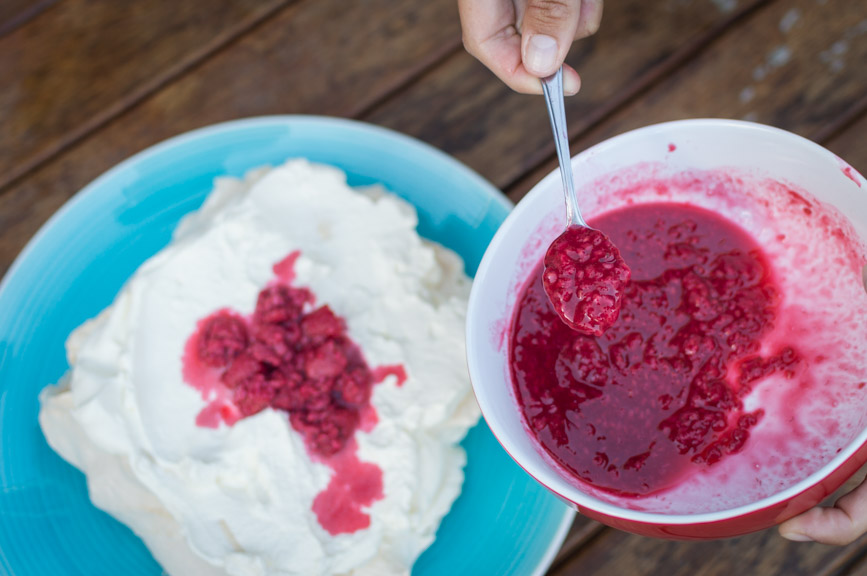 To Assemble
When the meringue is ready, remove carefully from the cool oven and gently peel off the baking paper. Some people prefer to serve it upside down to have a flat surface, I prefer the rugged surface of the top. Spread the whipped cream evenly over the meringue then drizzle the raspberry coulis liberally, allowing it to overflow on the edges. Top with more fresh mint if desired.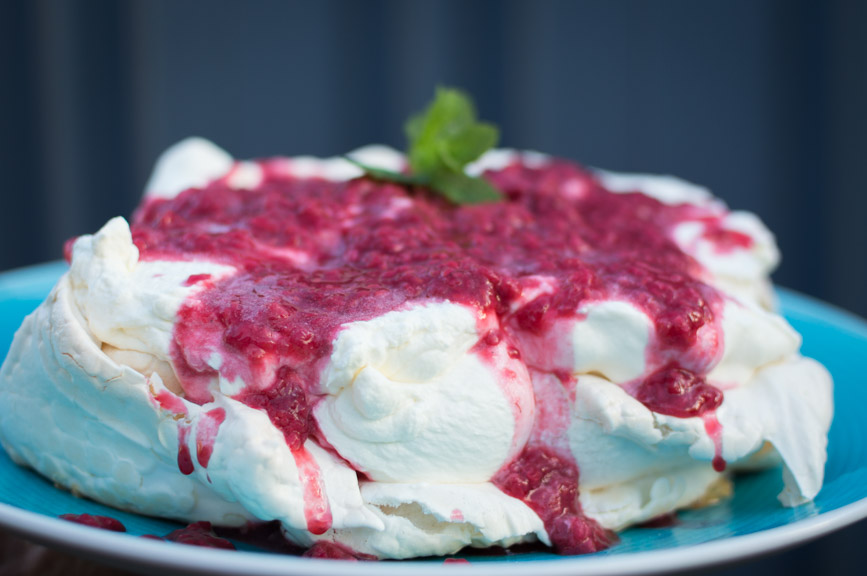 And there you have it, a simple Easter Pavlova. Happy Easter!