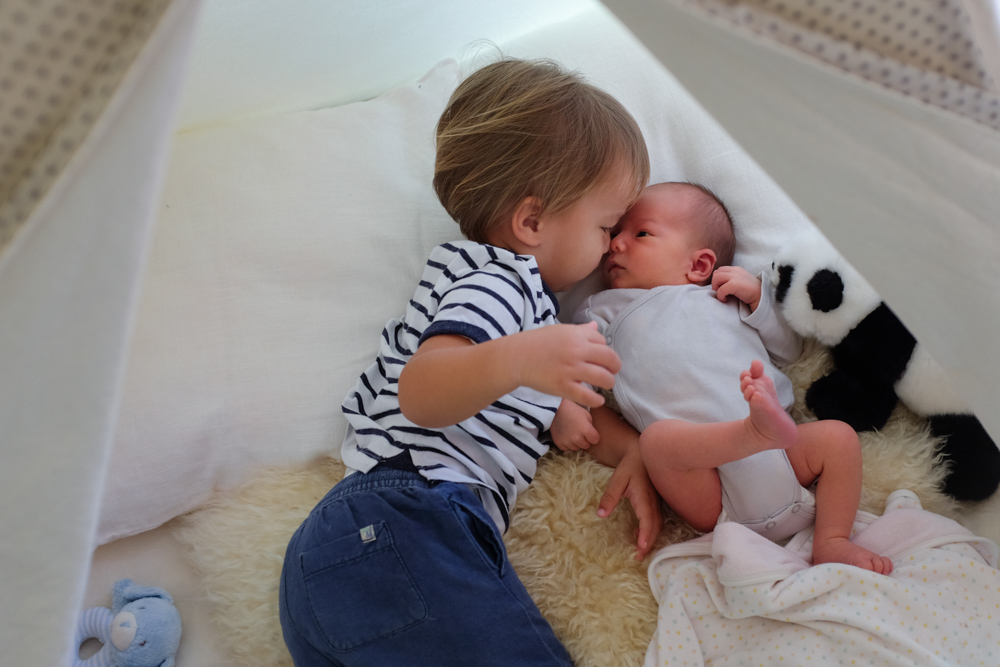 Sometimes after I've put our toddler in bed, I'll sit quietly in the dark by his side, buying my time, wondering how long I have before they figure out I'm available again. Free to be needed once more, to have my breasts sucked raw by our newborn baby till they bleed.
I hide in the dark, just for a little while, hearing our quiet baby's cries in my mind, until I force myself back into the light, back into my duties.
Those two minutes are a rare moment of quiet in the day where a baby is not strapped to me or snoozing peacefully on my belly; where a toddler is not climbing up my back and screeching with joy.
Those first tentative smiles, laughter and hysterical giggles keep me going. When they both sleep I stare at them and their faces are so soft with complete trust and security that it's almost enough to break my heart. They keep me from planning an escape route, from sometimes wanting to run away until I hear, "Mammy, come here!". And so I hide and breathe in the silence.
There's something about being needed that fills me both with utter pride and dread. The privilege of being so loved and the burden of being in demand.
First time moms will constantly hear "sleep when the baby sleeps", second time moms will often hear, "mammy, mammy, mammyyyyyyy". Unless your first child is old enough to pay his own bills, in all likelihood they will demand more attention than ever before. So it becomes a juggling act, taking care of one is now somehow a brief relief from the other.
Yet this time, I know the tough nights will be over, I know it will all be worth it and when I am exhausted beyond what I previously thought was possible, my toddler whispered in my ear for the first time, "EVERYTHING IS OK. " And my heart explodes right there as I grab onto him as tight as I can, because yes, everything is ok, actually, everything is beyond ok.
To recharge, I find a way to steal an occasional hour in the kitchen, my ultimate reward, an important bookmark between the days which seem to flow endlessly from one into another, where the nights continue into morning and suddenly it is night again, without any promise of sleep. The kitchen is the place I find myself in again and again when I need a moment to myself. That and my daily two minutes in the dark.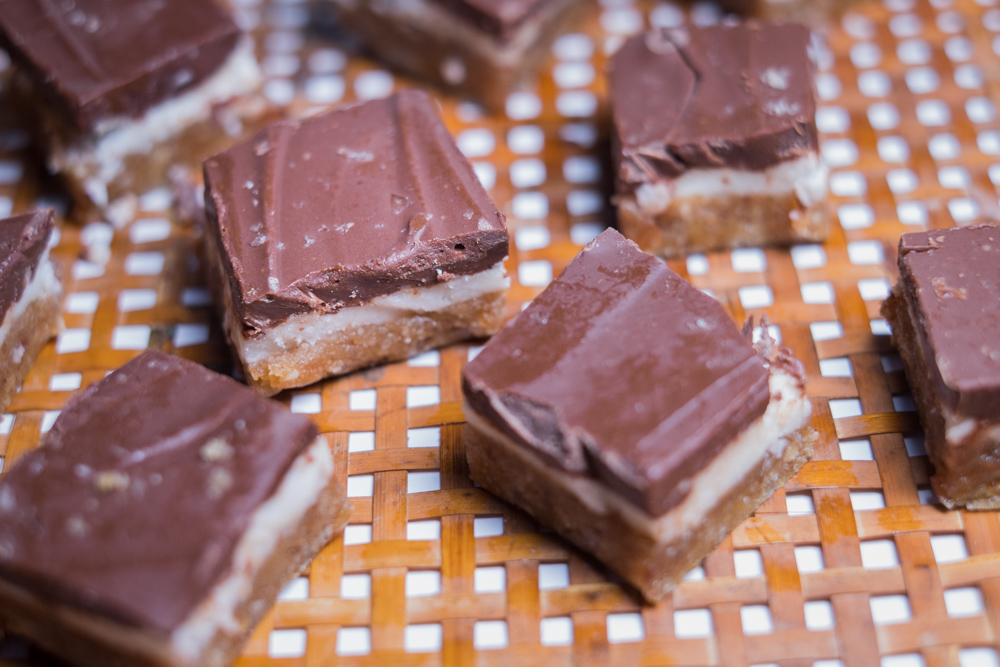 ---
DARK CHOCOLATE COCONUT BUTTER CHEWIES \dark tʃɔklət kokənət bətər chewies\ 
This is the first thing I made after recently having our second son, Mattia. Not only are they highly addictive, they are also vegan and refined sugar free. This recipe really serves as a base from which you can get creative. It is very forgiving in terms of the mix of nuts you choose, just make sure to balance out harder nuts like hazelnuts and almond with softer nuts like cashew and walnut. For sweetness and texture, you'll have to decide based on the juiciness of your dates, if you are using smaller dry dates, simply soak them in some warm water before hand to soften then squeeze dry before adding to the mix. The aim is to achieve a chewy texture with a bit of crunch. It requires several steps but does not take long to make if you don't count the time for chilling. 
Inspired by Sprouted Kitchen
sea salt・dark chocolate ・coconut
For the Chewy Nut Layer
1 cup toasted skinned hazelnuts or almonds
1 cup cashews or macadamia nuts or walnuts (or a mix)
8-9 pitted Medjool dates or double the amount of soaked small dates
1/4 cup real maple syrup
1/2 tsp. sea salt
1/2 tsp. vanilla extract
1/4 cup rolled oats or flax meal
2 Tbsp. coconut flour
For the Coconut Butter Layer

1/2 cup coconut butter 
1/4 cup desiccated unsweetened coconut
1/2 cup chilled coconut milk
For the Chocolate Layer
200 g of bittersweet chocolate, chopped into small chunks or mini chocolate chips   
Maldon sea salt flakes

In a food processor, pulse the nuts until just sandy. Add the dates, maple syrup, salt, vanilla, oats and coconut flour and pulse a few more times to combine. The mixture should start to come together into a ball. If it is still too wet, add a few more tablespoons oats or flax meal. If it seems dry and crumbly, add a splash more maple or warm water. Chill in the fridge for 10 minutes.
Line a 8×8 inch baking tray with parchment and spread a thin coat of coconut oil. Dump the nut mixture and press down with the palm of your hand until there is a compact and uniform layer. Pop it back in the fridge to chill another 15-20 minutes.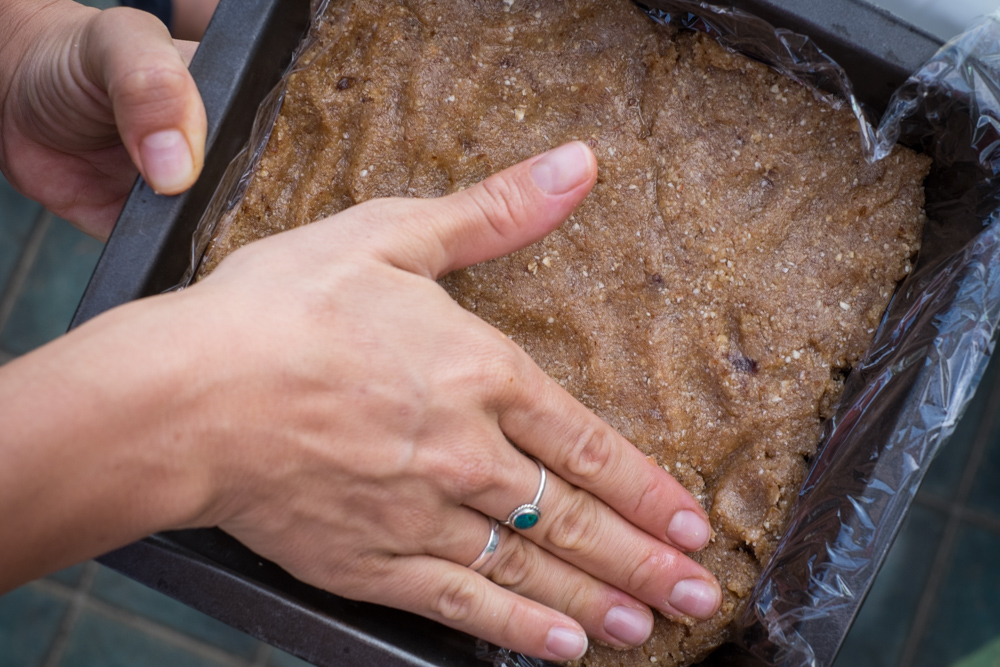 In the meantime place the ingredients for the coconut butter layer in a blender or food processor until smooth. Take out the nut layer and score the top with a fork. Do not skip this step as it helps the coconut layer attache to the bottom layer, otherwise they will separate later on. Put in freezer to chill for at least 15 minutes.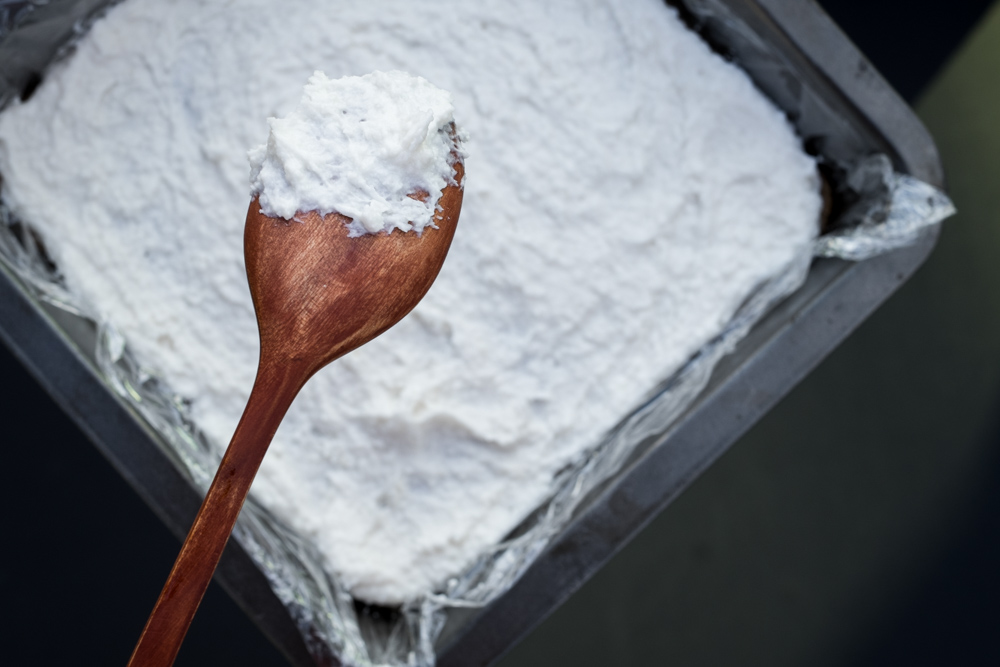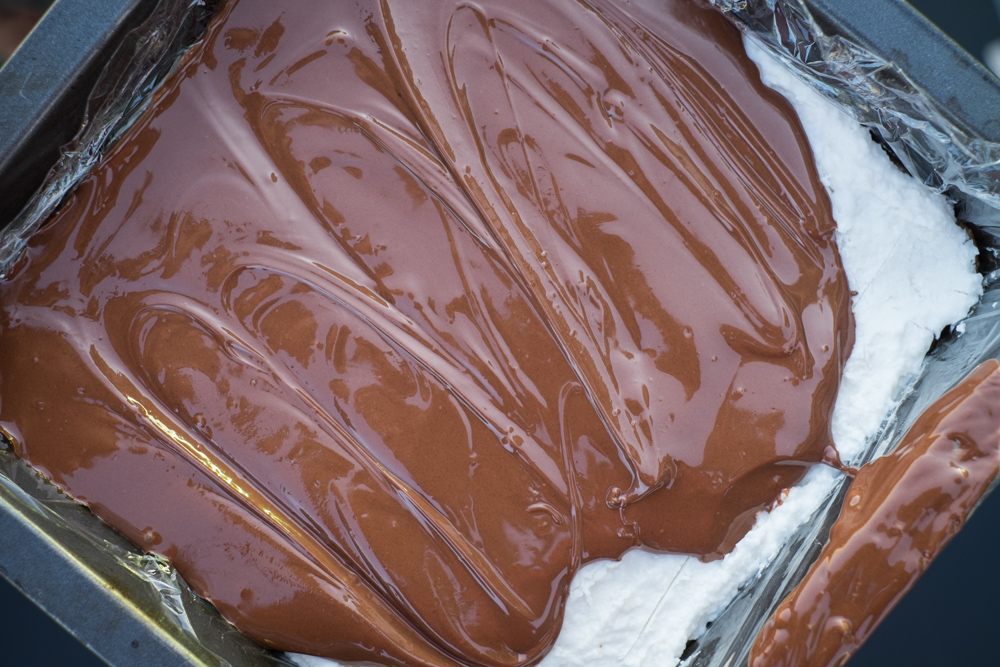 Meanwhile, melt the chocolate in a large mixing bowl in the microwave or double boiler. Once the coconut layer is firm, spread the chocolate layer on top and sprinkle with sea salt flakes or extra nuts or cacao nibs if you like. Place them back in the fridge one more time before cutting them into squares. I tend to go for smaller squares (about 1.5 inch x 1.5 inch) since they are rich and satisfying, though it's almost impossible to stop at just one! Keep them in a sealed container in the fridge.