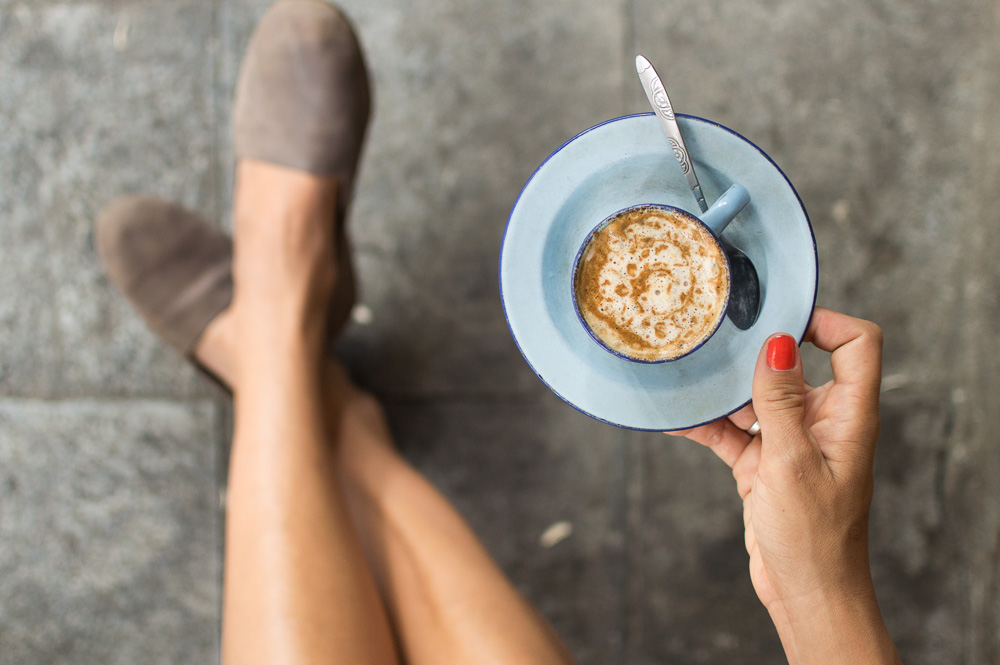 "Food is our common ground, a universal experience,"  –  James Beard
When we left Brussels for our overland journey to Hong Kong, we knew that we wanted to explore the land and its people through food. Over the past 18 months, there has been no better way of connecting with local cultures than through the dishes that we shared along the way and the recipes we picked up in kitchens from West to East. Nothing opened more doors or introduced us to lasting friendships as much as an interest in food did.
Apparently we are not the only ones. Travel is now sometimes only about food. Holiday destinations are picked based on the best street food selections; food tours are an increasingly popular way of exploring a city and sometimes the hunt for that perfect bowl of something will take you on an adventure you did not even expect.
With so many people travelling to eat nowadays, we were amazed there wasn't a week dedicated to Culinary Travel yet. Food and Travel go together like bread and butter, salt and pepper, mustard and cheese.
We decided that there was a wide doughnut-sized hole that needed to be filled. Now.
The idea is to bring travel big time into food during a Culinary Travel Week (January 18-24) where our fellow friends and bloggers would come up with a recipe that allows them and their readers to travel through cooking. Either through inspiration from a place they have been to or would like to go to. Above all it is about having fun and inspiring each other while making really yummy food. We wanted to let everyone's imagination run wild.
How do we bring memories, tastes, flavours and smells that we associate with a place into a dish? A cocktail that brings you straight back to that sunset in Santorini, a salad with a spicy kick that transports you to the streets of Vientiane, the chickpeas from that back alley in Beirut, a hot bread that throws you into the underground bakeries of Gaziantep, those noodles from the subway station in Tokyo.
Now that we are slowing down a little in Hong Kong after welcoming our baby boy on the first day of the New Year (!) (more on that later…) we are still craving for our time on the road. Having fun in the kitchen with flavours we picked up along the way is just another way for us to escape and travel in our bellies.
We are very excited to see everyone's recipes and stories which we will share on this page and look forward to gathering together for another Culinary Travel Week in the future! The community of culinary travellers will only get bigger and if you would like to participate next year feel free to drop us a line here. We'd also love to hear any ideas you might have to make the week even more fun!
For our Culinary Travel Week recipe we are going for some of our favourite flavours from Hanoi, Vietnam. Who says you can't have popsicles in winter? In fact, I would argue they are even better when it's cold out, minus the instant-sticky-dripping down your hands.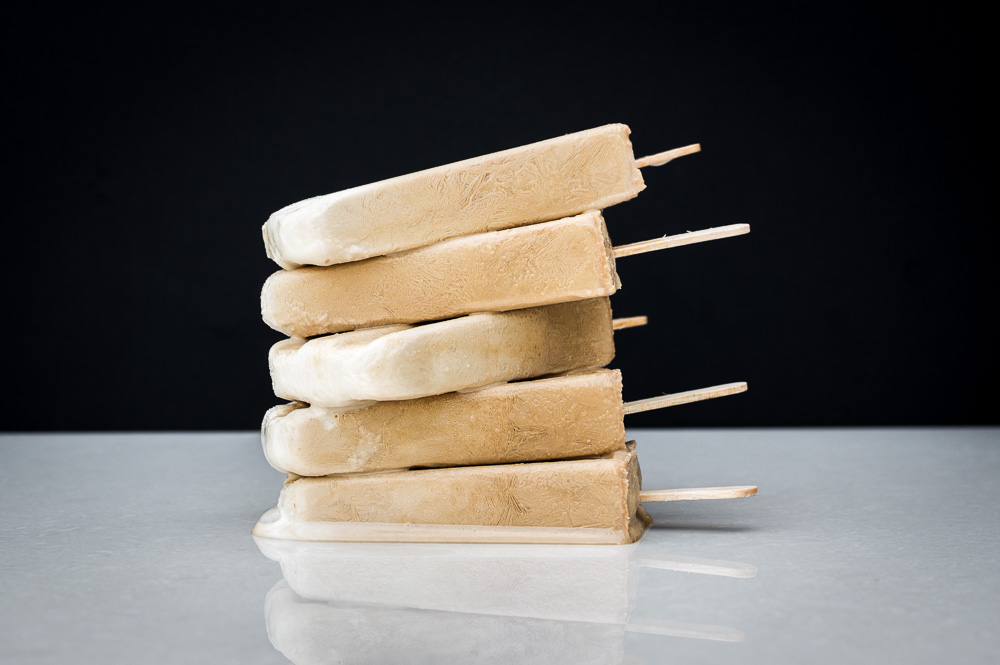 ---
HANOI COCONUT COFFEE POPSICLES \ˌhænɒj kokənət kɑfi popsicles \
Inspiration: Vietnam
Coconut ・Condensed milk ・salt ・chocolate ・coffee
Every city has their drug of choice and in Hanoi, it is coffee. It is strong, dusky and unapologetically sweet. While it was the French who introduced it to the country in the 1850s, Vietnamese coffee has definitely become a tradition and an art of its own. From morning to evening, the coffeehouses of Hanoi provide the caffeine punch needed to keep the city abuzz. Hot and syrupy for breakfast, icy and milky for humid afternoons. Forget about being a snob on coffee purity, the best way to have coffee in Vietnam is to indulge in all the trimmings. Going through the coffeehouses of Hanoi is more like going on a sugar-high frenzy and any cup is as satisfying as dessert. From the classic iced coffee of a popular tiny place on Hang Ca street, to the rich cà phê trứng (egg yolks, sugar and coffee blended into a liquid tiramisu) of the Hanoi Social Club, the concoctions will have you longing for a nap and a run at the same time.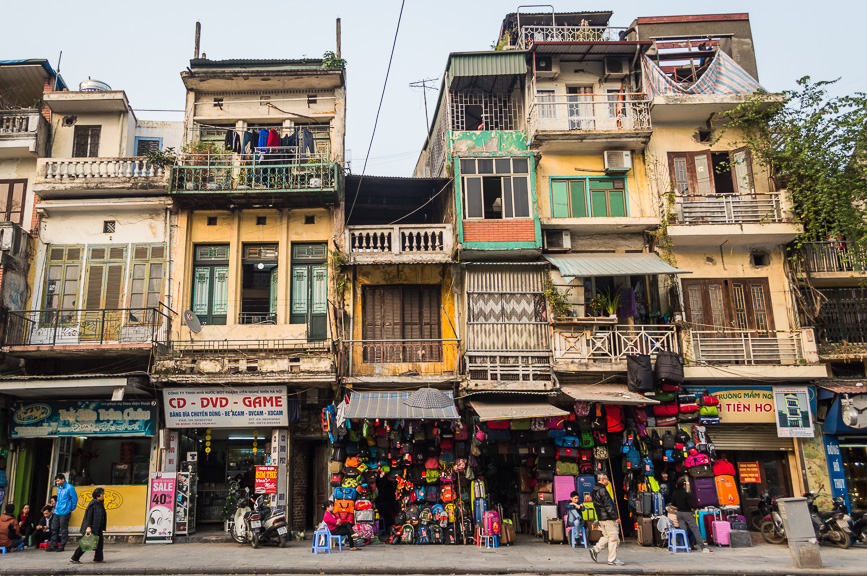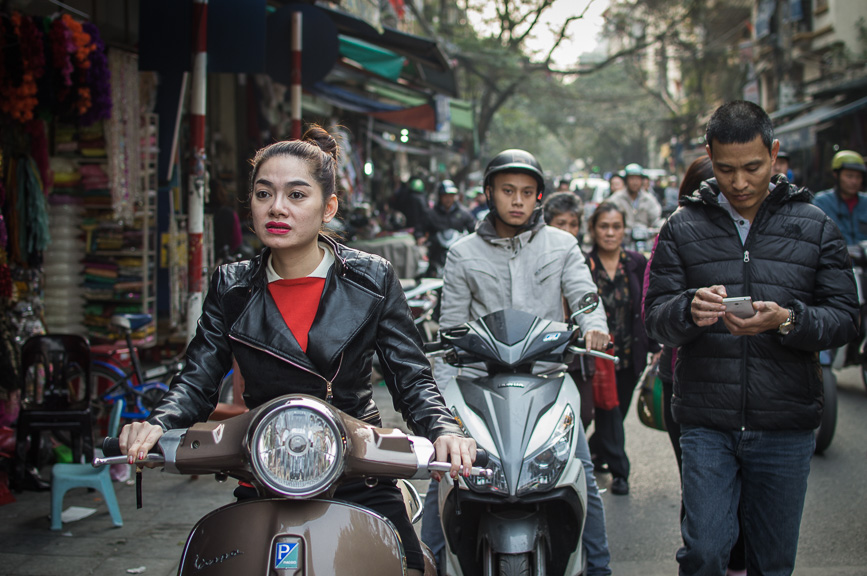 On the other side of the world, the Italian coffee culture I grew up with came with strict rules. Caffe latte for breakfast, never order a cappuccino after 11am, a macchiato if you really need some milk in the afternoon and an espresso should always be downed black and fast, preferably standing upright at the bar.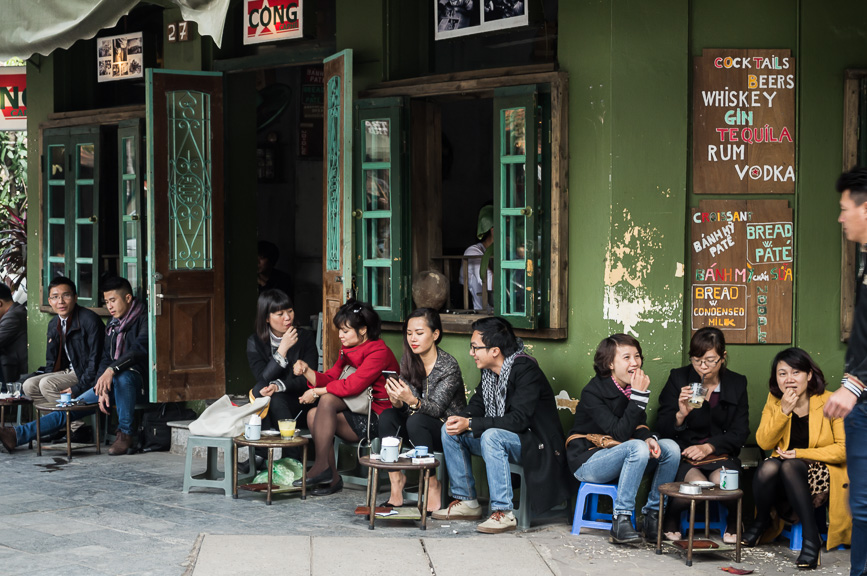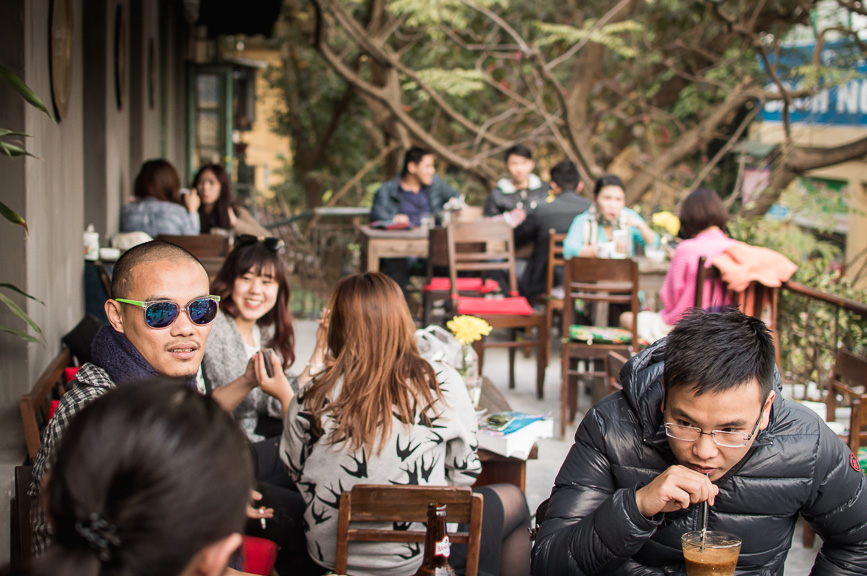 In Hanoi, these rules are thrown out the window, young hipsters and fashionistas meet up to work and chat over their favourite brew for hours, the older generation prefers their mix unfussy, puffing away on their cigarettes as the world goes by. At the Cong Caphé where we spent many of our afternoons, there were flavours I would never think of marrying together and as an Italian would probably have balked at, but yes yes yes they work. Yoghurt and coffee and purple rice? Yup, delicious. Our favourite though, which we kept coming back for and ordering again and again was their coconut coffee. Small, yet intense, cold or hot, this is a drink that has reached coffee perfection. And Hanoi's coffee scene is better off for it.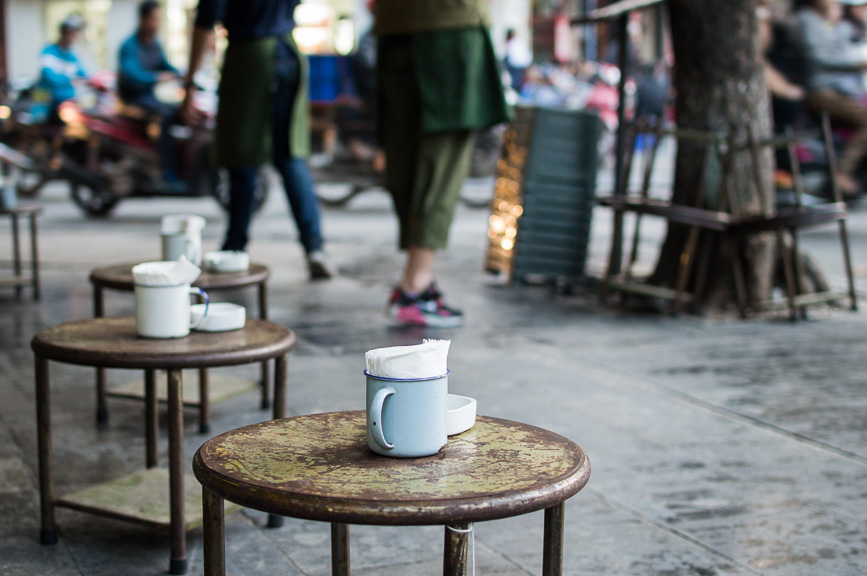 If I cannot convince die-hard Italians to drink a coconut coffee at the bar, maybe coconut coffee in the form of popsicles will convert everyone to these flavours that were just meant for each other.
Equipment: popsicle moulds
Makes about 10 popsicles
For coconut layer
320ml coconut milk
1/4 tsp salt
2 tbsp granulated sugar

For coffee layer
1 tbsp instant coffee granules
25g dark chocolate
80ml single cream
80ml full fat milk
2 tsp coconut oil
For condensed milk layer
4 tbsp single cream
2 tbsp condensed milk
Make the coconut section by mixing the coconut milk, salt and sugar in a heavy bottom pan over low heat until the sugar is dissolved. Remove from heat and set aside in a jug to cool down.
For the coffee section, use the same heavy bottom pan and mix all the ingredients over low heat until the chocolate and coffee have melted evenly. The coconut oil may float a little on the surface, but that is fine, just stir it quickly just before pouring into popsicle moulds.
For the condensed milk layer simply stir the cream into the condensed milk and you're done.
You can play around with the layers how you want, though my favourite order is coconut, coffee, condensed milk then coffee again. Distribute the fillings evenly among your popsicle moulds in the order you wish. If you want to have more distinct layers, you will need to freeze each layer for at least 20-30 minutes before pouring in the second layer. Insert popsicle sticks.
Freeze for at least 4 hours. To remove the popsicles, rinse the moulds quickly under some warm water and pull out gently.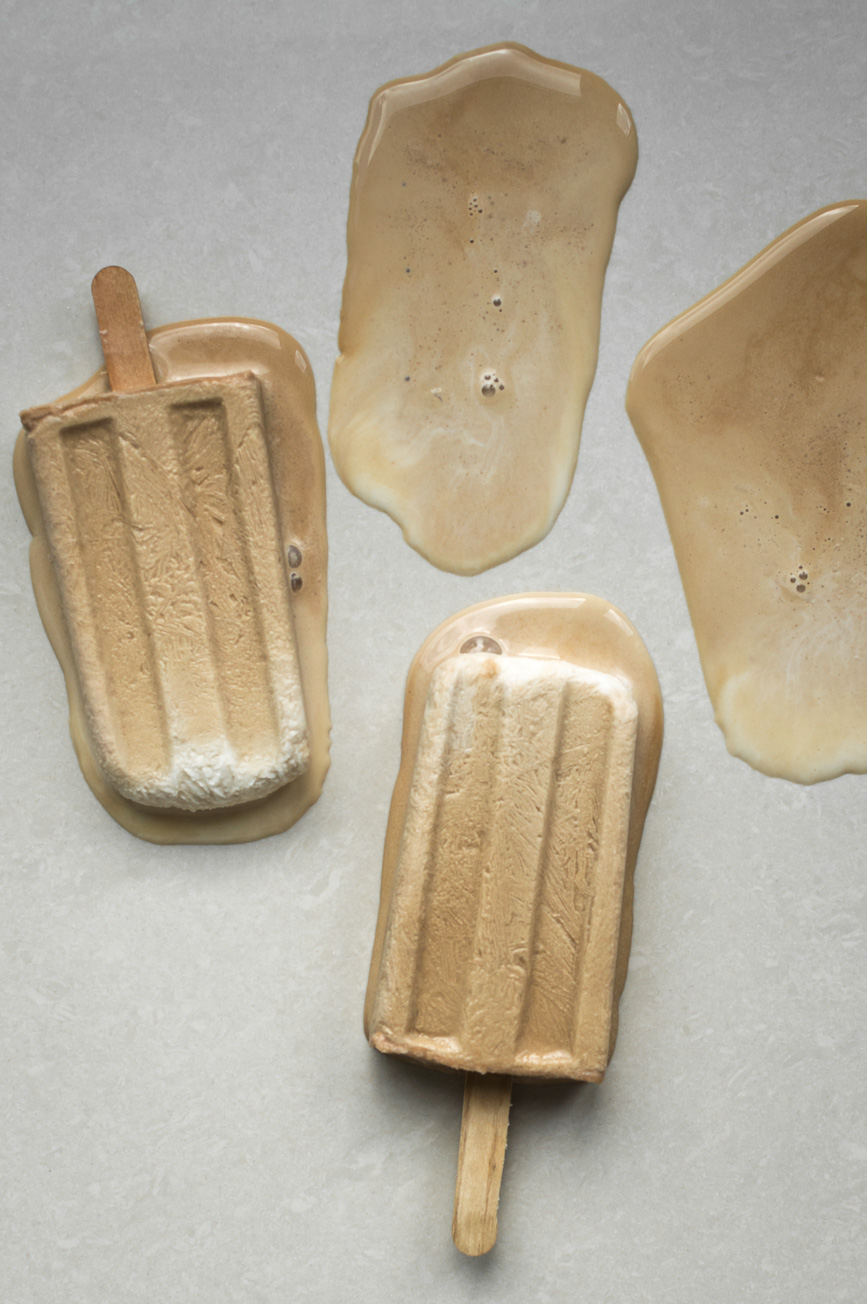 Here's a taste of recipes from 2016's Culinary Travel Week contributors, get inspired and hungry! A great big thank you to everyone who participated, we cannot wait to try out these gorgeous dishes. 
Next year we'll bring you even more food & travel stories and conquer the world through eating. The community of culinary travellers will only get bigger and if you would like to participate next year feel free to drop us a line here.
Check out and share #culinarytravelweek on social media to see more recipes too! 
Chocolate & Marrow – Hot Tamales/ Journey to the Mississippi Delta 
FEAST An Edible Road Trip – Meggyleves love
Feed Me Phoebe – Tropical Ginger Pineapple Smoothie + Maderas Life in Nicaragua
Mala Project – Chengdu Challenge #23: Tiger Skin Peppers (Hu Pi Qing Jiao)
MS Food Division – Fennel Ginger Miso Soup Udon 
My Travelicious Life – Cold Remedy Italian Style
Sun Diego Eats – Brazilian Tapioca Pancakes
The Passage – Not Your Eomma's Kalguksu: an ode to eating on the side streets
Wandercooks – Honey Baked Camembert with Bacon & Rosemary 
Wandercooks – Red Bean Paste with Rice Flour Dumplings
Will Travel For Food – Restaurants to try in Lebanon and a recipe for Fatteh