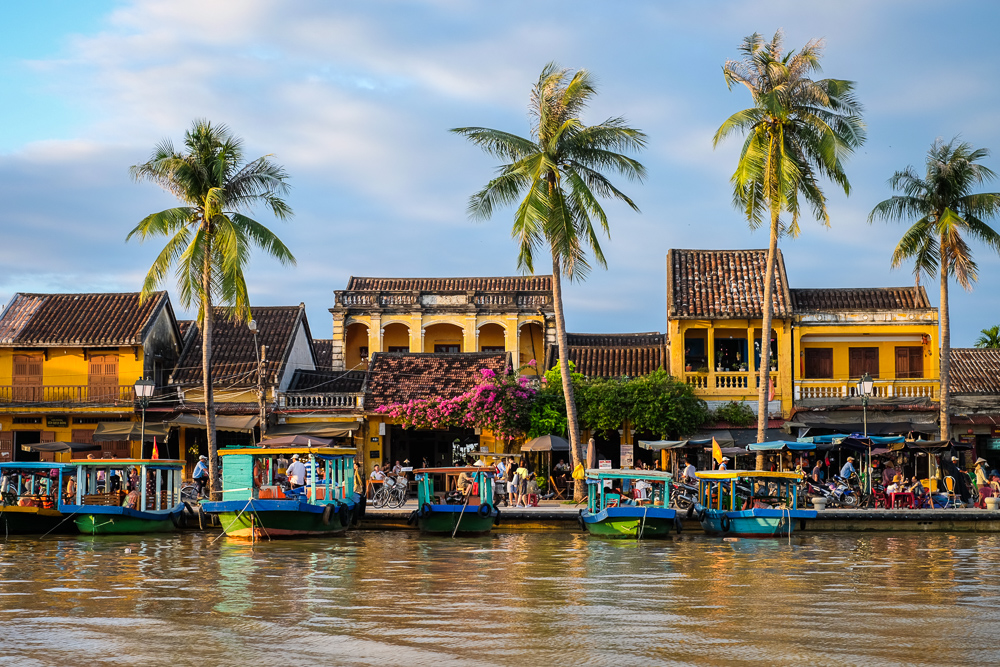 If you arrive in Hội An by night, you will spot the colourful lanterns, the quiet river boats rocking on the Thu Bồn river, the multitude of rickshaws ferrying tourists around the Old Town and the many many signs promising good food. You may be entranced, feeling like you've stepped back a little in time, to a small neighbourhood with impeccable taste and enviable style. The cynical among us may feel you have been plopped into a sophisticated attraction at the Adult's Disneyland. But somehow, slowly and casually, Hội An manages to soften even the most skeptic and pull you in.
People flock to the Old Town for its night lights, its romantic strolls, its picturesque An Hội Bridge, but it is only with the morning light that the ancient trading port blossoms and comes to life in all shades of pale ochre.
Behind its colourful wooden shutters, the fading blue, the vibrant turquoise, are walls etched away by time and sunlight. The peeling layers of citron, ginger and bleached cinnamon. Thin plaster painted in natural earth, its pigments of iron oxide creating an inborn rust colour that dissolves into a deep sumptuous yellow.
The yellow ochre of Hội An.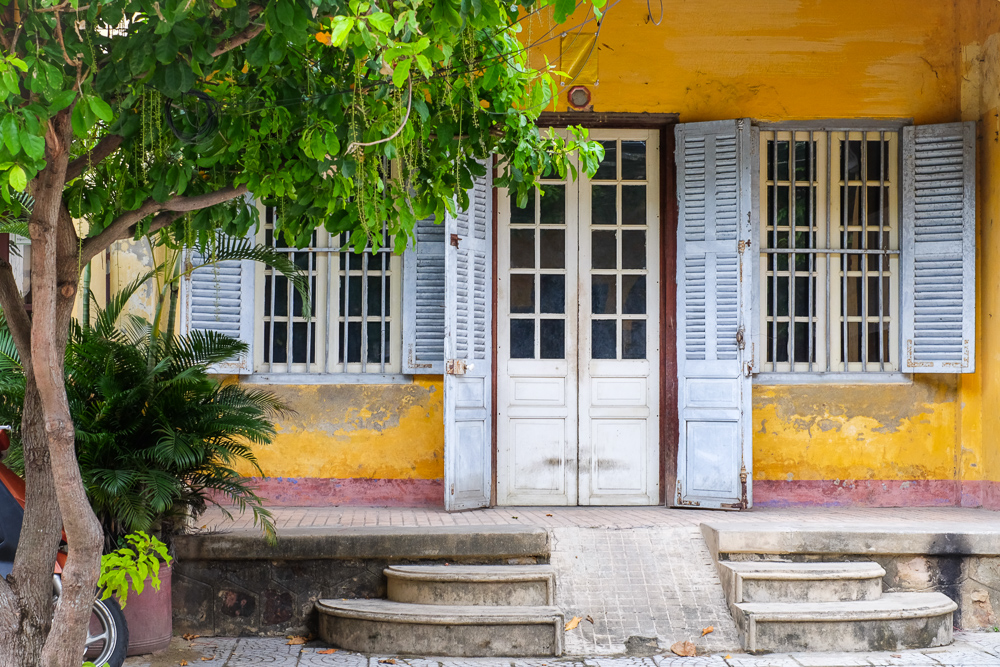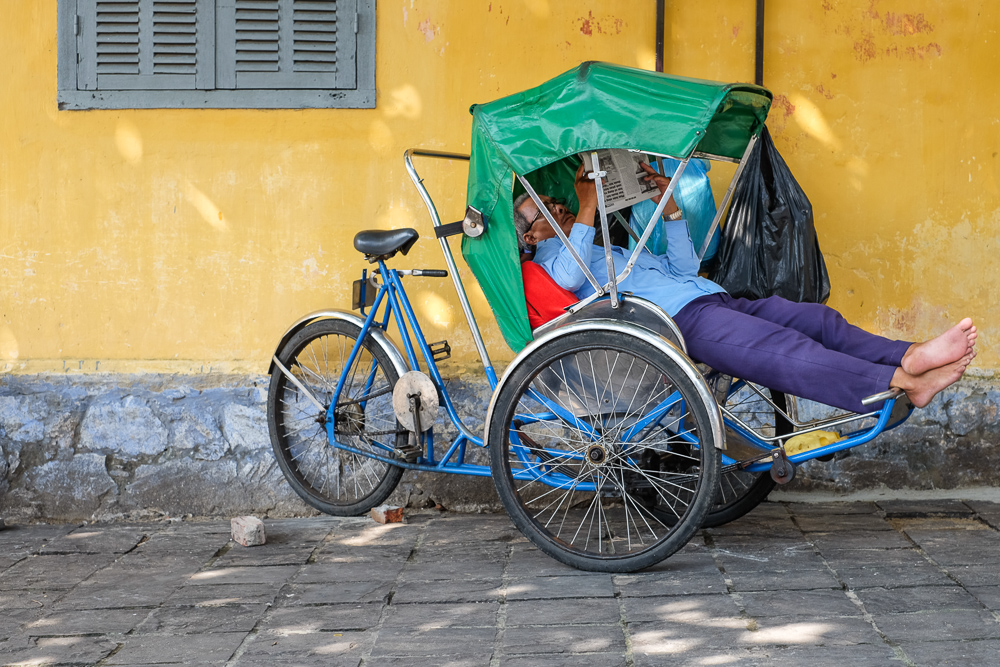 In the delicate glow of early light, the yellow is unobtrusive, cradling the silent streets and the closed doors of popular shops. We wondered where all the people had gone to, this was not the Hội An that we remembered, the busy, sometimes chaotic town, full of life. Until we realised that it was only 8 AM.
Travelling with a baby had changed our schedule drastically. And so we awoke in harmony with the town, as the red and green portals to leather shops and tailors opened, we were ready to take it all in, with our cà phê sữa đá, Vietnamese iced coffee in hand.
The rickshaw men took it easy, digesting the daily newspaper while waiting for tourists to finish their buffet breakfasts. The aquamarine barber shops were full with those needing a clean shave before vespa-ing off to work, the road-side Bun noodle shop was packed with slurping customers, until suddenly all the red stools were gone, the signs pulled down, the day's business done by 9H30 AM.
All this action is swathed in a layer of canary yellow, like a plate of creamy scrambled eggs. Warm and comforting.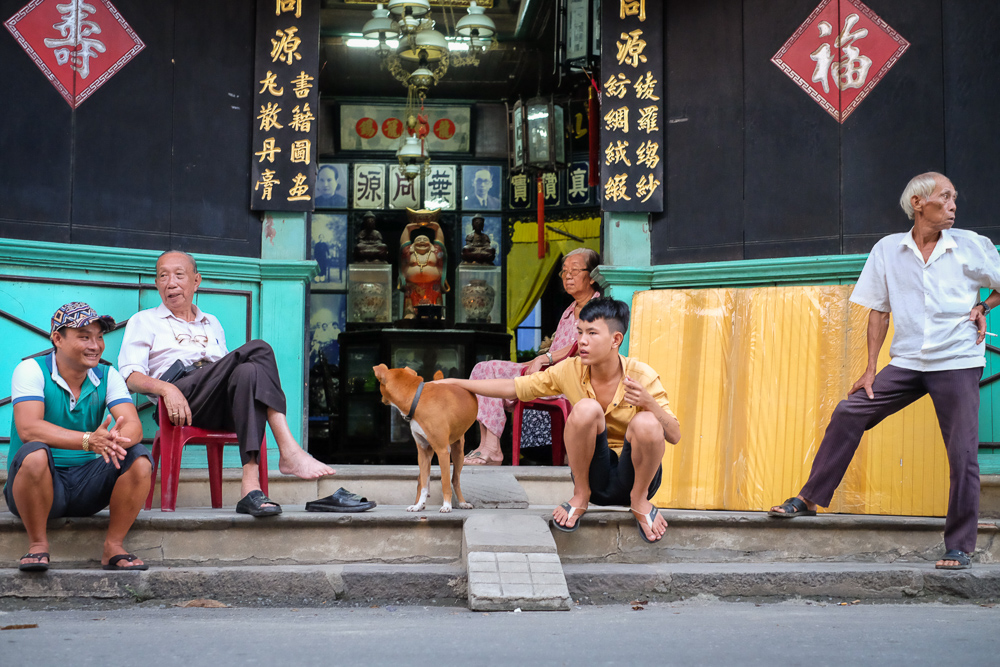 As the day hits noon and the glare invades from straight above, the town takes refuge in spots of shade. The old black tiled roofs keep temperatures high as workers slow down for a bowl of Cao lầu noodles or the satisfying crunch of a layered Bánh mì. Always, with plenty of chilli.
The ochre now blazing in the heat, is scorched to a shade of blinding amber. Like a slice of hot green mango dipped in chilli sugar, sweet and fiery.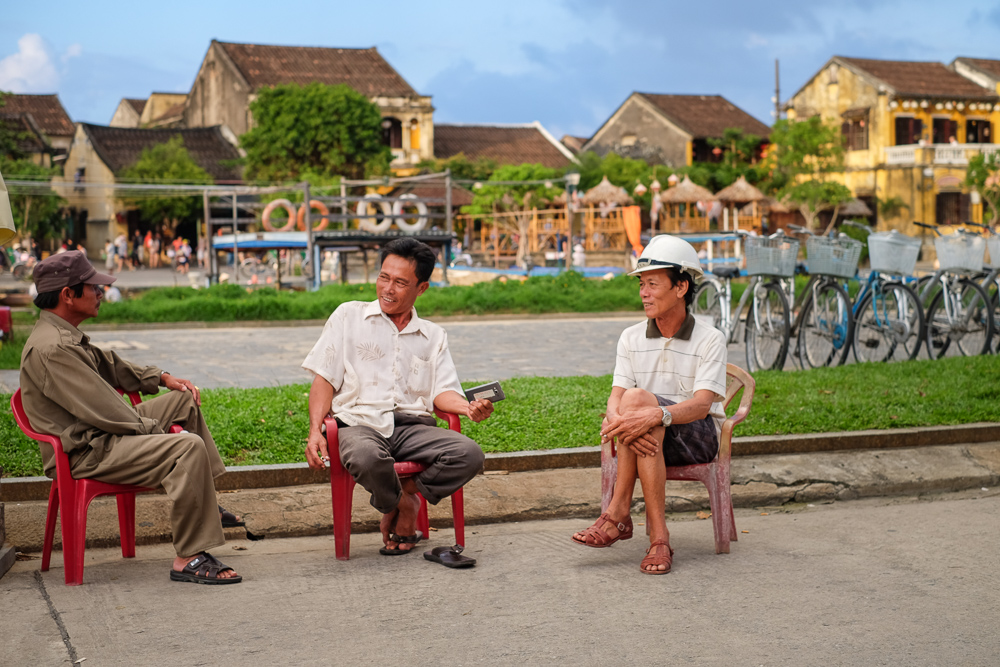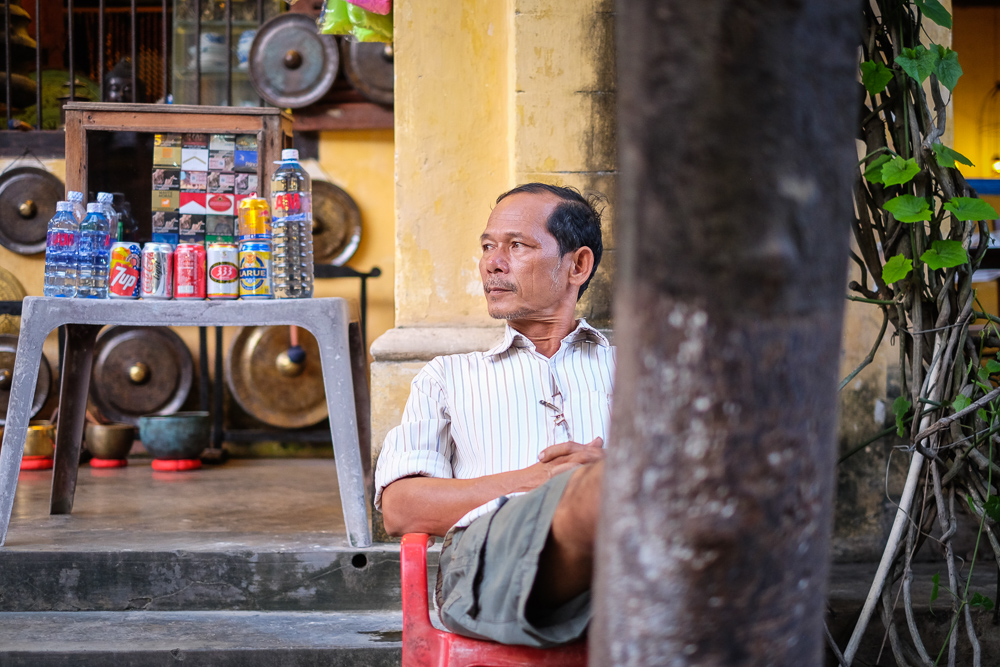 When afternoon nears and everyone re-emerges from their closely-knit colonial-era houses or boutique hotels, the town whose name means "peaceful meeting place" does just that. The drink and dessert vendors are busy with orders for chè, variations of Vietnamese dessert soup. We choose a snack of bánh bèo from our favourite street food lady Hao on Hoàng Van Thu road. Friends gather for a chat on little red stools beside the river that once was the route to the most desirable trading port in South East Asia. Fishermen head home, pulling their nets out of water and gliding by the promenade in their shallow sampans.
Time slows down in a place that the country's wars forgot and left untouched. The place that Japanese merchants believed was the heart of Asia, a mythical dragon lying beneath its sacred earth.
Some say the colour of Hội An comes from a belief that it symbolizes royalty, others say it's just a matter of practicality, the yellow walls tempting the sun to bounce away easily, absorbing less heat.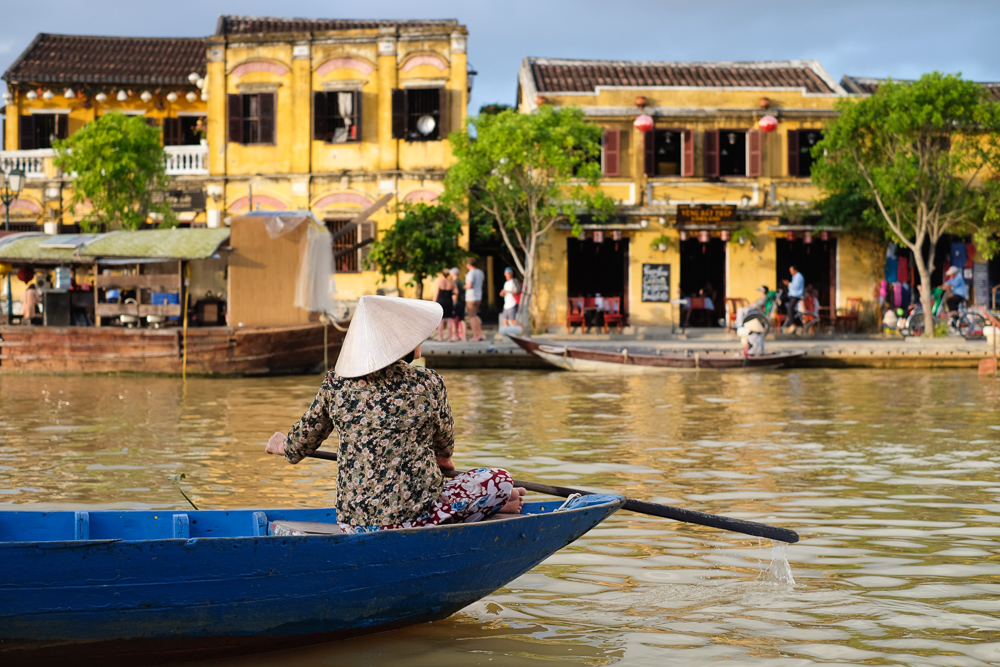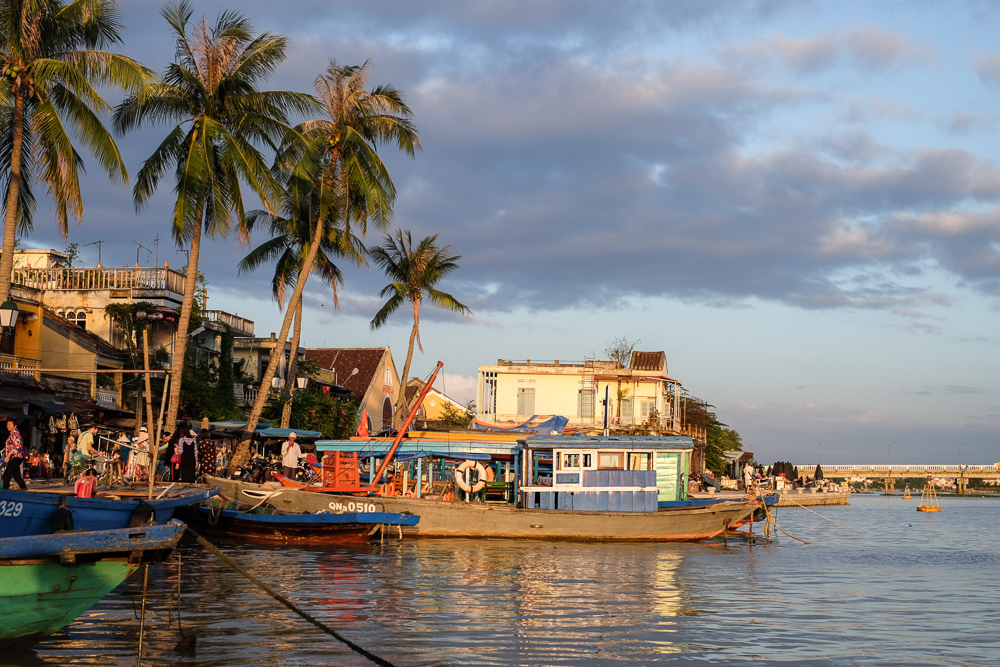 But as the sun finally sets and a light breeze makes the palm trees sway and the fuchsia bougainvillea dance in a jewelled glow, the ancient buildings call out their prized complexion and pour out into the river, reflecting back at us as liquid gold. At this hour, it is hard to believe that we are not indeed, basking in the light of a golden dragon.
---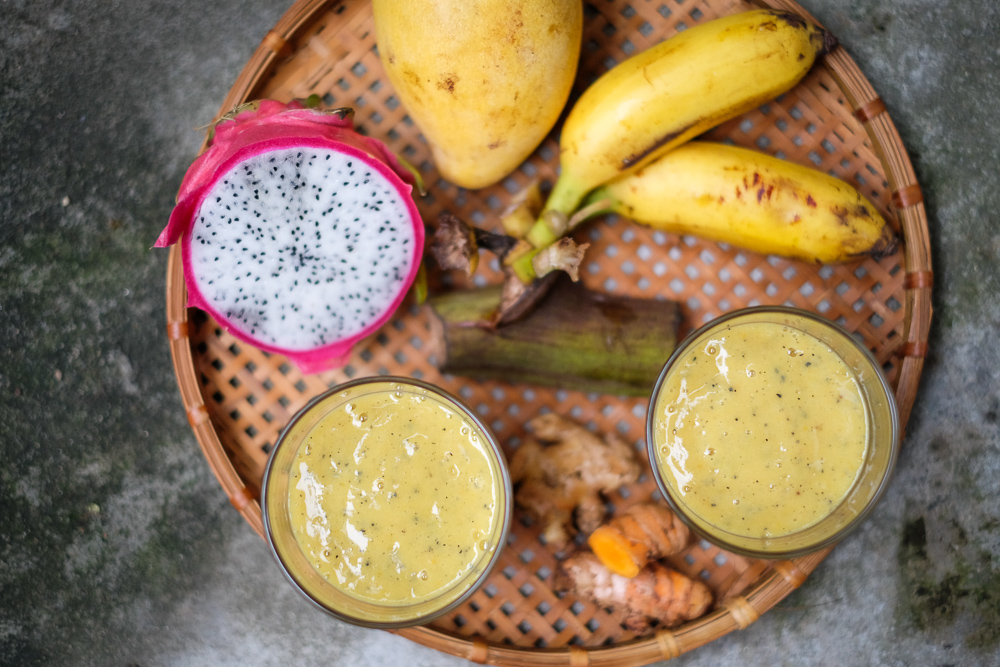 HOI AN MANGO TURMERIC SMOOTHIE \ˌeɪʧ-əʊ-aɪ ən ˈmæŋgəʊ ˈtɜːmərɪk ˈsmuːði\
The colours and flavours of this smoothie bring me straight back to Hoi An. Dragon fruit also known as pitaya is native to Central America, but has been grown in Vietnam for a long time where it is called thanh long, green dragon. Its mild sweetness blends perfectly with the bold flavours of mango, ginger and turmeric. The mix of these fruits and spices deliver a vitamin and anti-oxidant kick that is hard to beat.
You can use frozen bananas if you want an even thicker consistency. I chose to use white-flesh dragonfruit specifically to get the right mix of colours, though of course if you're not bothered by the colour, feel free to substitute with red-flesh dragonfruit instead. Healthy and incredibly quick to make. 
Serves 2
3 small bananas
1 large ripe mango
1 tsp freshly grated ginger
1 tsp freshly grated turmeric
1/2 large white dragonfruit (pitaya blanca)
1/4 cup coconut milk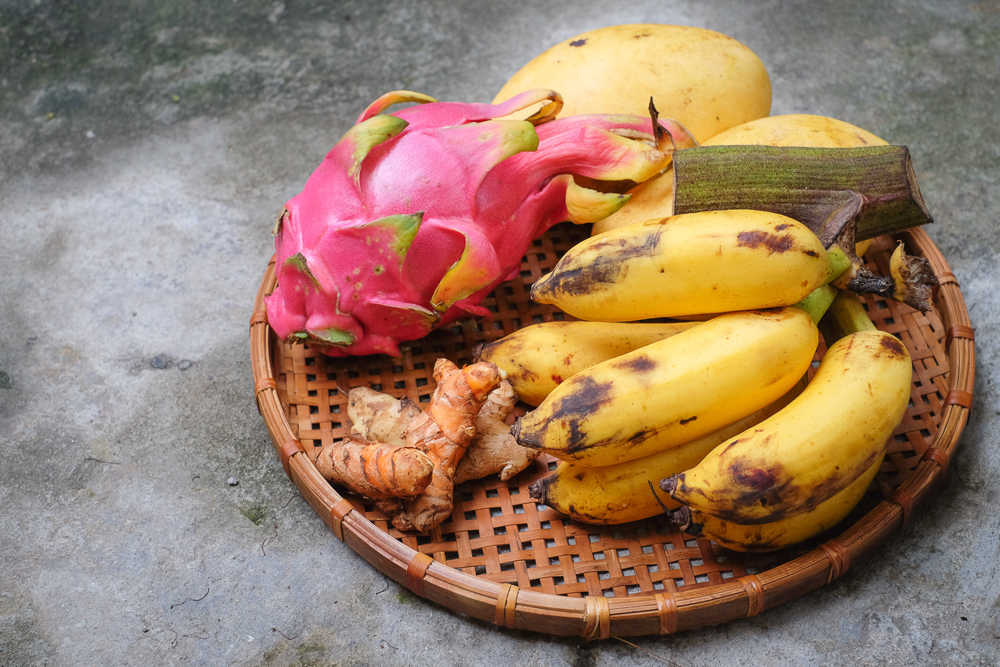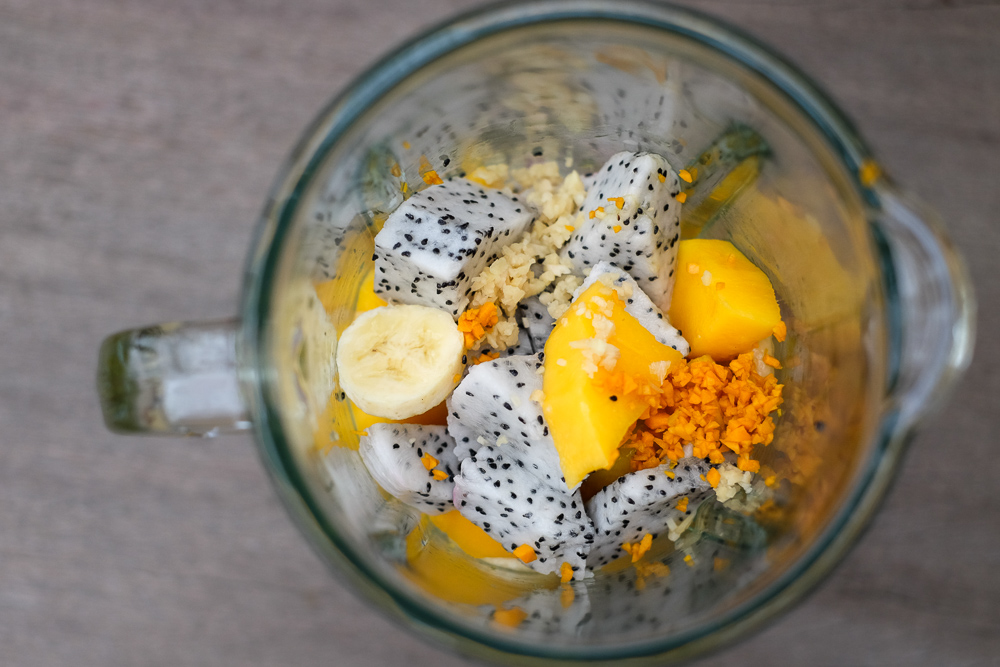 Throw everything into a blender or mixer and spin till smooth. The resulting colour will be a wonderful shade of ochre with the fragrant zing of ginger and turmeric.  
Welcome to Hội An.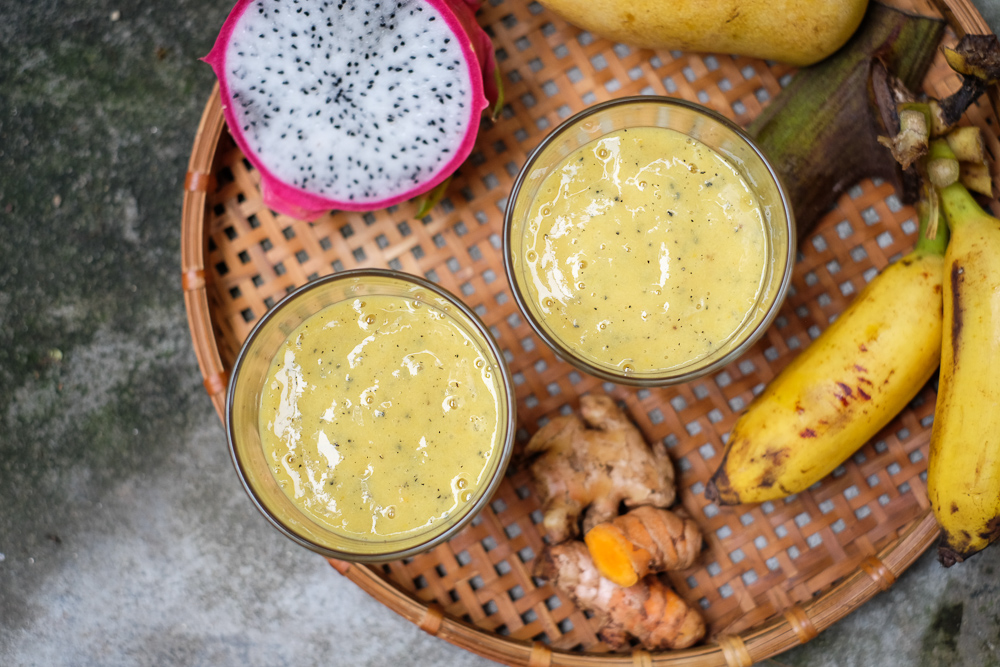 This post and part of our trip was sponsored by the InterContinental Danang Sun Peninsula Resort. The resort provides a free shuttle service to Old Town Hội An twice a day. All statements are our own.
$
$
$