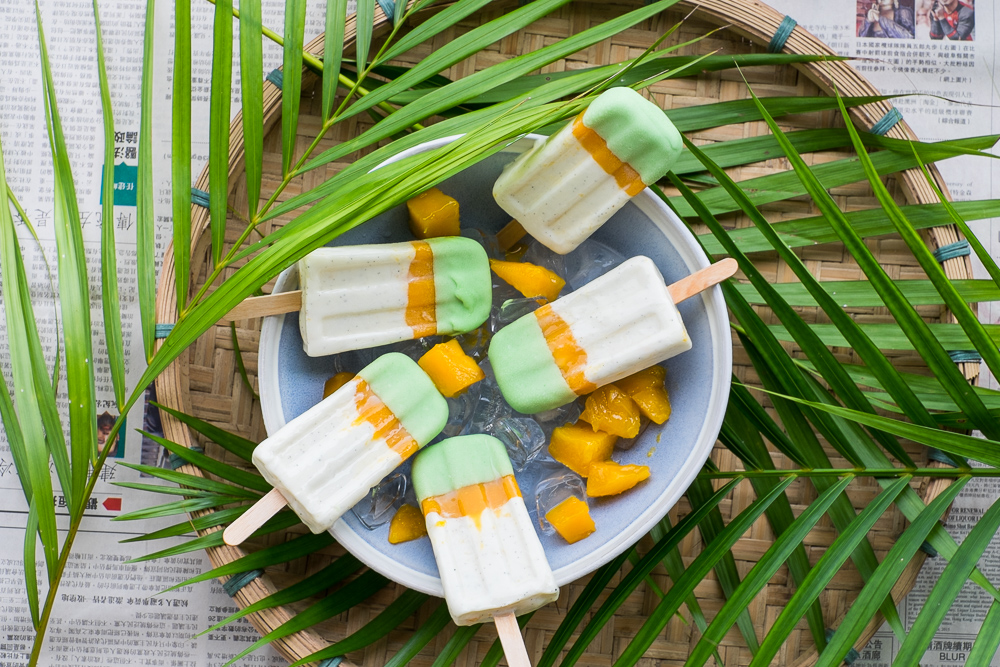 Ah summer. You are finally here.
Summer in Asia brings sweaty backs, sticky legs and rain showers. The scent of suntan lotion and mosquito repellent blend together on your skin to tell the world that yes, summer is sticking around for awhile.
In Europe or colder places, the long awaited summer sounds more like THIS. Oh yeah it feels gooood.
Summer means palm trees, vitamin sea, coconuts, mangoes, pineapples, cocktails with juice, bare feet, talcum powder, sandals, bikinis, Havaianas, crushed ice, salads, surf, hot sand under your toes, and beach beach beach.
And whether you are in the north or south, summer means ice cream, gelato, granita, popsicles. Because what better way to get through the heat than adding some melting cream and sugar to your salty lips and fingertips?
You might have your go-to flavour ready in your freezer by now or have your favourite gelato picked out at the beach shack you pass by every time you swim, but thanks to Billy over at Wit & Vinegar, you can expand your horizons this season and try out some new wacky combinations, cause it is POPSICLE WEEK 2016! Bloggers from all over are sharing their frozen treat creations this week, just to make sure that nobody gets stuck in a rut. Be bold, be brave, try something new. Your hot summer self will thank you for it.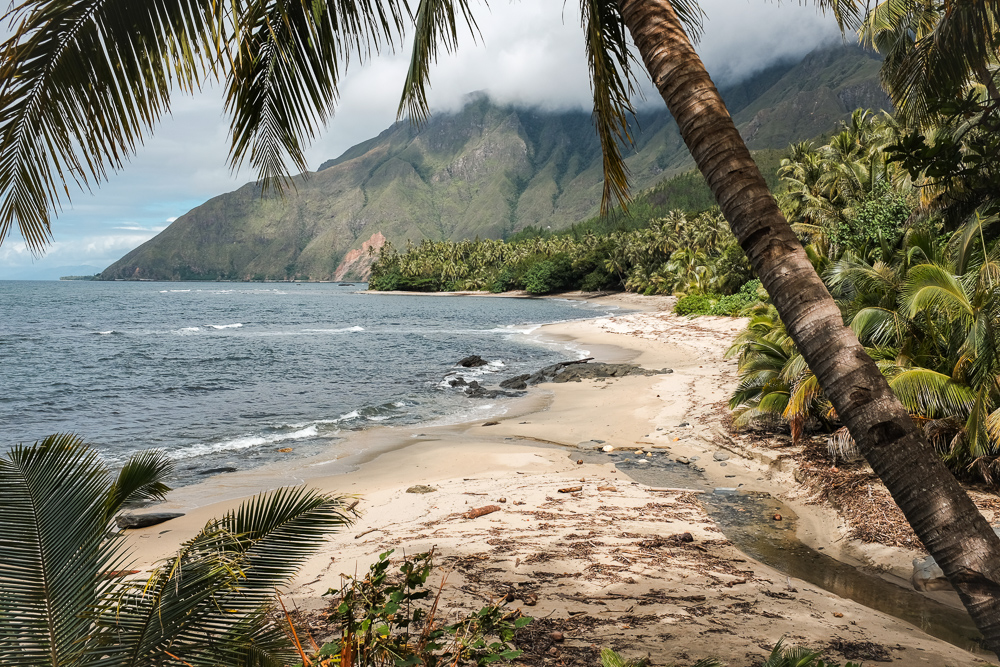 We spent most of our childhood summers on Italy's beaches and Austria's mountains where gelato al nocciola and eïsschokolade ruled. Oh wait, there was also a blue coated strawberry popsicle which tasted like pure candy and when you were done, the stick could be unwrapped with a bubblegum inside. Talk about bonus popsicle! Anyone who has been to an Austrian gas station as a child would know what I am talking about.
Until the holidays rolled around though, we were pretty much stuck with what Nestle had to offer in Hong Kong. Don't ask me why, but the Nestle packaged ice cream brand is called Bird's Nest in Chinese and it's very best popsicle is named Phoenix Fairy. Well not exactly, the 鳳仙雪條 is named 鳳 (fung) meaning pineapple or phoenix and 仙 (sin) well, still makes me think of fairies. The official english name of this pineapple sorbet-vanilla ice cream-banana chocolate – wunder creation is simply Tropical Sundae. 
Every time we had to pick a treat from the ice box at the shop, my sister and I would emerge with our Phoenix Fairies in hand. There is a certain nostalgia for the outlying islands tied to this popsicle, since it could almost only be found at the little Mom & Pop shops in small villages out of the centre. With its orange and blue packaging, it looked like the beach popping out among a sea of vanilla Cornettos and chocolate sandwich bars. The palm tree on the foil was just the excessive reminder that yes, when you open me, that banana chocolate shell will smell just like your suntan lotion. Mmmmm.
So for this year's popsicle week, I am bringing you the Phoenix Fairy, improved. The pineapple sorbet has been replaced by mango, because how can mango not be your favourite fruit? The cheap vanilla scented Nestle cream has made room for a truly indulgent vanilla bean cream and the banana coating has been kicked out the door, because, yuck, banana coating? Instead a gloriously green pandan white chocolate magic shell has taken its place with a hint of salt. The result? It all comes together to taste a bit like Thai mango and sticky rice. Now how can you resist THAT on a stick?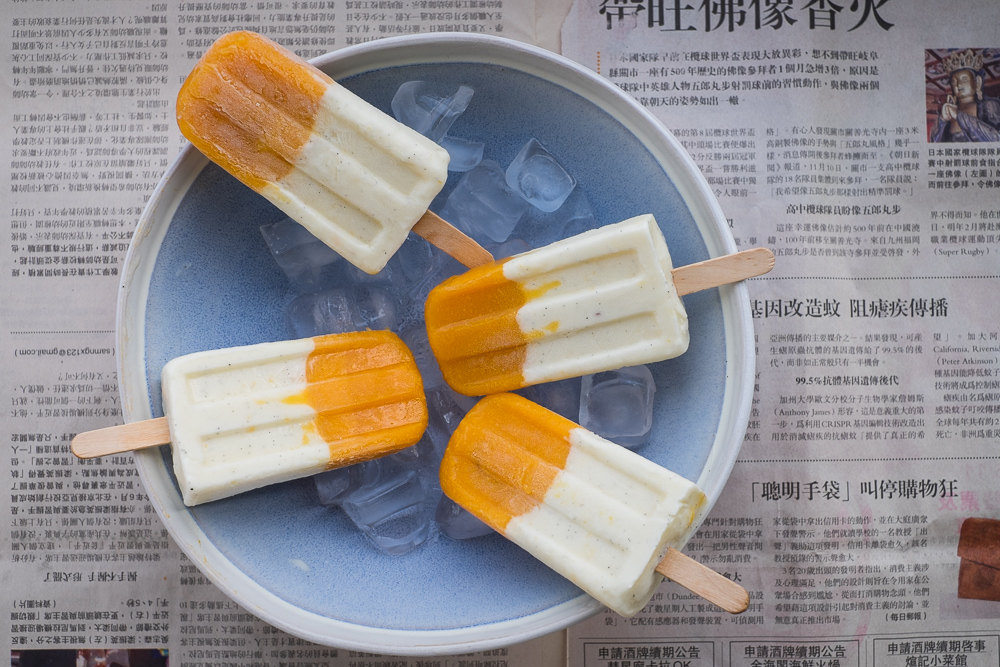 ---
MANGO PANDAN VANILLA BEAN POPSICLES \mæŋgo pandan vənɪlə bin popsicles\
mango・pandan ・salt・vanilla bean・white chocolate
Equipment: popsicle moulds
Makes about 8 popsicles
For the mango sorbet
3 medium-sized asian mangoes, very ripe
honey to taste, if necessary 

For the vanilla bean cream
2/3 cup whipping cream
1 cup full-fat milk
1/2 cup sugar
1/2 vanilla bean, split open & de-seeded
1 tsp corn starch
2 tbsp cream cheese, softened
pinch of salt
1 sheet of gelatine

For the pandan white chocolate magic shell
150g white chocolate, chopped
40ml plus 1 tbsp coconut oil 
3 generous drops of pandan flavouring 
1/4 tsp salt
Start by making the mango sorbet. Simply remove all the pulp from the mango and its stone and puree in a blender until smooth. I did not use any honey, but if your mangoes aren't sweet enough, you can add some to your liking. Fill each popsicle mould with about 3 teaspoons of mango puree and put in freezer while preparing the other layer.
For the vanilla bean cream, stir the cornstarch with 2 tablespoons of the milk until smooth, set aside. Mix the cream cheese with 2 tablespoons of the milk until smooth and set aside.
Mix the milk, whipping cream and sugar in a pot over a low fire until it reaches a soft rolling boil. Turn the heat down and leave for about a minute at a simmer then whisk in the corn starch mixture. When it has thickened slightly,  soften the gelatine sheet in some warm water and add to the milk mixture. Whisk gently until smooth. Remove from heat and stir in the vanilla bean seeds. (You can put the empty vanilla bean pod in your sugar jar, it will add a wonderful aroma and not waste something so precious!)
Prepare a large mixing bowl with water and ice. Place a smaller mixing bowl with the cream cheese mixture inside and place in the large mixing bowl. Gently pour the warm milk mixture into the cream cheese. Whisk together over this ice bath until fully smooth and slightly thickened. This will help cool down the mixture as well.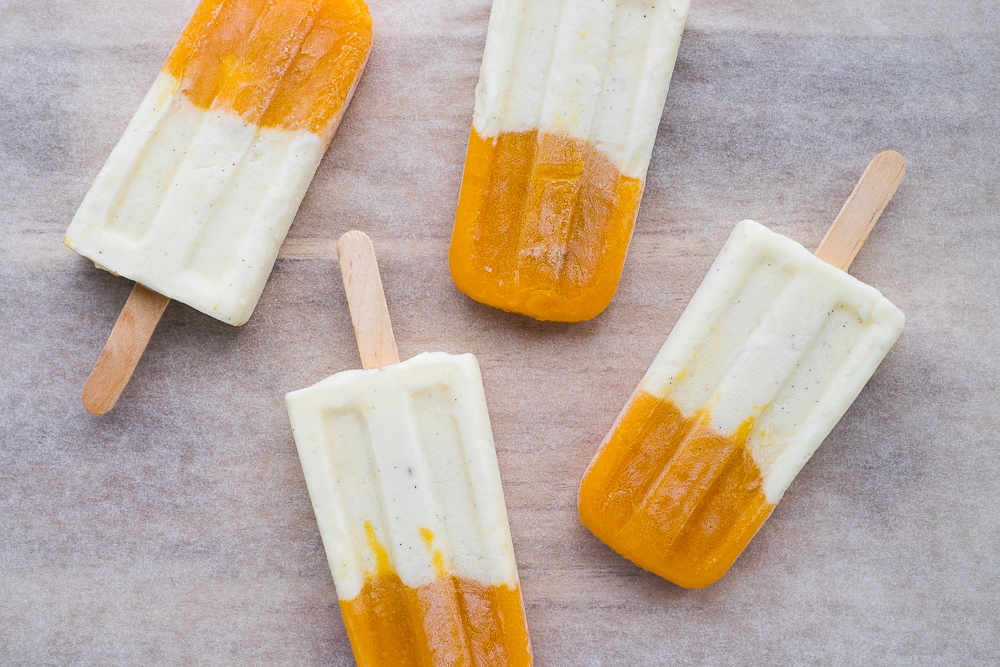 While the vanilla bean cream is cooling down fully, prepare the pandan white chocolate magic shell. 
Melt the white chocolate with the coconut oil in the microwave or in a bowl over simmering water. Once molten together add the pandan flavouring and the salt. The mixture should keep fluid at room temperature for a week.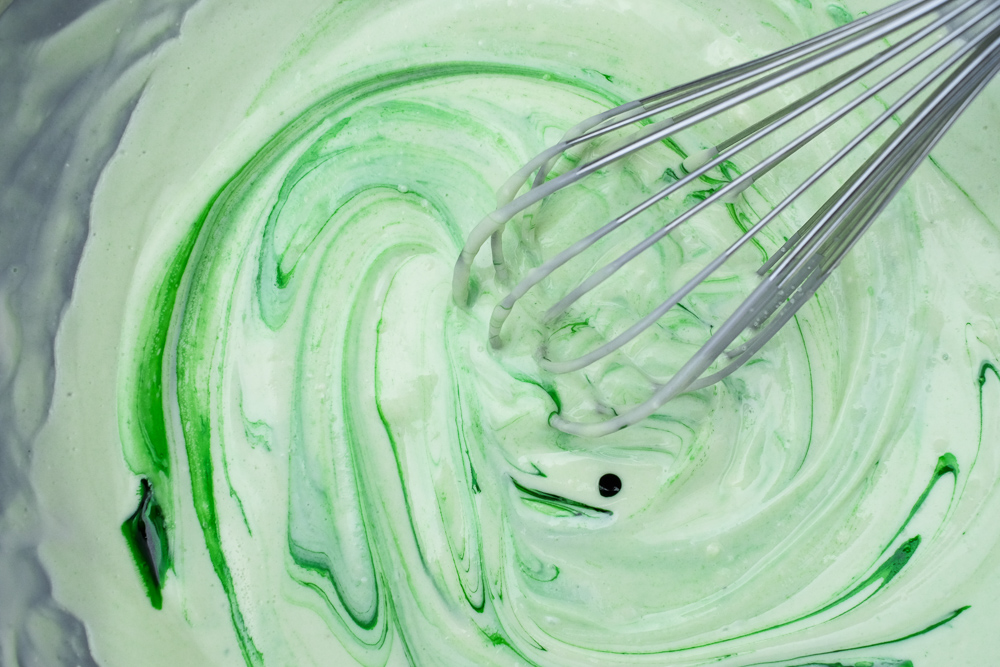 Pour the vanilla bean cream equally into the popsicle moulds over the mango sorbet and refrigerate for at least four hours. After about an hour of freezing, place the popsicle sticks carefully into the moulds.
When the popsicles are fully frozen, remove carefully from the moulds under warm water and set them on a non-stick baking sheet in the freezer until you are ready to coat them in the pandan magic shell.
When ready, simply dip them as far as you like into the magic shell and watch as the shell miraculously hardens over the popsicle! If you are not eating them immediately set them back on the baking sheet in the freezer until ready to devour.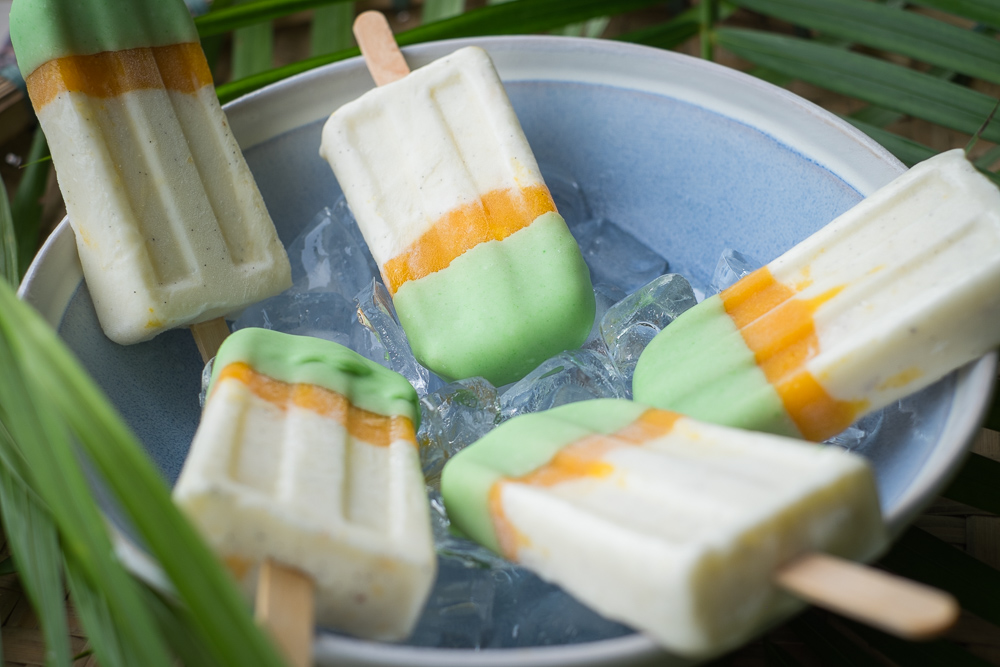 The magic shell actually prevents them from melting as fast in the insane summer heat!